Everyone has had flat feet, and probably will again – and that's normal!
While working in a biomechanics lab, part of my job was to read nearly 500 papers on childhood foot development. In doing so, I learned something extraordinary: we all had flat feet at one time and as we get older, we likely will again. This makes so much sense if you see the foot as a sensory organ and not just a mechanical part of the human machine.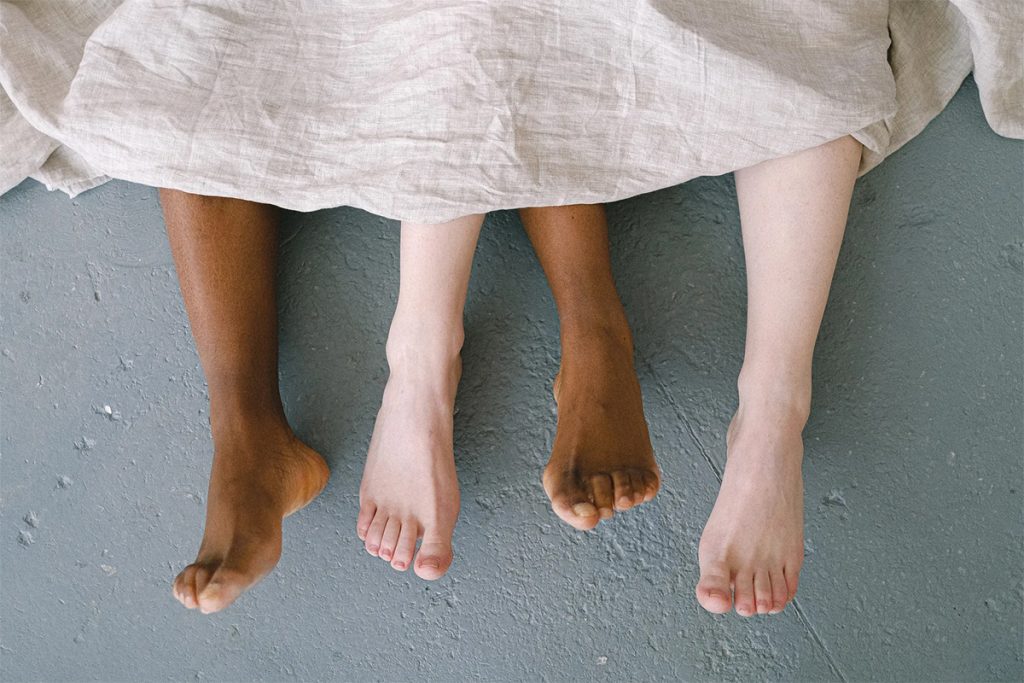 Fat Flat Feet
Most babies have cute, pudgy, fat, flat feet! As the child grows, the foot develops and an arch becomes more and more evident, keeping pace with the child's physical abilities. Evolutionarily this makes sense. Before birth we are water dwellers and do not need a well-developed vestibular system.
Only a few months after birth babies begin learning to roll, then crawl, eventually sit upright, and then "find their feet". They begin to stand and squat and the vestibular system starts to adapt to gravity. Babies' fat flat feet give them a broad surface to sense the effects of gravity, which allows the vestibular system to orient and develop.
As balance improves, the foot becomes stronger and the arch develops. The effect is a decrease in the amount of sensory surface area dedicated to gravity, making baby less structurally stable but providing a biomechanical environment for increased speed and agility. However, now the individual must rely on a very well developed and active vestibular system, supported by the mobile proprioceptive system of the foot joints.
The twilight of the arch
Understanding how and why the arch develops should then clarify the changes we experience as we grow older. The vestibular system slowly becomes less active and balance becomes more difficult. This leads to a natural decline of arch height as an attempt to increase proprioceptive input, like we needed when we were babies.
Gait tells us so much
The reality is, gait assessment is a window into your clients' nervous system and, utilized properly, it informs how we help our clients improve, at every stage. Now that you know how the arches and vestibular system relate, help your clients rediscover their feet!
---
Dr. Grove Higgins is a chiropractor, rehabilitationist, soft tissue injury expert, researcher, anatomy instructor, biomechanist, human performance expert, speaker, and corporate health consultant. In 2015, Dr. Higgins cofounded Neuroathlete with Coach Patrick Marques (LTC, US Army Ret.) and Peter Hoversten. Neuroathlete's goal is to more broadly deliver neurological training to a global audience.
Interesting studies and articles:
Does My Kid Need Arch Support: March 2020: Blog. (n.d.). Retrieved from https://www.vivobarefoot.com/nz/blog/march-2020/does-my-kid-need-arch-support
Gray, H., Carter, H. V., Pick, P. T., Holden, L., & Keen, W. W. (1887). Anatomy, descriptive and surgical / the drawings by H.V. Carter with additional drawings in later editions edited by T. Pickering Pick ; to which is added Landmarks, medical and surgical by Luther Holden with additions by William W. Keen. Philadelphia: Lea Brothers &.
Li, F., Harmer, P., Wilson, N. L., & Fisher, K. J. (2003). Health Benefits of Cobblestone-Mat Walking: Preliminary Findings. Journal of Aging and Physical Activity, 11(4), 487-501. doi:10.1123/japa.11.4.487
Rock Walking for Healthful & Graceful Aging. (2018, December 13). Retrieved from https://www.integrativehealthcare.org/mt/walking-on-rocks-benefits/
Tubbs, R. S., Mortazavi, M. M., Loukas, M., Dantoni, A. V., Shoja, M. M., & Cohen-Gadol, A. A. (2011). Cruveilhier plexus: An anatomical study and a potential cause of failed treatments for occipital neuralgia and muscular and facet denervation procedures. Journal of Neurosurgery, 115(5), 929-933. doi:10.3171/2011.5.jns102058