During menopause, you're more susceptible to negative effects of stress. Avoid the wrong exercise (that will worsen stress) and do the right exercise and you can reduce or eliminate symptoms of menopause. There are at least 84 symptoms associated with menopause. This short list of 13 pesky symptoms can be supported by the right exercise.
Hot Flashes (and Night Sweats)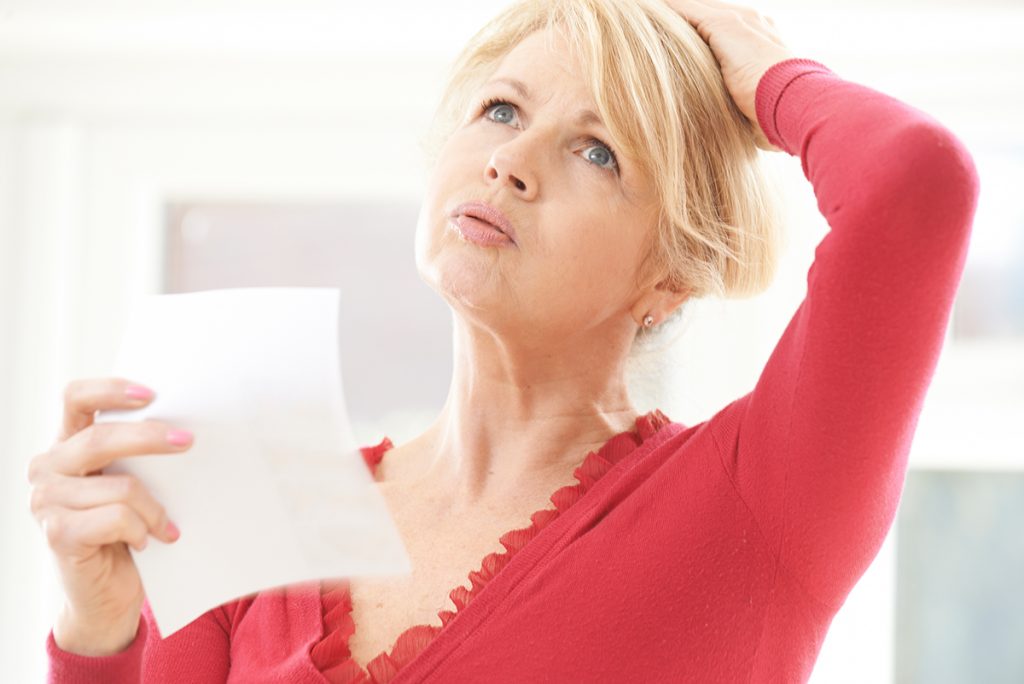 Hot Flashes are potentially the most well-known and most-associated signs of menopause, affecting approximately 50% of menopausal women. They are a sudden sensation of feverish heat that spreads through your body.
Why they occur for some women and not for others, or why they may happen occasionally or for a time and then be gone, is not clearly understood. Vasomotor control is the reason behind why you might experience them when a girlfriend doesn't when both your hormones may fluctuate.
Night Sweats are excessive sweat that occur during the night. They can contribute to sleep disruption and daytime fatigue or anxiety. That of course, is not the jackpot you want. Both hot flashes and night sweats are believed in part due to fluctuating or low estrogen levels.
Exercise can help this menopause symptom if it's the right exercise. 
Women who are more fit, with better body composition, and who exercise with adequate intensity experience up to 62% less frequent and or intense hot flashes. What you need to beware of is your tendency to jump to conclusions about how to reach higher fitness levels. Longer and "more" exercise is not the answer. Due to this fast-paced life and your midlife status, the rules have changed.
In midlife, in 2021 and beyond, if you're still playing the exercise game according to 1980 rules, you will lose.
Will You?
The variability of progesterone related to amount of estradiol had the greatest correlation with hot flash occurrence in more than one study. Increased progesterone variability was associated with decreased hot flashes. Though there's not much that can be done to influence the variability in your progesterone levels. However, you can exercise to optimize your natural progesterone. Namely, keep stress (cortisol) in check.
Simply start with a smart plan according to your status right now. (More tips below). Ultimately,  include high-intensity intervals at the duration, frequency, and time of day that supports you instead of throwing you under the bus.
Did you know that if the only time you can exercise is late day and you push through high intensity, instead of losing weight you could set off a cascade of events that cause you to gain? The right exercise at the right time of day is a must.
Fatigue
Fatigue is that sluggish, always-tired feeling doesn't go away with a good night's sleep. You feel unproductive, moody and this fatigue can cause what's known as wired-and-tired feeling. You desperately want to get a good night's sleep and shake it but can't. For some women, this is like period week fatigue only it doesn't go away.
Extended periods of fatigue can be signs you've just been pushing through, using caffeine or sugar or both to serve you short term. If you rely on external substances too long, that false energy you borrow is going to catch up to you in the end and you will pay back that debt.
If you rely on external substances too long, that false energy you borrow is going to catch up to you in the end and you will pay back that debt.
So, what do you do when menopause fatigue hits and your calendar says HIIT? Or Long run? You rest. You can't build fitness on a false foundation. Fake it till you make it doesn't work with your midlife fitness. Plan the work. Work the plan. Override the calendar and rest if your workouts or your sleep, appetite, mood, or digestion is suffering.
An entire chapter in You Still Got It, Girl! Is dedicated to Rest & Recovery. Oh, there are chapters on exercise and on sleep too but Rest & Recovery is something few of us learned to do well. Now? We have to pay attention.
The right exercise when you're fatigued could be no exercise. We need to remember what it's like to just move more and rest well.
Low Libido
Libido is your overall sexual drive or desire for sexual activity. It's influenced by biological, psychological, and social factors. It's not just that you may feel dry and a lack of interest thanks to hormone shifts. If you're experiencing fatigue and other menopause symptoms like weight gain and belly fat, you don't feel sexy or want to be seen or touched.
One of my first Flipping 50 TV episodes was dedicated to low libido and what you can do about it. It's partially due to changing hormones. But a lot of midlife women don't realize that the exercise they're doing (or not doing) is also destroying libido.
The right exercise will boost your testosterone. The wrong exercise kills it and the mood, girlfriend. Simply said, from the boardroom to bedroom this hormone is important. Last, exercise that gets your hips moving increases blood flow there and so it's not all intense. Whether it's dancing for you or it's Pilates or Yoga is up to you.
Make this flip: Stop the endurance exercise and get on the short, intense train. Plus? If your partner snores? You may need to just have play dates together and sleep separately or the libido will keep being a problem. Sleep deprived and sexy don't belong in the same sentence.
Sleep Disorders & Insomnia
Sleep disorders & Insomnia are often brought on by night sweats. Anxiety & Depression (below) can also be to blame. If your mind just won't shut down and quiet when your body is crying for relief from fatigue, there are things you can do. If you think of your symptoms as little messengers something isn't quite right, it may not just be hormones. Or it may be that your hormones will be helped by some gentle shifts.
It may be a micronutrient deficiency showing up. After all, at midlife, several things may be catching up to you. Have you had a less-than-5-star diet? Are you pretty passionate about your coffee and your wine both? Have you neglected your exercise? Just review your last month and get honest. If "busy" got in the way of you exercising and your regular routine is now a random one, get back on it if only for sleep. Truth is just 10 minutes of exercise can boost sleep by 33% according to a poll by National Sleep Foundation.
It could also be exposure to EMFs (too many screens, electronics) in your lifetime or at least right now. Our bodies weren't made to handle all of this.
There are about 20 different things you can do (and stop doing) to support sleep. Try them sequentially, not randomly and adjusting until you've eliminated each one or find it works is something most of us struggle to do on our own. "I've tried everything," too often means I've randomly tried this and that for a while.
The right exercise to help with sleep depends on how you're currently sleeping.
The Short List
Menopause Symptoms Lessened or Eliminated by (Proper) Exercise
Hot flashes
Fatigue
Night Sweats
Libido
Sleep Disorders
Weight Gain
Incontinence
Muscle Tension
Osteoporosis
Insomnia
Anxiety
Depression
Belly fat
Weight Gain
If you've experienced weight gain, I have good and bad news for you. First, you can do something about it. Second, menopause is not to blame. Hormone fluctuation may have caused sudden weight gain. But often at a deeper level there is some behavior change that either did or needs to happen.
You may, as I did, find yourself in a perfect storm. Everything that happened for me in 2019 put me in a place of toxin exposure (hormone disruption), physical and emotional stress (hormone imbalance x 2), and related time and financial stress (hormone disruption). By the end of the year I'd gained 10 lbs. Now, at first glance, it's possibly reasonable. However, I was training for an Ironman (that's 140.2 miles of swimming, biking, and running in a day).
Endurance activity has the potential to throw women in midlife (and others) under the bus with adrenal fatigue and it certainly did me. I'd successfully trained for 7 prior to it, with excellent health (albeit, I modified my protocol intentionally for optimum training as opposed to volume).
During menopause, what you've been able to get away with until then, you may not.
Depression & Anxiety
Depression & anxiety are mood disorders more common among women than men. Dropping estrogen can negatively influence production of neurotransmitters (brain hormones) like dopamine and serotonin that regulate mood. Combined declining levels of progesterone and estrogen make it hard to restore happiness after incidence of sadness or anxiety.
During the pandemic if you've had a little more struggle with this, though perfectly natural and normal with a decrease in our social connections, as a woman in midlife you may struggle a bit more than you would have going through this say 10 years ago.
What can you do? Mood boosting exercise is a big part. Get outdoors and move and lift weights. Both are associated with increase in serotonin, and reductions in anxiety & depression.
Belly Fat
Belly fat didn't make many "common symptom lists." For over 90% of the women I've worked with belly fat is a big complaint, whether or not they've gained weight. Fat deposits tend to favor the belly.
There are two types of belly fat, visceral fat and muffin top or the pinch-an-inch type.
Visceral belly fat is internal around your organs. Muffin top is that spare tire, often in front and back for women.
The two types of fat respond to exercise differently. The right exercise for targeting menopausal visceral belly fat is high intensity interval training. Altering exercise to include high intensity intervals a few times a week can be enough. However, the muffin top requires more. You've got to do intervals and cut out your extra-curricular carb intake.
Osteoporosis
Osteoporosis and osteopenia (less than optimal but not quite to the 2.5 Standard Deviations from optimal bone that is osteoporosis) are both growing concerns for midlife and older women.
For good reason. Bone loss on average can be between 1-3% of total bone density per year if you're not doing something about it.[Resistance weight training has the greatest positive influence on bone density. High impact weight-bearing exercise is second. The emergence of vibration therapy also contributes to bone density. However, vibrational therapy has to be combined with function stability movement for optimal prevention of falls and fractures.]
During the 3-5 years around a woman's menopause bone losses can accelerate to 3-5% loss annually.
What's the answer, or rather, what's the answer while you're at home, opting not to go to the gym during the pandemic? At the gym using the leg press, chest press, and seated row for strength will help most to load your hips, wrists, and spine. At home focus on squats, lunges, bent over row and chest press.
You've been conditioned to believe any exercise is better than no exercise. During menopause the right exercise for each woman is unique.
---
Reprinted from flipping50.com with permission from Debra Atkinson.
Debra Atkinson is the #youstillgotitgirl who is flipping 50 and changing the way thousands of women think about their second half. She's the host of the Flipping 50 TV Show and the Flipping 50 podcast. As a master personal trainer, strength and wellness coach with over 30 years fitness industry experience, she works with women who are pro-aging with vitality and energy. She is an international fitness presenter, author of hundreds of articles and multiple books. Visit her website, flippingfifty.com
References
https://pubmed.ncbi.nlm.nih.gov/30502745/
https://pubmed.ncbi.nlm.nih.gov/22409782/
https://www.ncbi.nlm.nih.gov/pmc/articles/PMC6459070/
https://journals.lww.com/menopausejournal/Abstract/9000/Depression,_anxiety,_and_fear_of_death_in.97144.aspx
https://www.ncbi.nlm.nih.gov/pmc/articles/PMC2018853/
https://www.ncbi.nlm.nih.gov/pmc/articles/PMC3568069/
https://pubmed.ncbi.nlm.nih.gov/19211823/
https://www.ncbi.nlm.nih.gov/pmc/articles/PMC3858421/