Are you aware of the global aging crisis? Now at FAI we don't think to grow old is a problem or a crisis at all. But many of our developed countries around the world are facing a crisis of economic and health care stresses as their countries begin to tip out of balance with respect to their average age.
I was in South Korea recently which is the first country I have visited which has such an aging population their population is on pace to begin declining in about 15 years. By 2040 over 1 out of 3 people will be over the age of 65 in South Korea, and in a country where many stop working after 55, but live well into their 80s and 90s this represents some pressing problems for their economy as well as health care industry. And South Korea is not unique.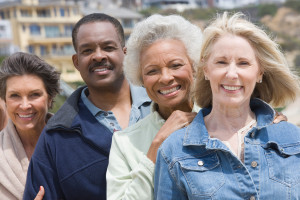 In 2016 I visited Spain, the UK and Canada and all have similar aging shifts looming in the next 15-20 years. These developed countries all have very significant Baby Boomer populations, but the generations that followed are much smaller, so their country populations are way out of balance. In fact in Toronto I joked with the audience: "you really all just need to go make some babies!" They laughed but it really isn't a laughing matter when by 2030 over half of Canada will be over 50!
The Fitness professional, health care professional, allied health profession that positions themselves to serve an aging population will have a leg up in a changing economy. The economy in many major developed countries is going to shift more and more to an Aging Economy. Tourism, adventure travel, clubs, fitness programs, as well as care-giving and health care are all poised to take a piece of what will be a massive economy in developed nations.    Are you as a fitness professional fully prepared? Are you educated on how to train, serve and care for this population?  Do you know how to best market your services for what they will need and want to buy from you?
I was at fitness conference in New Orleans last week and for the first time I heard fitness leaders say the new fitness economy is going to be for aging adults… pretty sure that was something I said in New Orleans in 2011… but frankly not really anyone was paying attention.
The Economic Opportunity is one like the fitness industry has never fully experienced before… but also one it is completely unprepared for and in most cases not even aware of.
Are you ready?
---
Dan Ritchie, PhD, has a broad background in the fitness industry including training and management in commercial and university/hospital-based fitness, for-profit, notfor-profit and educational facilities. His primary areas of expertise are in personal training for special populations: athletes, pregnancy, blind, stroke recovery, Parkinsons, multiple sclerosis, cerebral palsy, Fibromyalgia, Alzheimers, etc.
This article was reprinted with permission from the Functional Aging Institute.