The Challenges
We all know Darwin's theory of survival of the fittest. During these COVID times, fitness professionals desperately need to evolve – for our own fiscal survival, a great deal of population health depends on us. 
A study released in June 2020 surveyed 10,824 people worldwide. Results showed 46.67% of gym members said they will not continue their gym membership after COVID. The number of people in the US not continuing membership is over 50%. 
We can encourage people to Zumba on Zoom, online exercise… but let's have a reality check on what is really going on.
Forbes: "Americans Are Excessively Eating, Drinking, Smoking Pot, Playing Video Games And Watching Porn While Quarantined"
Obesity is associated with a more violent reaction to coronavirus – which is no surprise as fat cells are like millions of little endocrine engines spewing inflammatory factors. Smokers and vapers are at higher risk of serious illness and complications if they get COVID-19.
Everyone knows smoking tobacco, pot-smoking, and vaping affects the lungs. The damage done by smoke makes it easier to get many lung illnesses. People who smoke and vape – even younger people – are at higher risk of more severe illness and complications from COVID-19.
Isn't it amazing alcohol sales were deemed as an essential service? According to Nielsen, studies show that "alcohol sales were up 55% in the week ending March 21." Nielsen also found that amount of spirits sold, such as tequila, gin and pre-mixed cocktails, skyrocketed 75% compared to March 2019. Wine sales rose 66%, beer sales popped 42% and online alcohol sales grew by an astounding 243% from last year at this time. 
COVID Calamities
eating more junk

drinking more alcohol

exercising less

more stress

more TV/Screen time

Grand Canyon University Arizona study showed 22% of people surveyed reported weight gain during COVID crisis. That is just of those surveyed, and those who admitted to it! 
Their response to the findings:
"Get the recommended amount of sleep, do not snack after dinner, practice dietary restraint, alter stress coping mechanisms, and maintain an exercise regime." People know this. They need help implementing these suggestions. 
The Balance of Exercise During COVID-19
If you haven't read it yet – please refer to my article here on MFN on exercise and chronic inflammation. Reducing chronic inflammation and balancing our immune response is key during this pandemic.
Reducing chronic inflammation and balancing our immune response is key during this pandemic. 
In a number of studies, exercise has an important role in immune balance.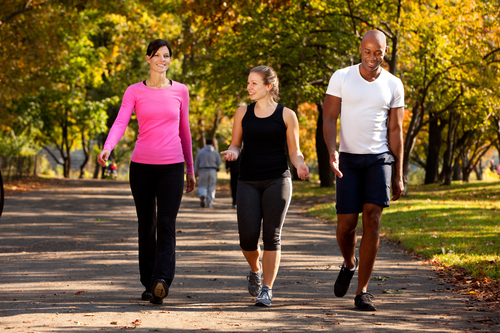 A large study showed that mild to moderate exercise, performed about three times a week, reduced the risk of dying during the Hong Kong flu outbreak in 1998. The Hong Kong study was performed on 24,656 Chinese adults who died during this outbreak. This study showed that people who did no exercise at all, or too much exercise — over five days of exercise per week — were at the greatest risk of dying compared with people who exercised moderately.
It is clear that both too much exercise, overexertion during exercise and exercising while sick increases the risk of medical complications and death. These cause excess production of inflammatory cytokines. In the COVID-19 pandemic, research is showing those who get very ill or succumb to the virus – a massive cytokine storm overwhelms the body. 
Secretory immunoglobulin A, or "sIgA" is an antibody protein used by the immune system to neutralize pathogens, including viruses. sigA has proven to be vital in upper respiratory tract infections. Over-exercising without adequate recovery has been shown to lower sigA, increasing susceptibility to respiratory tract infections. These infections are often what cause severe illness in COVID cases. 
Remember Physical Activity
Of course, physical activity is a necessity to keep all of us healthy. Even if it's not an "exercise" day – we all must remind people to be vigilant about physical activity. 
Unfortunately "stay at home" was interpreted as sit on the couch and watch TV, or more screen time. 
According to the data from Comcast, the average household is watching TV at least 8 hours more per week. That's a full workday more. The data shows a 40% increase in viewing during the late-night hours. Comcast says it has seen the largest increases happening between 11 p.m. and 2 a.m.
Netflix has added 16 million global customers since the pandemic started. 
Physical activity and moderate exercise are vital to our mental health, physical health & immune function. The immune system has no pump of its own. It depends on our pumping muscles for flow. 
There is no question this pandemic is increasing our stress levels. The psychological stress from feeling isolated, fear of catching the virus, the many unknowns, how long we will live like this, the hysteria.
It is our gift to be able to help people make better choices to deal with their stress levels. 
The increased stress, screen time, changed schedules are all contributing to sleep issues. Sleep is vital to immune balance and the control of inflammatory responses. 
We should encourage more passive exercise closer to bedtime, rather than trying to fall asleep to Netflix. Meditation, deep breathing, Tai Chi, yoga stretches, more passive exercise – incredible for stress reduction and muscle strength. Encourage some Pilates intermittently throughout the day for activity, calorie burn, muscle strength. And of course, walking. Remember there really isn't a place now for the "no-time whine". 
With our guidance as fit pros, we truly can make a massive contribution to how we come out of this pandemic. There is a new normal. This COVID crisis could be here for a while. Let's take this as an opportunity to offer newer more innovative services. And yes – always welcome to contact me to brainstorm. We need to expand our services as health consultants. You are a wealth of information and creativity, and we can help calm the calamities. And please… educate all on wearing a mask!

---
Shira Litwack has been in chronic care management and prevention for 30 years, specializing in lifestyle habits including holistic nutrition, medical fitness and oxidative stress reduction. She is frequently called upon by the media, has her own podcast bringing current research to the public. She has created and provided oxidative stress assessments, to help clients identify potential health risks. From these, she provides guidance to lower inflammation. Shira is now a product specialist with a major COVID-19 test kit supplier, working with epidemiologists educating people on COVID testing, and setting up and designing protocol for COVID testing clinics