I'm going to be honest – there's a lot of hype in the exercise market today.
It almost feels like whoever can do the most creative exercises wins some kind of award.
But the truth is…that's not a good use of your time because it's not going to get you the results you probably desire – a lean, defined, healthy body that enables you to perform daily life functions and that will allow you to age gracefully.
And let me tell you – this is not about cardio and crunches!
Today I'm removing the fluff and sharing with you the EXACT exercises you need to do to get results. Here are the eight exercises to do have the body you want.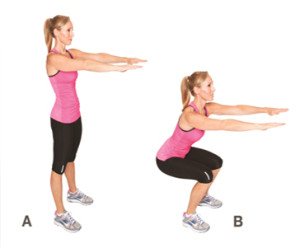 Firstly: Deadlifts
Secondly: Squats
Thirdly: Lunges
Fourthly: Chest pressing/pushups
Fifthly: Overhead press
Sixth: Pullups
Seventh: Rows
Eight: Weighted carries
Are you surprised by this?
Of course, form is of the utmost importance when you weight train and the number of sets/reps/weight you use should be determined by your expert coach.
I guarantee if these exercises are consistently incorporated into your routine you will look, feel, and move the way you want to.
Originally printed on Move Well Fitness blog. Reprinted with permission.
---
Maurice D. Williams is a personal trainer and owner of Move Well Fitness in Bethesda, MD. With almost two decades in the industry, he's worked with a wide range of clients, including those with health challenges like diabetes, osteoporosis, multiple sclerosis, hypertension, coronary artery disease, lower back pain, pulmonary issues, and pregnancy. Maurice is also a fitness educator with Move Well Fit Academy and NASM. He also serves as the Director of Membership Services for the MedFit Network.