As a kinesiologist who specializes in exercise programming for older adults, I am often asked which exercise is the most important to do regularly.
Well, you might not like my answer!  An older adult who wants to live an active and exciting life needs to be a "Jack Of All Trades" when it comes to exercise, making time for many different training techniques.  Here's why:
As we get older, the aging process takes a toll on most physical functions, such as muscle strength and cardiovascular endurance.
A way to illustrate this is through "Aging Curves". Look at this illustration (below) and see how function improves early in life as we grow and mature, then begins to decline during adulthood.  The amount of decline is not set in stone and is modified by our lifestyle choices.  Research has demonstrated that function declines more slowly in those who are physically active (red curve) and declines more rapidly in those who are sedentary (blue curve).  Without a doubt, staying active is the key to an active and exciting older adulthood!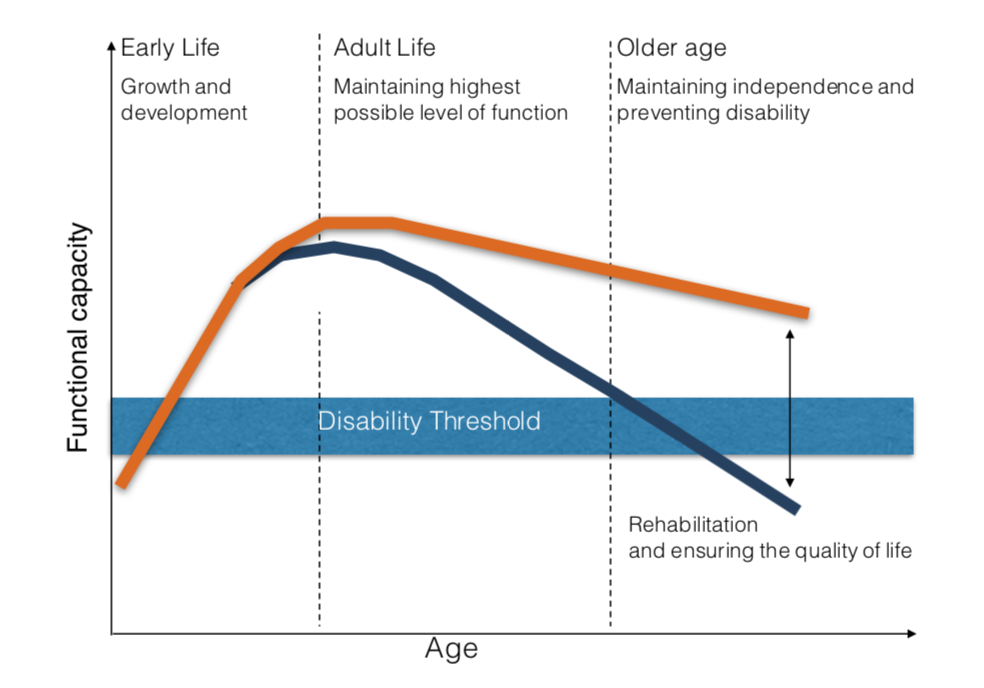 However, there is no single exercise that benefits all parts of the body.  So, in order to keep any of our aging curves from plummeting to the disability threshold, we need to include exercises for cardiovascular fitness, muscular strength/power, flexibility, balance, and agility in our training programs. Or, put it in another way, we need to become a "Jack of All Trades"!
Are you a fitness professional interested in learning more on this topic? Check out Dr. Thompson's 4 hour course with PTontheNet, Exercise Programming for Active Older Adults.



---
Christian Thompson, PhD is an Associate Professor in the Department of Kinesiology at the University of San Francisco and founder of Mobility Matters, an exercise assessment and program design platform designed to help fitness professionals and clinicians work with older adults. Christian has published scientific articles on exercise programming for older adults in peer-reviewed journals such as Medicine and Science in Sports and Exercise, Journal of Aging and Physical Activity, and Journal of Applied Research.