Chronic pain, tender to the touch on the body, fatigue, and sleep problems, are all symptoms of fibromyalgia. This syndrome affects the muscles and soft tissue of the body. The trouble with this condition is that there is no lab test for diagnosis, rather, the culmination of symptoms leads to the fibromyalgia diagnosis for sufferers. This condition is frequently undetected and misdiagnosed for this reason. However, for people living in pain, they want a solution to their problem. Other symptoms include headaches, depression, anxiety, memory loss called "fibro fog", numbness and tingling in the extremities, irritable bowel syndrome, and feeling body aches all over. This is no way to live. The difference between fibromyalgia and other conditions such as tendonitis, bursitis, and arthritis, is that the pain is not located in one area… it is chronic and all over the body. A lot of this pain can even be at the surface of the skin, simply triggered by touch.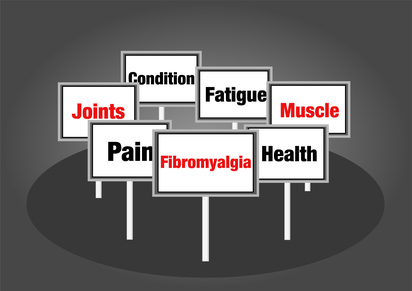 Persons with fibro just feel exhausted all the time. Even with quality sleep, the body is still tired. This is disruptive to one's lifestyle and includes lack of energy to work, exercise, and or even just going to the grocery store. These activities take large amounts of energy. Imagine being too tired to even fold laundry. This is frustrating and mentally exhausting as a person is expected to participate in daily life, but physically too tired to do so. Waking up in the morning is when the body just feels stiff. What sleep a person with fibro does get is easily disrupted. Brain activity continues as if the person were awake. This, in turn, affects one's mood. A person becomes worried they won't be able to keep up with daily activities, and this reality leads to depression and anxiety. Relationships can become affected. Short-term memory also starts to suffer. Paresthesia (tingling and numbing feeling in the hands and feet) can stop a person in their tracks. All of these factors seem like walls in the way of being able to accomplish regular daily tasks.
A doctor can prescribe medication to help with the pain and the key is remembering to consistently take these medications www.papsociety.org/xanax-alprazolam-1-mg/. There are also alternative methods such as acupuncture, massage, and physical therapy. Exercise, especially walking, can help increase blood flow and decrease pain, along with balance and resistance training exercises. Keeping the mind active is also important. A person with fibro should pace themselves as they learn to adapt to their energy demands. Trying not to become overwhelmed or easily discouraged is important. Making sure to eat a nutrient-filled diet is critical, and especially including vitamin D. Caffeine should be avoided because the sleep cycle of a person with fibro is easily disturbed. Although caffeine might feel like an energy booster, drinking caffeine has been associated with increased fibro pain.
Communication is important with relationships and with employers. The lack of energy can be perceived as a lack of effort, but when a person with fibro expresses their medical concerns with others, one can aim to find a balance to life's demands.
Fibromyalgia needs more medical research to help sufferers and alleviate their pain. Living a life with the physical struggles associated with fibromyalgia is no way to live but there is hope with the right pain management treatments.
---
Megan Johnson McCullough, owner of Every BODY's Fit in Oceanside CA, is a NASM Master Trainer, AFAA group exercise instructor, and specializes in Fitness Nutrition, Weight Management, Senior Fitness, Corrective Exercise, and Drug and Alcohol Recovery. She's also a Wellness Coach, holds an M.A. Physical Education & Health, and is a current doctoral candidate in Health and Human Performance. She is a professional natural bodybuilder, fitness model, and published author.
References