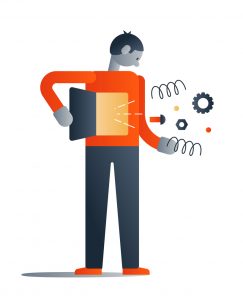 Everyone in the functional medicine world has heard about the importance of a balanced microbiome for overall health.  But how does an imbalance create disease?  There are multiple answers to that question.  Join Dr. Fresco for a deeper look at the ways in which pathogenic microorganisms can contribute to illness, including; microbial shift disease, lipopolysaccharides (LPS), and biofilms.
Gratefully, there are highly effective, yet safe therapeutics that can restore microbial balance and health.
To learn more, join Dr. Fresco for her free upcoming webinar on this topic, From Fatigued to Fit: Improving Gut Health with Botanical Medicine. Dr. Fresco will discuss the use of botanical formula, Biocidin, to deal with those "unfriendly residents" while safely correcting the intestinal ecology.  All while preserving the entire body's ecosystem.
What Will Listeners Learn During Dr. Fresco's Presentation?
What is microbial shift disease and why it is critical to look at the health of the entire GI tract, starting with the mouth.
Is it SIBO or SIFO?  Broad-spectrum botanicals can address both.
How effective are Bio-Botanical Research products without diet modifications when addressing SIBO?
What are biofilms and how they contribute to drug and antibiotic resistance.
Understand the systemic effects of LPS and how symptoms can manifest in the body.
The overlooked link between oral and gut health and how to properly support the oral microbiome.
Case studies successfully addressing microbial dysbiosis.
Leave with simple, clinically effective, botanical solutions that the whole family can use.

What is Bio-Botanical Research?
Bio-Botanical Research Inc., formulators of Biocidin®, has been providing professional-grade, botanical nutritional support formulations that target both acute and chronic intestinal dysbiosis and systemic infections for more than 30 years. The curated line of 10 products is especially valued for its ability to selectively address difficult biofilm encapsulated infections seen in C. difficile, Candida, SIBO, IBD, UTI, sinusitis, and periodontal disease, among many others.
What is Biocidin®?
The flagship formula, Biocidin®, is a combination of 17 botanicals, used from head to toe and infant to elderly. Biocidin® has been revered by leading practitioners, and for good reason.—Its ease of use and versatility as a broad-spectrum agent to address multiple microbial imbalances simultaneously, including pathogenic biofilms, makes it unique.  Best of all, research is confirming what healthcare providers have seen in practice for years; the Biocidin® formula is able to effectively address dysbiosis while protecting and supporting the proper balance of beneficial organisms.
Product Quality and Manufacturing
All botanicals are of the highest USP grade quality, tested for purity, and come with certificates of analysis. No synthetic fillers, additives, gluten, dairy, artificial flavors, or colorings are used. Independent laboratories are used to test for effectiveness, and  all products are tested in clinical usage by physicians before adding to the product line.
How to Learn More
Healthcare professionals interested in Biocidin®, can set up a professional account to receive access to on-going educational resources, including free personalized training on products and protocols.
Patients are encouraged to work with a functional medicine practitioner.  You can read more about the products at www.biocidin.com.
---
Rachel Fresco, L.Ac., Ph.D. is founder and CEO of Bio-Botanical Research, located adjacent to Silicon Valley on the Monterey Bay. Her company has been delivering innovative botanical formulas to health care professionals since 1989. Her focus in product development has been addressing concerns relating to GI health, Lyme disease, Autism Spectrum Disorders, as well as oral care and systemic infections. The flagship formula Biocidin®. is recommended by noted authors, clinics and laboratories worldwide.
Dr. Fresco lectures at medical conferences both in the US and internationally, in addition to appearing on many podcasts and online summits relating to health and wellness. She "walks the talk" empowering and inspiring others to lead healthy and organic lifestyles, and modeling a new paradigm of corporate culture.