Pilates was first developed by Joseph Pilates to strengthen muscles, increase flexibility, and improve overall health. In the 1950s, Pilates started using his method to rehabilitate dancers, including one of his first protégés, Eve Gentry. She was rehabilitated by Joseph Pilates after a radical mastectomy for breast cancer. After studying Pilates, she was able to regain full use of her arm and torso, a remarkable feat because all of her lymph nodes and chest muscles, as well as breast tissue, were removed with this procedure. Doctors could not believe the success that she had obtained with the Joseph Pilates method; he was a man ahead of the times.
Recent research and studies have helped supported Pilates' work and demonstrate its benefits for recovering from breast cancer surgery.
Recent Research and Findings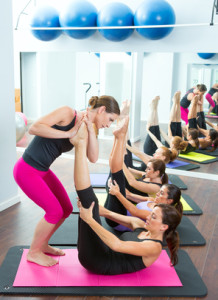 The first study on the benefits of Pilates for breast cancer survivors was completed by physical therapists in 2008 [1]. It was a pilot study with only four participants, so the conclusions we can draw from this study are limited. However, they found that Pilates increased the flexibility of the affected arm after a twelve-week program, with participants exercising three times a week.
Another study done in 2010 [2] examined the effects of Pilates exercises on functional capacity, flexibility, fatigue, depression, and quality of life in female breast cancer patients. Pilates was performed three times a week for eight weeks. After participation in the Pilates exercises, improvements were noted in the participants' levels of fatigue, flexibility, quality of life, and performance on a six minute walk test. This study helped demonstrate that Pilates was safe and effective for breast cancer survivors.
The most recent study published in 2012 [3] found that after twelve weeks of Pilates, thirteen participants improved their shoulder and neck flexibility. Improvements were noted in quality of life, body image, and mood. Although volume increased on the affected arm (a sign of lymphedema), one must note that this program did not modify the exercises for the class and that the sessions increased in frequency over the twelve-week period.
It is important to note that traditional Pilates mat exercises were used for the studies listed above, and minimal modifications were used which may have affected the results. However, all of these documented results help confirm that Pilates is a gentle but effective way to regain strength and recover from breast cancer.
Footnotes:
Keays, K, Harris, S, et al. "Effects of Pilates Exercises on Shoulder Range of Motion, Pain, Mood and Upper Extremity Function in Women Living with Breast Cancer: A Pilot Study." Physical Therapy 88(4) (2008): 494–510.
Eyigor, S, Karapolat, H, et al. "Effects of Pilates Exercises on Functional Capacity, Flexibility, Fatigue, Depression and Quality of Life in Female Breast Cancer Patients: A Randomized Study." European Journal of Physical Medicine 46(4) (2010): 481–87.
Stan, DL, Rausch, SM, et al. "Pilates for Breast Cancer Survivors: Impact on Physical Parameters and Quality of Life After Mastectomy." Clinical Journal of Oncology Nursing 16(2) (2012): 131–41.
---
Written by Naomi Aaronson and Ann Marie Turo. Reprinted with permission from Naomi Aaronson, MA, OTR/L, CHT; Also published on demosHEALTH.
Naomi Aaronson, MA, OTR/L, CHT can be reached at www.recovercisesforwellness.com.