Probiotic, Prebiotic, Synbiotic, Antibiotic, Psychobiotic?
If you think this is the title to a new Sci-Fi flick, you're not alone. How confusing can things get? We hear about them in the news and on ads but does anyone ever really explain what they mean and why you should care to know? Well, I'm breaking it all down for you into small digestible bites. 
Menopause is marked by a plethora of symptoms ranging from hot flashes, weight gain, and memory loss, to depression and anxiety, just to name a few. With probiotics being the new hot topic on the supplement market with its adds promising infinite health benefits, the question arises if they can be beneficial with menopausal symptoms as well. Is there truth to any of those claims? What are probiotics? Would you benefit from consuming them? The last question is one you will have to answer for yourself but after reading this blog you'll be well-equipped to make an informed decision: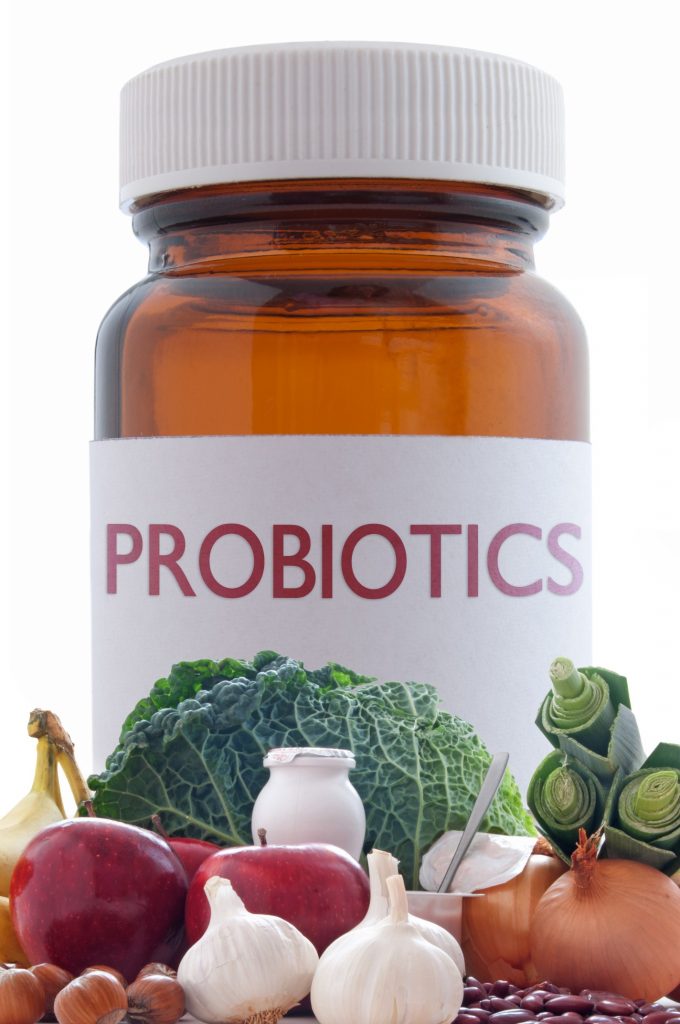 Probiotics:
Probiotics come from the Greek word "pro bios" which means "for life". The internationally endorsed definition of probiotics is "live microorganisms that, when administered in adequate amounts, confer a health benefit on the host." The key word here is "live".
Prebiotics:
Dietary substances that nurture a selected group of microorganisms living in the gut. Example: Polyphenols in chocolate act as prebiotics, enhancing beneficial bacteria that are already in the gut. They favor the growth of beneficial bacteria over that of harmful ones. (1)
Synbiotics:
Appropriate combinations of prebiotics and probiotics.
Antibiotics:
A substance that inhibits the growth of or destroys microorganisms.
Psychobiotics:
Probiotics that have a specific health benefit in regards to mental health. This is not a scientific term but rather a term coined by a scientist that was researching the mental health benefits of probiotics. (2) It's very catchy so I thought I'd share 🙂
There are over 100 trillion bacteria, most of them in the intestines. These bacteria are our own intestinal medicine cabinet, which is capable of protecting us from damaging organisms.
They produce neurotransmitters that relay messages from the intestines to the brain via the vagus nerve, which causes the body to react in many different ways:
Gut bacteria work in the body through different modes of action supporting essential functions:
Digestion
Immunity
Metabolism
Mental Health
Nervous system
And helping with a variety of diseases. A few are mentioned below:
Lactose intolerance
Stress
Hypertension
Cholesterol reduction
Irritable bowel syndrome
Crohn's disease
A lot of the now marketed probiotics don't have any benefits as they don't make it passed the stomach acid. There are however, some that have great benefits:
Warning: No legal definition of probiotics currently exists, which allows companies to label their products "probiotic" even if they don't meet the scientific definition of the term. No probiotic has of yet been approved for therapeutic purposes by the FDA. So when purchasing probiotic supplements, do your research. As with any other nutrient, always try to get as much in your daily fresh food (yogurt, kefir, fermented foods, sauerkraut, kimchi) instead of supplementing with pills or powders.
Due to their specific benefit, some of the strains of bacteria that may be beneficial for menopausal symptoms are listed below:
Combination of Lactobacillus helveticus & Bifidobacterium longum 
Reduced cortisol and inflammation
Cortisol is a big player in menopausal belly fat
Inflammation is a big player in musculoskeletal pain
Lactobacillus and Bifodobacterium
Secrete GABA, a neurotransmitter, who's deficiency has been linked to depression. Polyphenols in dark chocolate act as prebiotics increasing both bacterial families
Lactobacillus rhamnosus
Reduces anxiety and depression by increasing GABA receptors in the brain
Bifidobacterium 
Alters levels of serotonin (similar to Prozac)
Lactobacillus reuteri 
Improves mood, appearance, and general health by increasing levels of the feel-good-hormone oxytocin
Lactobacillus acidophilus 
Influences canabinoid receptors, which are critical to regulating pain
B. infantis, L. reuteri 
Active agents in yogurt 
Note: I was not able to find any specific studies that evaluated the benefit of probiotics for menopausal symptoms. This article, although based on information from peer-reviewed sources, is my own opinion on the possible benefits that probiotics can have on menopausal symptoms. It is intended to provide you with information but should not be taken as medical advice. Each situation is different. Contact your health care provider if you have other health conditions and are interested in exploring probiotics, as there may be interactions with medications that were not explored in this article.
Have a comment or question? Tweet me @doctorluque
Republished with permission from doctorluque.com
---
Dr. Maria Luque is a health educator and fitness expert that specializes in helping women take charge of their own wellness. A native of Germany, she pursued a career driven by a passion for health and fitness. Dr. Luque currently teaches at the College of Health Sciences at Trident University International, in addition to conducting workshops, group/personal training, and writing. She's an IDEA Fitness Expert and has been published in the IDEA Fitness Journal as well as appeared as a guest at local news channel to talk about quality of life and menopause. Visit her website, doctorluque.com
References:
(1) Jain, D. & Chaudhary, H.S. (2014). Clinical significance of probiotics in human. International Journal of Nutrition, Pharmacology, Neurological Diseases, 4(1), 11-22.
(2) Davidson, J. (2014). The Psychobiotic Revolution. Psychology Today March/April, 40-41.
(3) Sanders, M.E. (2008). Probiotics: Definition, Sources, Selection, and Uses. Clinical Infectious Diseases, 46:S58-61.