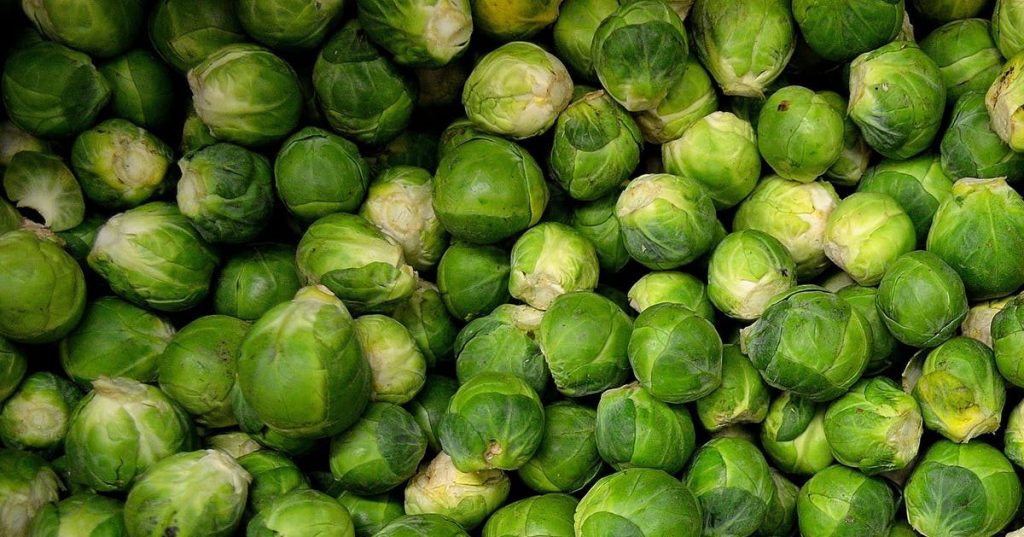 Brussels Sprouts are a powerhouse — they control blood sugar, insulin secretion, reduce your risk of cancers and decrease inflammation throughout the body. Try my Brussels Salad with Dried Cherries, Pears, and Candied Pecans for a creative new way to use brussels sprouts!
Candied Nuts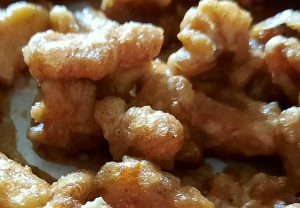 Preheat oven to 350 degrees.
½ cup Pecans, Walnuts, or Almonds, toasted
2 tsps Coconut Oil, melted
1 Tbls Coconut Sugar
1 Tbls Maple Syrup
1/3 tsp Chinese Five Spice
Pinch Cayenne
Pinch Pink Salt
Toss lightly toasted nuts of your choice with remaining ingredients. Spread on sheet pan lined with parchment. Bake 6 minutes. Stir, turn and continue baking another 5-7 minutes. Set pan on cooling rack 15 minutes and scrape nuts onto plate to cool completely.
Vinaigrette
2 Tbls fresh Lemon Juice
2 Tbls Blood Orange Juice
2 tsps Dijon mustard
½ small Shallot, minced
1 tsp Honey
¼ cup Olive Oil
Salt and Pepper
Whisk and taste for seasoning. Set aside.
Salad
2 cups shredded or leafed Brussels Sprouts
1 small Red Pear, halved, seeded, and sliced thin
½ cup dried cherries, chopped
¼ cup Gorgonzola, Chevre, or Manchego cheese, crumbled or cubed
Tear leaves or shave Brussels and toss with just enough dressing to coat. This can be done up to 4 hours in advance. Chill dressed Brussels and your serving bowl or platter, as well.
At time of service: Layer brussels, pears, cherries, candied nuts, and cheese attractively around bowl or platter. Drizzle with remaining vinaigrette.
Phtye Facts
Brussels Sprouts control blood sugar, insulin secretion, reduce your risk of cancers and decrease inflammation throughout the body. High in Vitamin K, these little phyto-bombs prevent age related fractures and increase our marrow health. Bone marrow directly affects our immune function. When working with bone cancer, I often employ the mighty sprout to turn on key immune responses.
Dried Cherries are one of nature's most potent pills. Blood health and sleep patterns are enhanced by the presence of anthocyanins that strengthen our vascular system and turn on the brain's "bliss chemicals."
Pears are at the top of the cancer fighters list with high levels of Abscisic Acid, intestinal hydration and fiber.
---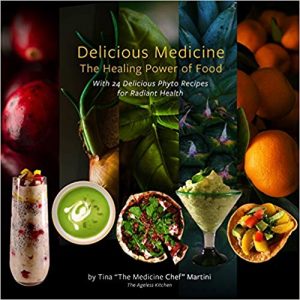 Get more great recipes from Tina Martini — her book, Delicious Medicine: The Healing Power of Food is available to purchase on Amazon. More than a cookbook, combining 20+ years of experience, along with her love of coaching, cooking and teaching, Tina offers unexpected insights into the history and healing power of clean eating, along with recipes to help reduce your risk of disease and improve overall wellness so you can enjoy life!
Affectionately referred to as The Walking Encyclopedia of Human Wellness, Fitness Coach, Strength Competitor and Powerlifting pioneer, Tina "The Medicine Chef" Martini is an internationally recognized Naturopathic Chef and star of the cooking show, Tina's Ageless Kitchen. Tina's cooking and lifestyle show has reached millions of food and fitness lovers all over the globe. Over the last 30 years, Tina has assisted celebrities, gold-medal athletes and over-scheduled executives naturally achieve radiant health using The Pyramid of Power: balancing Healthy Nutrition and the healing power of food, with Active Fitness and Body Alignment techniques. Working with those who have late-stage cancer, advanced diabetes, cardiovascular and other illnesses, Tina's clients are astounded at the ease and speed with which they are able to restore their radiant health. Tina believes that maintaining balance in our diet, physical activity, and in our work and spiritual life is the key to our good health, happiness and overall well being. Visit her website, themedicinechef.com