This recipe adds an amazing fresh note to grilled meats and is an easy snack on the go. Pack a ziploc with a small container of "caviar." Put the chips and napkin in, too. You've got yourself a little cowboy survival kit. I wipe the crumbs out of the bag and reuse. Clean eating and a clean planet!
Ingredients
1 ½ tbsp balsamic vinegar
3 Tbls lime juice
1 tsp cumin
2 tsps olive oil
1 garlic clove, minced
1-15 oz can black-eyed peas, drained and rinsed
1 ½ cups frozen corn kernels, thawed
½ red bell pepper, diced
1/3 cup sliced scallions
½ bunch fresh cilantro, stemmed and chopped
3 small Roma tomatoes, seeded and diced
Salt and freshly ground pepper to taste
1 avocado diced
Directions
In a large bowl, whisk together the balsamic vinegar, lime juice, cumin, olive oil and garlic
Add the remaining ingredients and toss to combine
Chill, 1 hour
Serve with tortilla chips or as a side dish
Phyte Facts
We really should get more black-eyed peas into our lives, not just on New Year's Day!
Black-eyed peas are high in pectin, a form of soluble fiber. This phytonutrient keeps the food in our stomachs longer, allowing for a more thorough uptake and use of nutrients. It keeps us feeling full for a longer period of time which makes for an easier decrease in calories and an increase in fat loss. Pectin lowers blood pressure and is a natural calming elixir to our muscle tissue. It helps increase blood flow and assists in para-sympathetic nervous system recovery. If someone has sustained trauma of any kind, black-eyed peas, are a perfect food.
---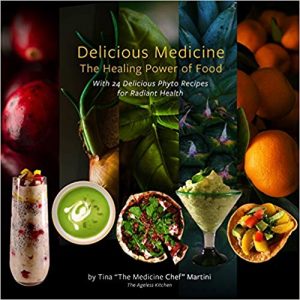 Get more great recipes from Tina Martini — her book, Delicious Medicine: The Healing Power of Food is available to purchase on Amazon. More than a cookbook, combining 20+ years of experience, along with her love of coaching, cooking and teaching, Tina offers unexpected insights into the history and healing power of clean eating, along with recipes to help reduce your risk of disease and improve overall wellness so you can enjoy life!
Affectionately referred to as The Walking Encyclopedia of Human Wellness, Fitness Coach, Strength Competitor and Powerlifting pioneer, Tina "The Medicine Chef" Martini is an internationally recognized Naturopathic Chef and star of the cooking show, Tina's Ageless Kitchen. Tina's cooking and lifestyle show has reached millions of food and fitness lovers all over the globe. Over the last 30 years, Tina has assisted celebrities, gold-medal athletes and over-scheduled executives naturally achieve radiant health using The Pyramid of Power: balancing Healthy Nutrition and the healing power of food, with Active Fitness and Body Alignment techniques. Working with those who have late-stage cancer, advanced diabetes, cardiovascular and other illnesses, Tina's clients are astounded at the ease and speed with which they are able to restore their radiant health. Tina believes that maintaining balance in our diet, physical activity, and in our work and spiritual life is the key to our good health, happiness and overall well being. Visit her website, themedicinechef.com