It's hard to believe anything could be better than ice cream. Well, we may have a winner with this perfect Summer dessert.
Take a trip to Italy, when you serve this classic semi-frozen, as the name tells us, creamy dream. The original recipe takes some experience and patience. I've found a way to cut a few of the more temperamental steps out. This semifreddo is filled with Summer Strawberries, and all the wonderful ingredients every summer dessert should have. L'estate e qui! Summer's here!
First, line a loaf pan, bowl, or pretty mold with plastic wrap. Set aside.
*Prepare your whipped cream for the semifreddo first and chill.
Strawberry Sauce
1 1/2 cups Strawberries, cleaned and hulled
¼ cup Agave, Honey, or sweetener of your choice
1 Tbls Lemon Juice
2 Tbls Water
pinch of Salt
Put all ingredients in a saucepan and cook 12-15, minutes or until Strawberries are soft and juice is thick. Set aside to cool. Once cool, pour into blender and blend until smooth.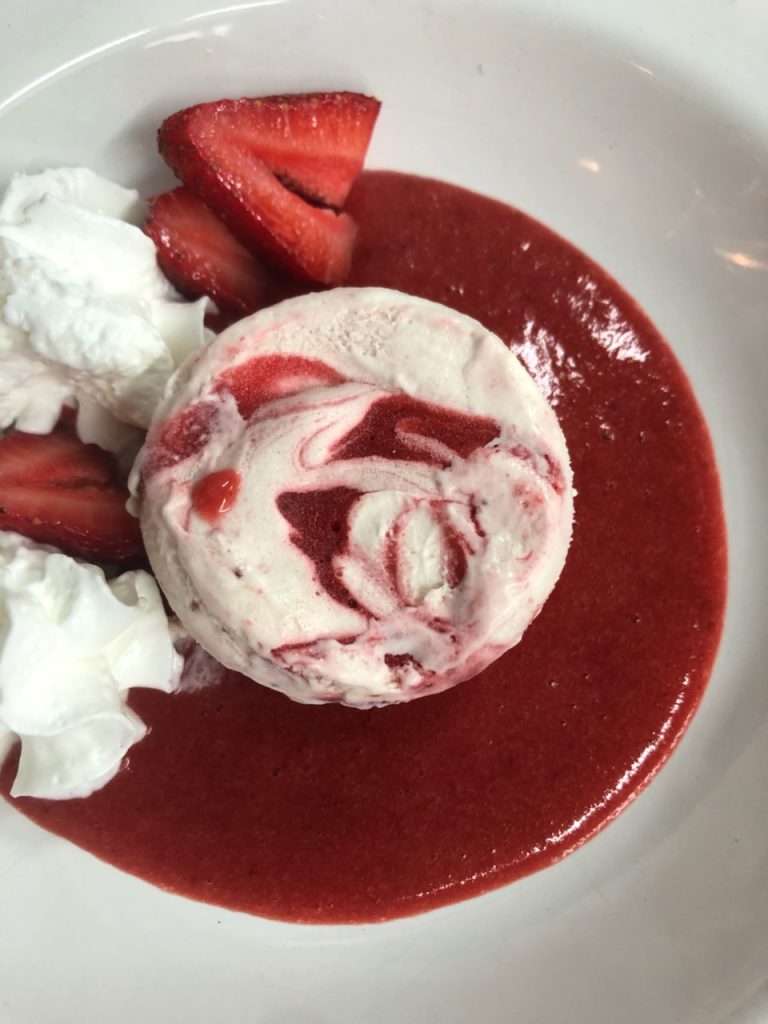 Semifreddo
3 cups Vanilla Ice Cream of your choice, softened (I used Coconut Bliss Vegan Ice Cream)
*2 cups Cream, whipped with Sugar and Vanilla (I used Coconut Cream).
Fold whipped cream into softened ice cream and scrape into your prepared pan. Carefully pour the Strawberry Sauce into the cream/ice cream mixture in a pattern or in dots. Run a knife through the sauce and cream to create a beautiful design on and in the semifreddo. Cover carefully with plastic wrap and freeze at least 4 hours.
When you're ready to serve, temper either in the refrigerator or at room temperature 10-20 minutes. Remove from pan or mold and slice. Use remaining sauce under your slice of semifreddo, for that 5-star effect. Decorate with fresh strawberries and whipped cream.
Tasty Tip: Add leftover Strawberry Sauce to club soda for a healthier spin on canned beverages.
Phyte Bites
Strawberries are a great way to preserve your eyesight. High in Vitamin C, they keep the fluid in the eye healthy and decrease our risk of cataracts.
Strawberries offer protection from UV radiation, as well.
Most of us believe that whipped cream couldn't possibly belong in the "good-for-us" category, but here's some good news: cream is high in Alpha Lipoic Acid, a powerful antioxidant that increases the bodies ability to control blood sugar, mood, skin aging, and also improve nerve function, thus decreasing the possibility of Parkinson's, ALS, and other motor-neuron diseases. If you choose Coconut cream, you're improving brain health, decreasing your chances of Alzheimer's, and slowing the aging clock, too.
---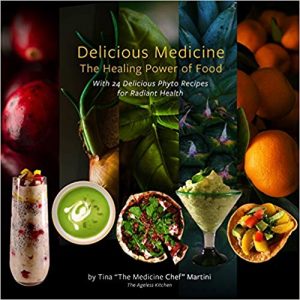 Get more great recipes from Tina Martini — her book, Delicious Medicine: The Healing Power of Food is available to purchase on Amazon. More than a cookbook, combining 20+ years of experience, along with her love of coaching, cooking and teaching, Tina offers unexpected insights into the history and healing power of clean eating, along with recipes to help reduce your risk of disease and improve overall wellness so you can enjoy life!
Affectionately referred to as The Walking Encyclopedia of Human Wellness, Fitness Coach, Strength Competitor and Powerlifting pioneer, Tina "The Medicine Chef" Martini is an internationally recognized Naturopathic Chef and star of the cooking show, Tina's Ageless Kitchen. Tina's cooking and lifestyle show has reached millions of food and fitness lovers all over the globe. Over the last 30 years, Tina has assisted celebrities, gold-medal athletes and over-scheduled executives naturally achieve radiant health using The Pyramid of Power: balancing Healthy Nutrition and the healing power of food, with Active Fitness and Body Alignment techniques. Working with those who have late-stage cancer, advanced diabetes, cardiovascular and other illnesses, Tina's clients are astounded at the ease and speed with which they are able to restore their radiant health. Tina believes that maintaining balance in our diet, physical activity, and in our work and spiritual life is the key to our good health, happiness and overall well being. Visit her website, themedicinechef.com