These gluten-free vegan Italian Florentine Sandwich Cookies with Date Caramel are the perfect holiday gift of Radiant Health!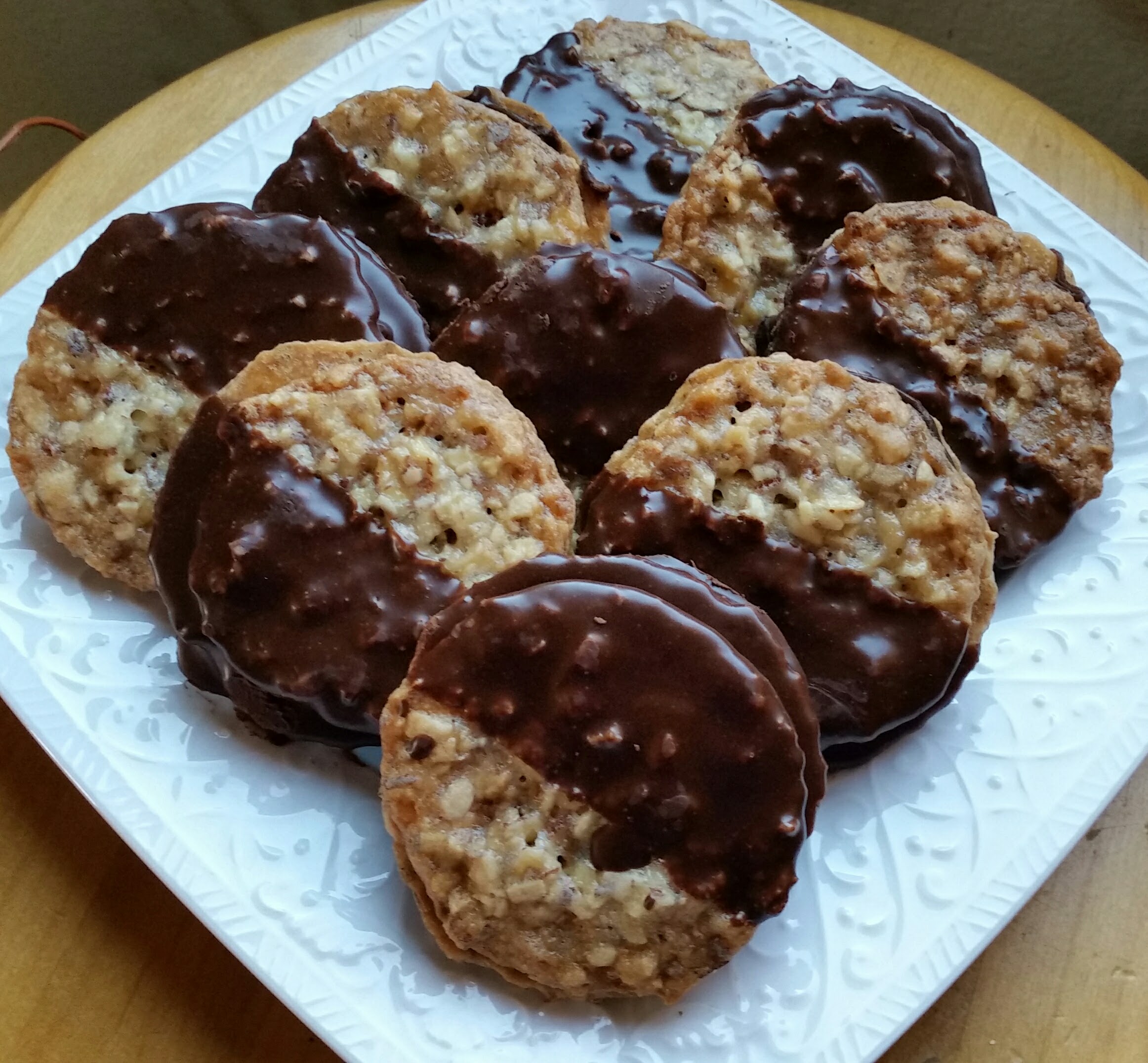 Cookies
1 3/4 cups Blanched Almonds (I use sliced and toast them lightly)
3 tbsp Cashew Flour
1/2 cup Coconut Sugar
1/4 cup Myoko's Creamery Vegan Butter
2 tbsp Coconut Nectar or Brown Rice Syrup
1 tbsp Coconut Cream
1 tsp Vanilla
1/4 tsp Fine-Grain Pink Salt
Preheat oven 275F,  line a baking sheet with parchment paper
Run your knife through the sliced almonds creating both fine and rough particles that add interest to the texture. Place in a large mixing bowl. Stir in the rest of the dry ingredients. Set aside. In a medium-sized saucepan, add the wet ingredients and stir until combined. Start on medium heat and increase to medium-high and bring to a low boil. Remove from heat and stir in vanilla. Add dry ingredients into wet and stir until combined. Set aside to cool for 15 minutes. Wet fingers and shape dough into 1/2 tablespoon balls. Roll with hands into a uniform ball and place on baking sheet 3 inches apart. Bake for 10 minutes rotate the pan and bake for another 7-9 minutes. Allow to cool for 5 minutes then carefully transfer to cooling racks. When cookies are completely cool, place on paper towel and press lightly to absorb any excess butter.
Date Caramel
1 cup Medjool Dates, pitted and soaked in warm water 10 minutes, drain thoroughly
2 Tbls Raw Cacoa Powder
¼ tsp Vanilla Powder
Pinch Pink Salt
Blitz in food processor. Scrape into small bowl.
Dark Chocolate for dipping
1/3 cup Dark Chocolate Chips
2 tsps Coconut Oil or Vegan Butter
Using a microwave or double boiler
Melt together and stir until smooth and shiny
Assembly
Spread one tablespoon caramel on the bottom of each cookie. Gently press cookies together to form sandwiches. Dip sandwich into warm chocolate coating. I generally do a third of the sandwich. You could en-robe the entire sandwich cookie, too.
---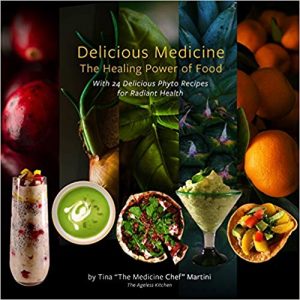 Get more great recipes from Tina Martini — her book, Delicious Medicine: The Healing Power of Food is available to purchase on Amazon. More than a cookbook, combining 20+ years of experience, along with her love of coaching, cooking and teaching, Tina offers unexpected insights into the history and healing power of clean eating, along with recipes to help reduce your risk of disease and improve overall wellness so you can enjoy life!
Affectionately referred to as The Walking Encyclopedia of Human Wellness, Fitness Coach, Strength Competitor and Powerlifting pioneer, Tina "The Medicine Chef" Martini is an internationally recognized Naturopathic Chef and star of the cooking show, Tina's Ageless Kitchen. Tina's cooking and lifestyle show has reached millions of food and fitness lovers all over the globe. Over the last 30 years, Tina has assisted celebrities, gold-medal athletes and over-scheduled executives naturally achieve radiant health using The Pyramid of Power: balancing Healthy Nutrition and the healing power of food, with Active Fitness and Body Alignment techniques. Working with those who have late-stage cancer, advanced diabetes, cardiovascular and other illnesses, Tina's clients are astounded at the ease and speed with which they are able to restore their radiant health. Tina believes that maintaining balance in our diet, physical activity, and in our work and spiritual life is the key to our good health, happiness and overall well being. Visit her website, themedicinechef.com