This is one of my most requested holiday desserts. The chocolate is so decadent and the cheesecake filling adds another layer of moist richness to the cake. Plus, you can include a spider web design inside the cake using a marbling technique — perfect for Halloween!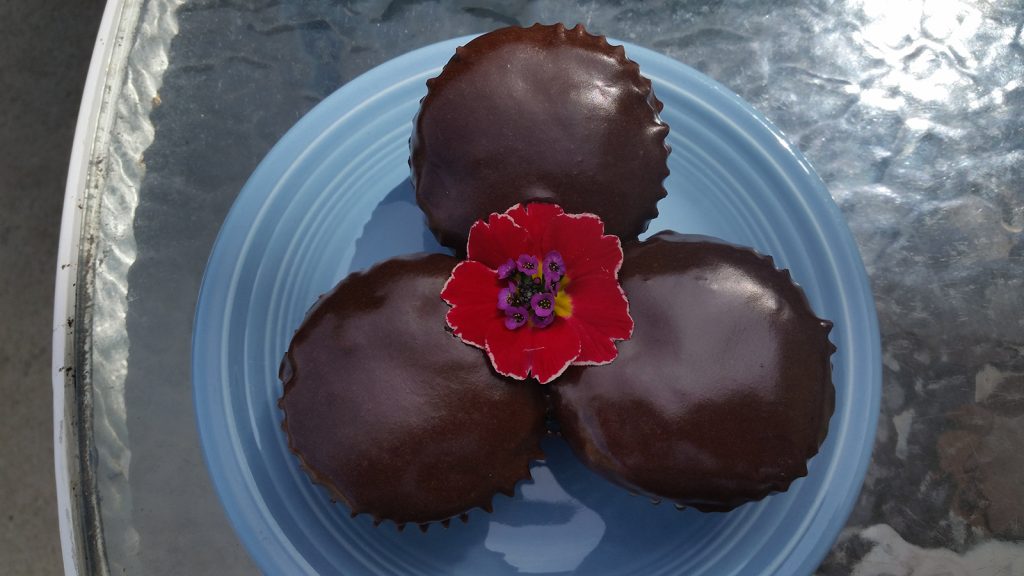 A splash of good coffee brings the super chocolate flavor and aroma. And, you're adding some powerful brain health and feel-good neurotransmitters to the party!
Cheesecake Filling
1 1/2 cups raw cashews, soaked 4 hours and drained
1 large lemon, juiced (scant 1/4 cup)
1/3 cup coconut oil, melted
1/2 cup + 2 tbsp coconut milk
1/2 cup agave nectar or maple syrup (or honey if not vegan)
pinch of salt
Flavor Options
2 tbsp salted natural peanut butter
1/4 cup berries
3 tbsp caramel sauce
Place all ingredients into a high speed blender. Process until completely smooth and creamy. Add any flavor options and pulse to create a swirl effect. Cover tightly with plastic wrap and chill, while making the cupcake batter.
Cupcakes
2 cups gluten free flour
2/3 cup unsweetened cocoa powder
1 tsp baking soda
1 rounded tsp baking powder
½ tsp salt
2 tbsp applesauce or coconut oil
¾ cup coconut sugar
3 tbsp Chia bloomed in ½ cup coffee (this is your egg replacement)
1 ½ tsp Vanilla
3/4 cup Buttermilk (¾ cup vegan milk plus 1 tbsp white vinegar or lemon)
2/3 cup vegan butter (Earth Balance)
½ cup vegan chocolate chips
Preheat oven to 350 degrees. Place 24 cupcake papers in pans and spray lightly with pan spray.
Mix all dry ingredients and set aside. Cream butter and sugar until pale and fluffy. Stir in applesauce. Add Chia "eggs" 1/3 at a time. Blend well after each addition. Stir in Vanilla. Now, add dry ingredients, alternating with Buttermilk. Be sure to end with Buttermilk for a lighter texture. Gently fold in chocolate chips. Spoon batter into prepared cups and top with a dollop or swirl of cheesecake batter.
Use toothpicks or a bamboo skewer to pull white batter into a spiderweb design. You can also fill cupcake liners with a little chocolate batter. Add a good dollop on top and cover with additional chocolate batter, for a cheesecake surprise cupcake. Bake approximately 15 minutes. Any cracks should appear moist inside. Cake will spring back to a light touch.
Coconut Cream Ganache
1 cup vegan chocolate chips
¾ cup coconut cream
¼ tsp vanilla
pinch salt
Warm coconut cream gently in small saucepan. Pour chocolate chips into a heatproof bowl. Pour warm cream over chocolate chips and allow to sit 2 minutes. Stir until smooth and glossy. Add vanilla and salt and cool until slightly thick. Dip cooled cupcakes into ganache and place back on cooling rack, to set ganache.
Don't want to cover your spiderweb design? Place ganache in fridge and chill 40 minutes. Whip with hand mixer on high to create a fluffy ganache mousse. Pipe around outside edge and your spiderweb will have a delicious frame. Feeling really brave? Let your little ghouls and goblins dip their own cupcakes into the ganache.
Phyto Bites
When you're cooking with The Medicine Chef, we always look at the #DeliciousMedicine contained in our recipes. This decadent dessert is no different: loaded with amino acids and phytonutrients of all types… but, sometimes it's good for the soul to just enjoy the moment and allow yourself to have some indulgences and fun!
---
Affectionately referred to as The Walking Encyclopedia of Human Wellness, Fitness Coach, Strength Competitor and Powerlifting pioneer, Tina "The Medicine Chef" Martini is an internationally recognized Naturopathic Chef and star of the cooking show, Tina's Ageless Kitchen. Tina's cooking and lifestyle show has reached millions of food and fitness lovers all over the globe. Over the last 30 years, Tina has assisted celebrities, gold-medal athletes and over-scheduled executives naturally achieve radiant health using The Pyramid of Power: balancing Healthy Nutrition and the healing power of food, with Active Fitness and Body Alignment techniques. Working with those who have late-stage cancer, advanced diabetes, cardiovascular and other illnesses, Tina's clients are astounded at the ease and speed with which they are able to restore their radiant health. Tina believes that maintaining balance in our diet, physical activity, and in our work and spiritual life is the key to our good health, happiness and overall well being. Visit her website, themedicinechef.com