I was asked to create a salad that would visually wow, as well as pack the most nutrition possible, and it had to have a creamy dressing. This is the result of that recipe challenge. The ingredients can be worked around what you already have on hand.
Salad
1 head Bibb lettuce, cleaned and dried
4 Radishes, slice thinly
1 each Naval Orange, Pink Grapefruit, and Blood Orange segments
½ cup Pomegranate seeds
1/4 cup Pumpkin seeds, lightly toasted
Chill prepared ingredients.
Dressing
1/3 cup Grapeseed oil mayo
1/3 cup plain yogurt of your choice
1 Tbls Agave or Honey
1 Tbls Lime zest
¼ cup Lime Juice
Pinch of quality Salt
Whisk everything together, and chill until service.
Handy Hint
The knife work can make your presentation, Chefs. The citrus can be "supremed" by cutting both ends off. Peel the citrus with your knife, all the way around. Very carefully, hold the peeled citrus in your hand. Slide the blade of the knife along the white membrane on one side. Then slide it across the other side, lifting the perfect segment out. As you go around the citrus, fold the membranes back like pages of a book. Now, you can move onto the next segment without them getting in your way. Master Chef techniques! You can do it! Fine food is in the details.
Phyte Bites
Most researchers are convinced that the Mediterranean Diet is the best for overall health and longevity. This is primarily attributed to Olive Oil and its great phyto profile.
What I have discovered is the Limonene in their diet. This is found in the pith of the giant Sicilian Lemons. These lemons are almost all pith, and they are a big part of the Medi diet. Limonene cleans our cells, clears free radicals from our bloodstream and tones our internal organs, similar to how exercise tones our muscles. This is the reason I have always recommended eating a small piece of citrus every day. Be sure to peel it by hand, leaving the pith intact. To supreme citrus is to give the fine dining look and palate experience that will garner you the Chef props you deserve.
---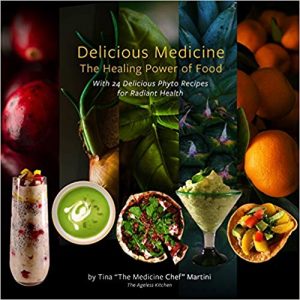 Get more great recipes from Tina Martini — her book, Delicious Medicine: The Healing Power of Food is available to purchase on Amazon. More than a cookbook, combining 20+ years of experience, along with her love of coaching, cooking and teaching, Tina offers unexpected insights into the history and healing power of clean eating, along with recipes to help reduce your risk of disease and improve overall wellness so you can enjoy life!
Affectionately referred to as The Walking Encyclopedia of Human Wellness, Fitness Coach, Strength Competitor and Powerlifting pioneer, Tina "The Medicine Chef" Martini is an internationally recognized Naturopathic Chef and star of the cooking show, Tina's Ageless Kitchen. Tina's cooking and lifestyle show has reached millions of food and fitness lovers all over the globe. Over the last 30 years, Tina has assisted celebrities, gold-medal athletes and over-scheduled executives naturally achieve radiant health using The Pyramid of Power: balancing Healthy Nutrition and the healing power of food, with Active Fitness and Body Alignment techniques. Working with those who have late-stage cancer, advanced diabetes, cardiovascular and other illnesses, Tina's clients are astounded at the ease and speed with which they are able to restore their radiant health. Tina believes that maintaining balance in our diet, physical activity, and in our work and spiritual life is the key to our good health, happiness and overall well being. Visit her website, themedicinechef.com