I was recently told that a very high percentage of people with Multiple Sclerosis (MS) DO NOT exercise. As a fitness professional with MS, that blew me away. I wish I could find the actual percentage but I don't think that's a statistic high on the priority list for any studies! But with all the time I spend in the MS community educating about fitness, I tend to believe that this is a fact, as I hear so many say they don't exercise because they don't know how. This is where I have found my niche to fill the gap.
According to Multiple Sclerosis News Today, "The first study on the benefits that exercise can provide to people with MS was published by University of Utah researchers in 1996. The participants improved their cardiovascular, bladder and bowel function, increased their strength, experienced less fatigue, developed a more positive attitude, and suffered fewer bouts of depression".
With information and proof like this, why don't more people with MS get into the gym, exercise at home or do some form of fitness program? My answer is lack of knowledge and fear. When you don't know where to start, don't understand how to find an exercise program that fits you, or you are not educated on the benefits of exercise for MS, you become immobilized and therefore do nothing. I believe this is the main reason why the percentage of MSers who aren't exercising is so high.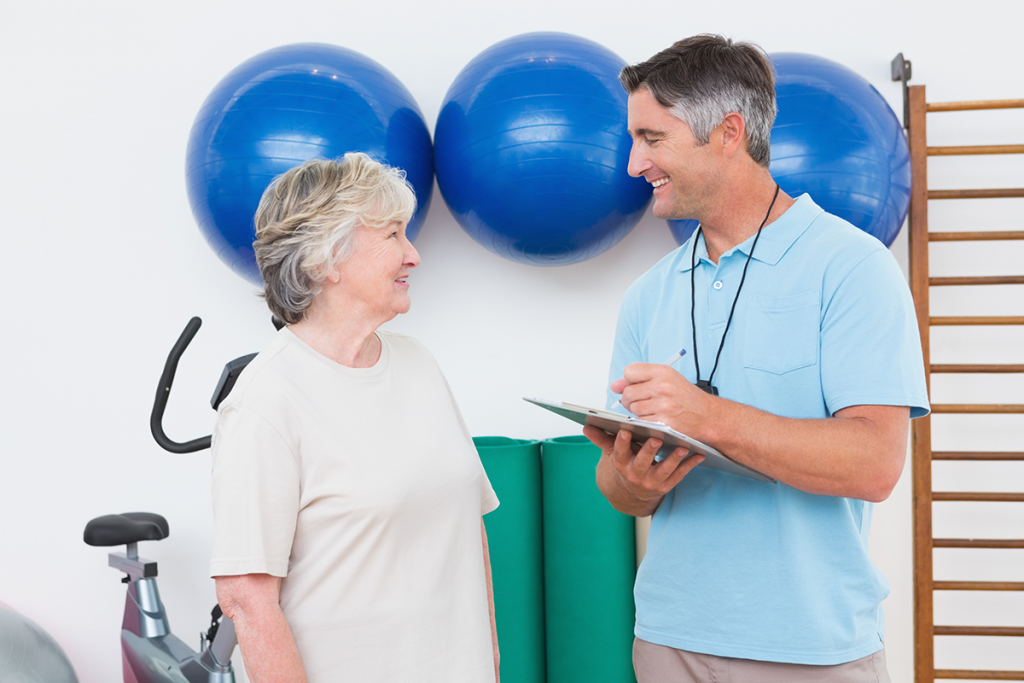 This is where becoming a MS Fitness Specialist makes a ton of sense. Providing a proper workout plan for those with MS is not just a great thing to do, but a much-needed service.
There is a very good selection of workouts that can benefit people with MS, and one of these programs is circuit training. This type of workout gets your heart rate up and strengthens your muscles at the same time. You will never get bored in a circuit training program.
With little rest between each exercise, you rapidly go from one exercise machine to another to work different muscle groups. Depending on the intensity of the workout, you may use 8 or 12 different machines performing a different exercise and muscle group each stop.
I have my clients do 10-12 reps at each machine, using a time under tension (TUT) pace, lasting between 120–144 seconds, before moving on to the next stop.
To keep things exciting and motivating, you can change it up a bit by switching the exercises you do for each body part. A circuit training workout can be done at the gym with equipment, at home with dumbbells and resistance bands, or on an outdoor fitness trail by alternating push-ups and squats with fast-paced walking, jogging or biking.
You will need 20-30 minutes to take a MS client through the workout. The great thing about circuit training is it is easy to adjust the level of intensity by the rest time spent, the pace you perform each movement (TUT), and the speed in which you go through the circuit. A program like this works all areas of your body so you get an effective full-body workout in a short amount of time, as long as you select an exercise for each muscle group: core, arms, chest, back, shoulders and legs. The cardiovascular aspect of the program is taken care of in the time spent at rest. The less rest between sets and exercises, the more your heart rate will be elevated and the more heart-healthy cardio benefits you will receive.
There are many benefits in a circuit training routine as it is aerobic, low-impact and strength training all wrapped up in one program. You get the benefits of muscle building and toning along with a cardio workout. So, if you're looking for a full-body workout for a MS client that can be don in 30 minutes or less, circuit training checks off all the boxes. The exercise options are endless as well with the variety of machines, resistance bands, free weights and bodyweight movements that can be incorporated into this style of program. Circuit training is an excellent workout choice for MS once you completely understand how to do it at a level that is safe yet challenging for the client you put through this program.
I want to see the percentage of people exercising with MS to overshadow the percentage that do not. You have a tremendous opportunity to be a solution to avoid in the fitness industry by becoming a MS FitnessSpecialist and working with a community that needs you.

---
David Lyons, BS, CPT, is the founder of the MS Bodybuilding Challenge and co-founder of the MS Fitness Challenge with wife Kendra. He has dedicated his life to helping people with MS understand and be educated on the importance of fitness in their lives. He is an author and sought after motivational speaker, dedicated to helping others by sharing the lessons gained from his life experience.  His most recent book, Everyday Health & Fitness with Multiple Sclerosis was a #1 New Release on Amazon at its release. He is the 2013 recipient of the Health Advocate of the Year Award; in 2015, he received the first ever Health Advocate Lifetime Achievement Award, and the Lifetime Fitness Inspiration Award in Feb 2016. In 2017, David received the Special Recognition Award from the National Fitness Hall of Fame.