According to the Advanced English Dictionary, © HarperCollins Publishers, "if you refer to a time or event as the moment of truth, you mean that it is an important time when you must make a decision quickly, and whatever you decide will have important consequences in the future. Both men knew the moment of truth had arrived. (As a sentence example)"
We all come to crossroads in life when we are faced with a decision that will change our life's direction one way or the other. You have to make that decision quickly, without procrastination, and decide where you are headed. Sometimes, if you get old enough like me, these times come more than once. They are said to be our "moment of truth".
In September of 2017, I started a closed Facebook Group called MS Fitness Challenge GYM for those of us with MS who are doing their best to beat MS through fitness. It is a platform for MSers to be educated on exercise, nutrition and mindset in the battle against this disease. It's also a place where we can interact, share our goals, talk about our trials and victories and be able to connect with like-minded MSers who want to encourage and uplift each other in a positive atmosphere of health. We currently have, at the time of this writing, over 7,000 members.
Every day, I read a post about how hard it is to exercise and follow a strict nutrition plan from the members enrolled. The member's post about the limitations, pain and issues of their symptoms that make it difficult to follow through with exercise. And, they talk about the mental blocks to sticking with an exercise or diet program.
I know. It's not easy having MS or any challenge in life and dealing with our ups and downs let alone trying to push ourselves to get to a gym or work-out at home and follow a diet that is ONLY full of great foods and supplements for MS. I get it!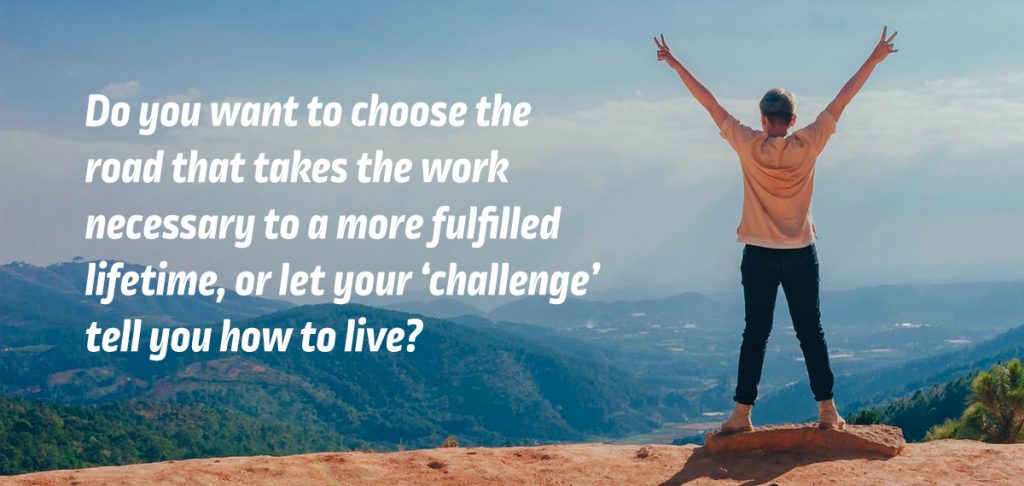 But what I'd like you to look at is the consequence of NOT getting into a regular fitness routine, NOT watching what you put into your body, and NOT setting your mindset to the positive dial. MS will not go away; it's incurable (right now). And the disease symptoms will not improve unless you take a proactive stance against it. Exercise, nutrition and the thoughts in your mind has been proven, through programs such as my MS Fitness Challenge and many others, to help MSers in one way or another in this battle. You can read over and over again, in a multitude of platforms, the testimonials from MSers who have switched to an MS-based diet and implemented an exercise routine seeing great improvement in their quality of life. We are not talking cure here. We are talking a better day-to-day existence despite MS. And, really, this translates to any obstacle you have in your mental or physical health. The choice is yours. Do you want to choose the road that takes the work necessary to a more fulfilled lifetime, or let whatever your challenge is tell you how to live? This is the moment of truth.
The first step is getting your thoughts, motivation and determination in order. Your body will not go where your mind doesn't take it. So fitness starts in the most influential muscle in your body… your brain. Getting revved up and ready to take on your barrier through fitness is a choice that has to be made. It is not something that most have waiting to come out. It is a desire found deep in your thoughts and feelings. You have to dig down and pull it out because there is a serious amount of action that needs to be put into play with the reaction of… "I want to beat MS" or "I'm tired of being obese" or whatever your challenge is.  And once you make this choice in your moment of truth, you do not want to look back.
When your choice to overcome your challenge is made, now it's time to settle in on the exercise and nutrition programs that will kick start this new truth in your life. I understand the confusion of where to begin; what are the best programs for you; who helps you? This is where research and support comes in and why I founded my MS Fitness Challenge charity. We are the MS cause dedicated to educating, training and inspiring people with MS to live a lifestyle of fitness through knowledge.
So, who's ready to stand at that fork in your road, look at it hard and tell it you are going down the road to fitness?  I've been traveling that road my whole life, without MS and with MS and there is no better path to follow. Your moment of truth has arrived…
---
David Lyons, BS, CPT, is the founder of the MS Bodybuilding Challenge and co-founder of the MS Fitness Challenge with wife Kendra. He has dedicated his life to helping people with MS understand and be educated on the importance of fitness in their lives. He is an author and sought after motivational speaker, dedicated to helping others by sharing the lessons gained from his life experience.  His most recent book, Everyday Health & Fitness with Multiple Sclerosis was a #1 New Release on Amazon at its release. He is the 2013 recipient of the Health Advocate of the Year Award; in 2015, he received the first ever Health Advocate Lifetime Achievement Award, and the Lifetime Fitness Inspiration Award in Feb 2016. In 2017, David received the Special Recognition Award from the National Fitness Hall of Fame.