In honor of all of the caregivers who unselfishly give your time, care, and energy, I want to encourage you to take time for yourselves. I know from experience that this idea of "self-time" may seem to be only a dream. You may arise early in the morning, go to bed late at night, and wake up throughout the night to care for your loved one. Where is the time for yourself?
However, when you don't take care of yourself, you won't have the energy or patience to care for others. Lack of exercise, lack of sleep, stress, and poor diet will only leave you feeling run down. So how can you find that precious time without adding more hours to your day?
First of all, don't think you have to get to the gym or commit a large amount of time. This may leave you feeling more stressed, especially when circumstances don't allow it. Instead, start small and change your thinking. Can you find 10 minutes to take a walk around the block? Can you do exercises in your living room while watching TV?
Here are six ideas to find time to take care of yourself throughout the day:
1. Take a 5-10 minute walk around the block. Do this once, twice, or three times a day. Set a reminder on your phone or calendar, but be flexible with the time. If circumstances prevent you from getting out at 8:00, don't skip it. Move it to a different time.
2. Print a list of simple exercises that you can do and place it on your coffee table. Do exercises while watching TV or while your loved one is sleeping. Leave a pair of dumbbells or a resistance band next to the sofa to get a quick workout. March in place during commercials, perform 10 sit to stands or squats and 10 wall or sofa pushups every 15 minutes during the program you are watching.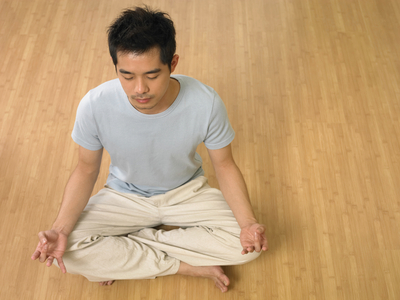 3. Take 5-10 minutes to do stretches, deep breathing, meditation, or yoga before you go to bed at night. Just a short amount of time will help to reduce tension in the muscles and relax the mind and body.
4. Sign up for sites such as Caring Bridge or Meal Train. Don't be afraid or embarrassed to ask for help. Whether it's an encouraging word or a meal a few nights a week, these sites will allow others to take some of the burden off of you. Learn more at www.caringbridge.org and www.mealtrain.com.
5. Plan your meals for the week on the weekend. Make a grocery list with needed ingredients for each meal, shop, and cook the foods that can be prepared ahead of time. Meals do not have to be complicated. For example, cook brown rice on Sunday and refrigerate. Tuesday night, heat the rice, add a can of drained black beans, salsa, and a little shredded cheese. Serve with warmed tortillas for a quick, easy, and healthy meal.
6. Join a local support group or an online support group. Being with others who are going through a similar situation can create a supportive network of friends. If a local support group isn't available, check out www.caregiveraction.org for online support. There is help and encouragement available. You give unselfishly of your time and energy. Reach out and allow others to help you.
---
Kris Pritchett Cameron has dedicated over 20 years to the health and fitness of others.  She has built a career on not just "working out" clients, but by helping individuals find the keys they need to unlock a healthier lifestyle. She is the owner of ReNu Your Life Fitness and Neuro Wellness in Coralville, Iowa.