Do you have hip pain? Knee pain? Do you think it is simply because you're getting older? Or are you recovering from hip or knee surgery, have finished PT and now you don't know where to turn to learn how to benefit from proper strengthening exercises? Maybe you also need to get back into shape after some down time. Either way, you want your life back. This is where strength training specific to your needs comes in.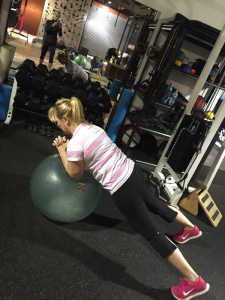 I had my first hip surgery, hip resurfacing, in 2006 when I was 49, and then in 2010, I had hip replacement surgery at age 53. My surgeon told me that life caused these problems plus a high tolerance for pain and hyper-mobility. You see, I was an athlete my whole life. I have also worked as a personal trainer my entire life and have had many clients with a variety of injuries. I know how it feels to be in pain and I got my life back.
Specializing in hip & knee strengthening for people in their 40's, 50's and older is what I am most passionate about. Often, these adults suffer from various chronic diseases like arthritis, diabetes, and other conditions and often all it takes for them to be pain-free is to strengthen joints by targeting specific muscles in the right way, and to lose weight so that joints can last. I know from personal experience and as a personal trainer what it takes to get back to normal again after you've had surgery and how important regular strengthening exercises are in addition to easing into overall body conditioning exercises for weight loss and general fitness.
All too often, as we age, training tapers off in frequency and intensity, or altogether, people eat and may drink a little bit more, and boom! There's suddenly an extra 20+ pounds. Often, your friends have also done the same thing. So you think, 'I'm not so bad.' But the aches and pains set in quickly due to inactivity. Truly, so many aches and pains can be alleviated with getting back into or starting a smart, consistent strength training program targeting knees and hips in addition to a cardiovascular program. Sound daunting? It may but people simply need to start with shorter but consistent workouts when you have to in between the longer sessions. It is well worth the time investment to be able to get back to being able to walk briskly, jog, hike, ride a bike, ski, play tennis, etc., and do the things you've always loved to do.
---
Mary K. Ludlow has a BA in Athletic Training, is a Certified Strength & Conditioning Specialist, a Certified Nutrition Coach, and a Certified Golf Injury Prevention Specialist. She has spent her life loving the outdoors as well as various sports including swimming competitively, gymnastics, skiing, hiking, backpacking, and surfing. At age 31 she used her 2 years of eligibility to return to college to run track and cross country. She also volunteered as an Athletic Trainer for the 1984 Olympics.
Mary K. has worked as a personal trainer most all of her life and developed programs for Sony Pictures Entertainment and Amblin/DreamWorks. She is passionate about her clients and takes a personal interest in each and every one. She thrives on seeing them get fit, get their lives back on track, and feel young again.