I love being able to serve the industry…make an impact.

-Amy Boone Thompson
In this episode, the MedFit Podcast welcomes Amy Boone Thompson, the vice president and general manager of IDEA Health & Fitness. Amy, a former standout Division I collegiate basketball and volleyball athlete, discusses the importance of knowing how to advocate for yourself to gain the opportunities and exposure needed to "make an impact."
From personal trainer, to manager, to regional manager, to the VP and GM of IDEA Health and Fitness, Amy knows the power of networking and hustle. Currently, Amy is busy planning a virtual IDEA World Conference, an interactive virtual expo and fitness experience to provide continued education and resources to fitness professionals around-the-world. In addition, Amy discusses her passion for helping fitness professionals as she oversees the launch of the IDEA Health Insurance Program. For many fitness professionals, this may be a "game-changer" in their ability to provide coverage for themselves and their families. Amy is also excited for the possibility to further partner with the MedFit Network to bridge the gap between medical and fitness professionals to make an even greater impact on the world!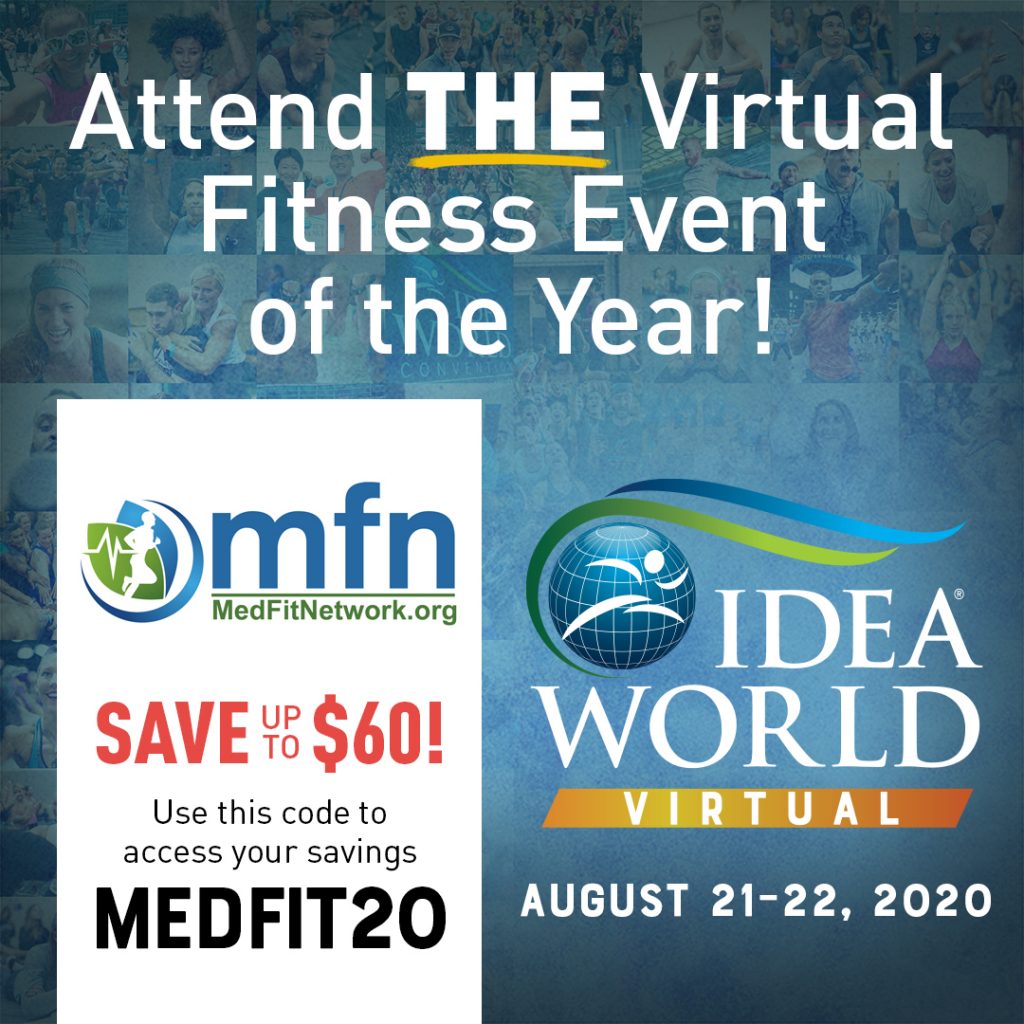 Special Offer For MedFit Listeners
Save up to $60 on IDEA World Virtual.
Use discount code MEDFIT20 during check-out.
CONNECT with AMY
SPONSORS
MedFit Network
HEALTHEFIT
There's an undeniable correlation between the rising rates of chronic disease and the growing cases of COVID-19. With so many uncertainties in the medical industry as to how to curve this pandemic, what we do know is that exercise is medicine and that healthcare needs access to certified and trusted Medical Fitness Practitioners to prevent, treat or manage underlying conditions. Unfortunately, there is a dramatic shortage in this profession.
We need your help in filling the prescription of medical fitness. Contact HEALTHEFIT for career and licensing opportunities! healthefit.com
HOSTS