Two leading health concerns for senior citizens — osteoporosis (porous bones) and osteoarthritis (inflammation of the joints) – can be safely addressed by a yoga practice in which alignment and weight-bearing poses are practiced along with a gentle flow from pose to pose. The combination of two opposed yoga styles — weight-bearing poses that stress the bones, improve posture, and balance, along with flowing yoga sequences that increase range of motion and coordinated joint movement — is one of the best recipes for combating bone loss and joint stiffness.
Two Therapeutic Chair Yoga programs that I designed for senior citizens (for the city of Hudson and Rhinebeck, NY in 2008 & 2009) have shown significant improvements in posture and balance, along with increased bone density and stature, greater range of motion, fewer falls, and less depression for the participants (see my "Senior Yoga In and Out Of Chairs," in Topics in Geriatric Rehabilitation, v. 28, 2012, available here).
The Warm Water Yoga program that I launched in 2009 for seniors and people with musculoskeletal-neurological conditions grew out of my chair yoga programs, along with yoga sequences that I was designing as director of Medical Yoga Therapy at Manhattan Physical Medicine and Rehabilitation. The Warm Water Yoga program opened up the possibility of safe movement and recovery for people with very limited physical mobility.  It also provided an environment for people to work on increasing their range of motion and building their muscles (reducing sarcopenia and osteoporosis) without the risk of breaking bones from falling (see my "Warm Water Yoga Therapy: A Safe and Effective Way to Increase Range of Motion, Mobility, and Balance and to Reduce Pain in the Elderly," in Yoga Therapy Today, Summer 2015, available here).
At first, participants in Warm Water Yoga found holding yoga postures challenging because of the buoyancy of the water, particularly when standing on one foot.  But they quickly learned how to engage their muscles and firmly plant their feet on the bottom of the pool to remain steady, and how to slightly engage their abdominal muscles to keep themselves upright when on a water noodle.  While most participants did a similar practice, individuals with medical conditions that restricted some movements were taught adapted versions that were safe given their conditions.
Whether working with older people with chairs or in a warm water pool, it is important that the yoga therapist have a clear understanding of the participants' health status. Problems with motion or balance that look similar can stem from widely different causes. Thus the same therapy program that helps one person may actually harm another by exacerbating an underlying problem. It is therefore crucial for the therapist to have a clear understanding of any serious medical problems and their root causes in order to develop an appropriate, personalized plan, including choosing the right repertoire of yoga poses. The cases of Lucille and Marcia, two women in their 80s and 90s, illustrate the point (for videos of these women discussing their condition and working with me, click here and here). Both women used walkers to stand and move safely, and one might think that similar treatment programs would be appropriate for increasing their balance and mobility.  But in fact they both had quite different yoga therapy programs, because even though from a kinesthetic perspective they seemed closely comparable, their balance and mobility problems stemmed from different conditions.
For the safety of everyone involved, participation in my therapeutic chair and warm water yoga classes is limited to those who can safely move without canes, walkers or wheelchairs. Working one-on-one is an option for those with temporary and partial paralysis as well as relatively severe musculoskeletal and neurological conditions.
For more information visit www.schaffyogatherapy.com or contact Terry Schaff at terry@schaffyogatherapy.com
Adapting Yoga to the Water
Standing in Mountain (left) and Tree Pose (right) with raised arms without leaning forward or back is harder in the water than on land, due to the buoyancy of the water but having no risk of getting hurt by falling, is an enormous benefit.
Upward Facing Dog In The Water (left) requires engagement and extension of muscles along with a peaceful, calm state of mind: otherwise it is very hard to remain stable and balanced. Upward Arms & Leg pose (right) builds balance, stability and confidence
Warrior I (left) and Warrior II (right) lengthen the spine, build stability and bone density.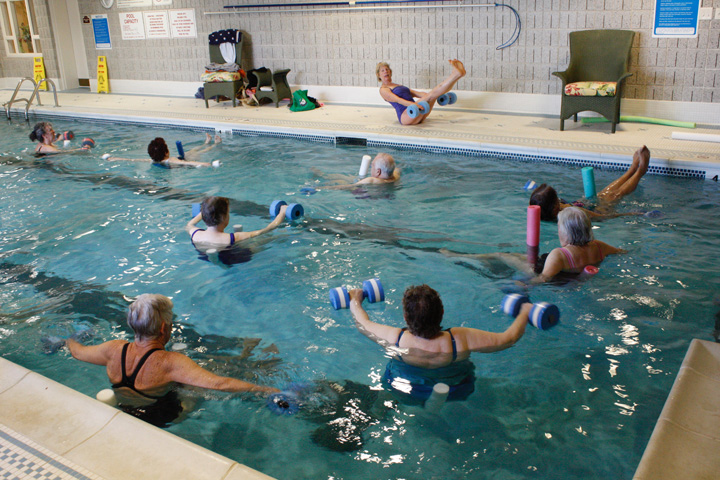 Boat Pose practiced in the water demands pelvic stability and brings the SI joint into alignment.
---
Adapting Yoga for Seniors – In and Out of Chairs

Left: Lengthening the Spine opens space between the vertebrae reducing the chance of vertebral compression fractures. Right: Meditating calms the mind and lowers blood pressure. Photo Copyright Erin Roth Schaff
Left: Arms Crossed & Lifted stretches back muscles and increases range of motion of the shoulder girdle. Right: Seated Chair Twist stresses the vertebrae and increases spinal ROM.
Left: Staff Pose strengthens leg and core muscles, and improves posture. Right: Opening The Hip increases ROM in the hip joint and strengthens core muscles.
Left: Revolved Head To Knee lengthens side muscles and builds pelvic stability. Right: Standing Half-Forward Bend teaches students how to fold from the hip joints rather than rounding their backs.
Left: Balancing On One Foot builds stability, coordination and reduces falls. Right: Tree Pose improves balance and strengthens bones. Copyright Erin Roth Schaff
Left: Warrior I is a standing backbend that opens space between the joints of the spine. Right: Warrior III takes great concentration, balance and coordination.
Left: Boat Pose improves balance and posture. Right: Alternate Nostril Breathing calms the mind and reduces stress.
Photo credit: Erin Roth Schaff, Sarah Sterling
---
Terry Roth Schaff, IAYT Certified Yoga Therapist & E-RYT, uses yoga posture and yoga sequences to help people with medical conditions manage pain, balance muscles, strengthen bones, increase mobility, range of motion and improve posture. This work is done in collaboration with her client's physicians.
At Manhattan Physical Medicine and Rehabilitation (as Director of Medical Yoga Therapy), Schaff worked with Dr. Loren Fishman to develop therapeutic yoga sequences for people living with physical challenges and recovering from injuries. Schaff is also a leading teacher at Kripalu Center for Yoga and Meditation and Omega Institute for Sustainable Living and her unique therapeutic warm water yoga program (registered with IAYT) offers people with mobility issues a way to have an active yoga practice.
Schaff's Warm Water Yoga ,Therapeutic Chair Yoga, and Warm Water Yoga classes are included in the Arthritis Foundation's resource directory. She also teaches yoga at Bard College and is the author of Yoga for a Healthy Spine and Warm Water Yoga. You can read more about her work at www.schaffyogatherapy.com.