People with bone loss in the spine are often concerned about changes in the spine or the backbone that cause it to curve forward. This curve is called kyphosis. It can happen when a person with osteoporosis breaks several of the bones that form the spine. These bones are the vertebrae. When they break, they are called vertebral or compression fractures. There are also other conditions that cause kyphosis. Kyphosis causes a person's posture to look stooped or hunched and the person loses height. As more bones break in the spine, the spine becomes more curved. When it is severe, some people call kyphosis a dowager's hump. Fortunately, people can take steps to protect the spine, maintain height and posture and prevent kyphosis.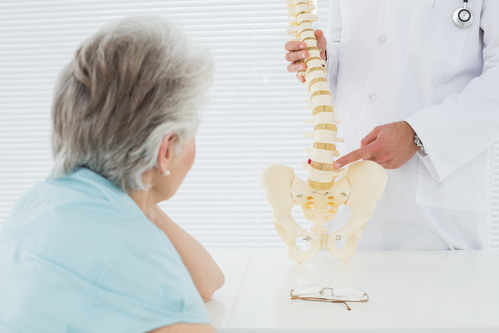 Broken Bones in the Spine
Breaking one or more bones in the spine can cause sharp back pain that does not go away, or sometimes, there can be no pain at all. After having several of these breaks, people may start to have a curved spine and lose height. When there is no pain, many people do not know they have broken a bone in the spine. After becoming shorter by an inch or more in one year's time, some people realize there is a problem with the spine. Because of height loss and changes in the spine, clothes may start to fit poorly.
For some people, kyphosis causes constant pain. This pain happens when the spine becomes more curved and the muscles, tendons and ligaments of the back are strained and stretched. Sometimes nerves are also pinched. Severe kyphosis can reduce the space for internal organs. It may also cause the stomach or abdomen to push forward and appear to stick out. As a result, it is harder for some people to breathe or eat, and they may not get enough food and nutrition for their health. Severe kyphosis may also affect balance and cause falls.
Tests to Look for Spine Fractures
People with osteoporosis who have back pain should see a doctor or other healthcare provider trained to treat osteoporosis. Most healthcare providers will want to check for a broken bone. The dual energy x-ray absorptiometry machine (also called a DXA machine) that tests people for osteoporosis can be used to look at the spine to find broken bones. This test is called a lateral vertebral assessment. A lateral x-ray of the spine is another way to find a broken bone in the spine. These two tests used to look for spine fractures are also called vertebral imaging tests.
People with osteoporosis should have their height measured once a year preferably at the same healthcare provider's office each time. NOF recommends that healthcare providers consider performing a vertebral imaging test to look for spine fractures in the following individuals:
All women age 70 and older and all men age 80 and older if the T-score is -1.0 or below.
Women age 65 to 69 and men age 70 to 79 with a bone density T-score of -1.5 or below.
Postmenopausal women age 50 to 64 and men age 50 to 69 with specific risk factors, including:

Height loss (e.g. 1.5 inches or more from young adult height or rapid height loss in a short period of time)
Recent or ongoing use of steroid medicines (such as prednisone or cortisone)
Moving Safely
It is important to protect the spine by moving properly during exercise and daily activities. Activities that place stress on the spine can increase the likelihood of breaking a bone. For example, people with bone loss in the spine should not:
bend over from the waist with straight legs
do toe-touches, sit-ups or abdominal crunches
twist and bend at the torso (trunk) to an extreme
carry packages that are too heavy
bend forward when coughing and sneezing
reach for objects on a high shelf
For some people with a lot of bone loss, simply hugging a friend or picking up a grandchild can cause a broken bone in the spine.
Seeing a Physical Therapist
People with osteoporosis may want to speak with their healthcare provider about a referral to a physical therapist (PT) who understands osteoporosis. PTs can help people protect their spines. For example, PTs can help people limit the amount of kyphosis by teaching proper posture and exercises that make the back muscles stronger. They can also show people how to safely sit, stand and move.
Taking an Osteoporosis Medication
A person who has broken one or more bones in the spine is at very high risk for breaking more bones in the spine. All people with these fractures should speak with their healthcare provider about taking a medication to treat osteoporosis. NOF encourages people to look at both the risks and benefits of taking or not taking a medication. Other healthy lifestyle behaviors, including getting enough calcium and vitamin D, not smoking or drinking too much alcohol and maintaining a safe exercise program can also help individuals reduce the chance of breaking bones in the spine.
---
Susan Randall RN, MSN, FNP-BC is Senior Clinical Advisor for the National Osteoporosis Foundation (NOF) in Washington, DC,