Recent research compiled by IBISWorld shows there's over 100,000 fitness studios in the continental United States.(1) 100,000!  Further, the studio market represents over $22 billion in revenue, is the fastest growing segment of the fitness industry AND is larger than all the health clubs, YMCAs, JCCs, corporate, college/university, hospital-based, military, park & rec., senior living, and physical therapy locations combined!
What's driving the growth?
It's easy to say the low overhead – and sometimes that's the case.  Fitness professionals only need a few essential pieces of equipment, a credit card and BOOM you're in business. From the consumer side, they're willing to pay a premium for experiences, cutting-edge workouts and the attention of rock star instructors.
Simply walk down any urban street and you'll find a variety of personal training, Pilates, yoga, cycling, and other types of fitness studios. With that much variety, owners are left to differentiate themselves from the competition.  But doing so isn't as easy as it sounds.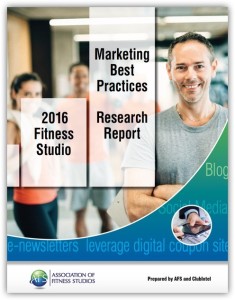 In AFS' 2016 Fitness Studio Marketing Best Practices Research Report, we surveyed hundreds of studio owners across the country, from 500-10,000 square feet, and asked them numerous marketing related questions. One key area contained in the study was about differentiation.  Several of the takeaways were:
67% provide an intimate physical environment
65% providing personalized coaching and instruction
57% have a tribal-driven community among their clients and;
45% see themselves as specialists and offering a highly specialized form of training
So how do you capitalize on this research?  If you look closely, the theme is and always will be customization and personalization.  Here are my top 5 insights to differentiate yourself from the competition.
Oversaturation can mean opportunity. If you're just starting out, just because a market is full of studios doesn't mean to look elsewhere. In fact, many times it can be just the opposite. Secret shop the competition, conduct a SWOT analysis, and identify your niche. Find the weaknesses and then do what you do better.
Don't reinvent the wheel. Your training style, your education, and your drive is all unique to you. However, there are pricing strategies and commonalities that can save you valuable time and effort. Seek out a roundtable group, attend business education events, and learn from your peers to avoid costly roadblocks.
Price yourself accordingly. What you charge says a lot about you and your business. In fact, in AFS' 2015 Financial & Operating Benchmarking Report, we found the average cost for a one-on-one training session was just over $63.  Yet who's to say you can't charge more – sometimes much more?  At the end of the day know your market, stand by your price points, and don't worry about what the guy across the street charges.
Communication is key. Here's a secret, provide your team with the 'Why' from the start and your life will be much easier. Your team is a reflection on you. Don't let whispers turn into yells. Set up a sound on-boarding culture, having weekly or monthly meetings, set goals and keep your entire team in the loop.
The member experience trumps all. Try this exercise one day…walk into any boutique business (fitness studio, nail salon, barber shop, etc.) and make a conscious effort to see how that business makes you feel. Are you greeting warmly?  Is there water, reading materials, information packets in the waiting area? Or are you greeted with someone on their cell phone, making you feel like you're bothering him/her?  With so much competition, it's imperative you set yourself apart from the rest. Go a step beyond and word will spread.
Follow these guidelines and make them your own.  If you do, you'll be on your way to finding the success you dreamed of in your business.
---
Josh Leve is responsible for the strategic development and growth of the Association of Fitness Studios. Josh brings more than 10 years of sales, consulting, advertising, marketing, operations, and retail experience to AFS and has spent more than a decade in the fitness industry.
1. IBIS World Personal Trainers, Pilates & Yoga, Martial Arts, Dance Market Research Reports – 2015