Nutrition Research
Studies show that risk for Alzheimer's Disease (AD) is greater in people who consume high amounts of cholesterol, saturated fat, and excess calories and low amounts of fiber, vegetables, and fruits. Just as saturated fat and cholesterol can build up in the blood vessels and form plaques, plaques in the brain compromise blood flow to important parts of the brain. The toxic effect of cholesterol in its oxidized form also leads to inflammation that compromises brain function. In general, diets high in fat can damage neurons and contribute to the formation of beta-amyloid plaques typical of AD. Sources of saturated fat and cholesterol include red meat, chicken, fish, dairy products, butter, and eggs.
Early findings in a large-scale Adventist Health study found dementia is more common in meat eaters compared with vegetarians. The relationship between the Western diet and dementia is also apparent when looking at disease rates of cultures that switch from a traditional diet to a Western diet high in saturated fat and simple sugars. Researchers found this to be true in Japan and eight other countries, alongside an increase in obesity. Their eating patterns changed to include more dietary cholesterol, saturated fat, and iron from animal products.
Download the Physicians Committee for Responsible Medicine's Fact Sheet, Diet and Alzheimer's Disease, to read the rest of this article. Feel free to download and share this free resource.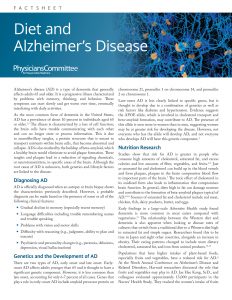 ---
The Physicians Committee for Responsible Medicine is a 501(c)(3) nonprofit organization, headquartered in Washington, DC. Our efforts are dramatically changing the way doctors treat chronic diseases such as diabetes, heart disease, obesity, and cancer. By putting prevention over pills, doctors are empowering their patients to take control of their own health.
Fact sheet shared with permission from PCRM. Click here to view other PCRM Fact Sheets.