A woman walks into a room and asks, "By show of hands, who wants to get older?" Let's pretend you are in the room. Will you be one of those who shoot up your hand excitedly at the prospect of getting older? Or, perhaps you will begrudgingly partially uncross one arm, rotate at the elbow and point your fingers toward the sky. Or, perhaps you will instead of raising your hand, in absolute protest, choose to sit on your hands and declare to yourself, "I. Will. Not. Get. Older."
According to US. News & World Report, people who were born between 1946 and 1964, nearly 205,479 people will share their 50th birthday on each and every day of this year. Although you may not be turning 50 this year, perhaps you will be one of the lucky ones who will turn some other number. In less than 15 years, it's estimated that 20% of the US population will be 65 and greater ["The Youngest Baby Boomers," at: money.usnews.com. And on your birthday, will you be celebrating or mourning? Or will you be feeling something else?
For some, the idea of getting older can be scary and daunting, particularly in an age that glamorizes youth. Many band together to look younger, feel younger and retain their youth.  The Global Industry Analysts Inc. estimate more than $115.5 billion are spent each year on anti-aging products (enhancement of skin, hair, body appearance, and nutritional supplements) [Anti-Aging Products: A Global Strategic Business Report, March 2014].
There are boundless articles, websites and books on anti-aging. Rather than reinforce a Westernized view of aging, allow me to offer a softer perspective of aging; one that holds aging as an image of beauty.  We could call this an "anti-anti-aging column," which unfolds into pure unadulterated aging. Or, dare we say, gasp, pro-aging. Let's walk through a daily regimen of pro-aging creams and solutions. What would that look like?  Simple and complex, the unknown and knowing, raw and truth. Yes, we'll explore all of these areas together, perhaps turning toward death as a way to answer some of our questions, and I'll offer five different practices or thoughts that relate to each topic.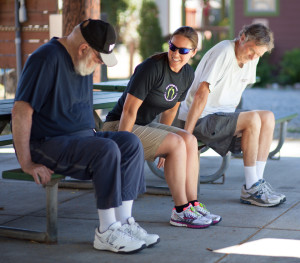 Feel Your Breath: A positive mood is one outcome of breathing slower. By practicing bilateral nostril breathing, you can slow your rate of breathing and lower your resting heart rate, which may increase your lifespan.
Yes Please, More Grey: Being mindful serves as a mediator in decreasing your brain's grey matter [Psychiatry Research: Neuroimaging]. Grey matter is where learning takes place and memories are stored. The next time you notice your mind drifting away from the present moment, gently invite your mind back and be conscious of that very moment.
I vote pro-age: People who hold the belief that they are valuable and feel happy, tend to live an average of 7.5 years longer. [Center for Greater Good: U.C. Berkeley at: greatergood.berkeley.edu] Writing down why you are valuable, each on a different piece of paper, and then placing these in a bowl can reinforce your worth when you most need to take one out and be reminded.
Stereotypes & Heart Healthy: Our ideas of what it means to get older have long been in the making and now it's here. We are older and now you get to decide which beliefs to hold onto and which to let go. Holding onto positive beliefs of aging will make your heart 60% healthier. [Kristen Neff, Self Compassion]
Boost Your Memory: Holding onto positive thoughts of aging and memory will help your memory, suggests the Baltimore Longitudinal Study of Aging. People with negative thoughts on cognitive aging had a 30.2% greater deficit of memory, when tested nearly 40 years later ["Healthy Aging: Lessons from the Baltimore Longitudinal Study of Aging," available at: www.blsa.nih.gov].
Tune in next time for "Curious George & Curious Cats" Sure, we've heard the warnings that curiosity killed the cat. Maybe you even used the saying once or twice.  However, do the same principles of curiosity that we apply to cats apply to humans? What would happen if we were to act as Curious George does?
Health information is not a substitute for diagnosis or treatment by a therapist, physician or other trusted health care professional. Please contact a health care professional with any questions or concerns about your specific health care needs.
---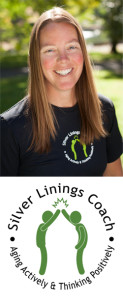 Adrienne Ione, Psychophysiologist (silverliningscoach.com)
Adrienne is an innovative, passionate and award-winning pro-aging professional, dedicated to changing the way we internalize the aging process. As a national certified running coach, confident pro-aging personal trainer, advanced cognitive behavioral therapist, SilverSneakers yoga instructor, and qualified nutrition therapist, Adrienne works with people up in age who have never exercised to professional athletes to everyone in between.
Silver Linings Coach, LLC is dedicated to promoting positive aging by optimizing opportunities for people up in age to integrate physical and mental wellness