Have you ever experienced an unpleasant burning feeling in your chest after eating? How about frequent belching? Do you also find it difficult to swallow your food? If you have these signs and symptoms, you might be having an acid reflux.
Acid reflux disease is a common health problem that happens when the acid in your stomach flows back to your esophagus. That's why the condition is more specifically referred to as gastroesophageal reflux disease (GERD).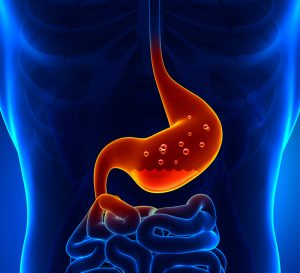 Reports have shown that in the United States, 25-40% of people experience the signs and symptoms of acid reflux at some point in their lives while 7-10% have to deal with the symptoms every day. The disease can affect all age groups but the risk is higher in people who are over 40 years old.
The Stomach and the Esophagus
To further understand the signs and symptoms of acid reflux, you need to be familiar first with the structure and function of the body organs affected by the disease.
Your stomach and esophagus are part of your digestive system.
When eating, the food that you swallow travels through your esophagus, a hollow and muscular tube that connects your throat to your stomach.
The esophagus has lubricants and moves in wavelike movements to propel food towards your stomach.
Before the food reaches your stomach, it has to pass through your lower esophageal sphincter, which is a ring of muscle that relaxes to allow food entry into the stomach and tightens to prevent food from coming back up (regurgitation).
The food enters your stomach where it is digested.
Food is broken down by the aid of your stomach acid and digestive enzymes.
What Happens in Acid Reflux Disease?
Your stomach acid can regurgitate to your esophagus when your lower esophageal sphincter becomes dysfunctional or when there is a delay in the emptying of your stomach.
Your lower esophageal sphincter prevents acid and food from going back into the esophagus. When it becomes dysfunctional, the regurgitated stomach acid can irritate the lining of your esophagus.
Lower esophageal sphincter dysfunction can happen in several ways such as when it relaxes temporarily (the most common mechanism), when it relaxes permanently, and when the increased pressure inside the stomach becomes higher than the pressure in the sphincter, forcing it to open.
Delayed emptying of stomach contents can also increase the pressure inside the stomach. The building pressure will push at your lower esophageal sphincter. When it cannot resist the pressure any longer, it can lead to acid reflux.
Signs and Symptoms of Acid Reflux Disease
The signs and symptoms of acid reflux generally get worse after eating, when bending over, and when lying down. These include:
Heartburn (uncomfortable burning feeling in your chest)
A sour taste in your mouth
Inflammation of the esophagus
Feeling bloated or feeling sick (the high pressure inside your stomach makes it distended)
Frequent belching
Vomiting
Bad breath
Painful and difficulty swallowing
Hoarse voice (the acid irritates your vocal chords)
Excessive saliva production (your body's attempt to neutralize the pH in your esophagus)
What are the Risk Factors for Acid Reflux Disease?
The following conditions can predispose you to have acid reflux disease:
Being overweight. When you are overweight or obese, the excess fat can increase the pressure in your stomach.
Being pregnant. Symptoms of acid reflux disease are common in pregnant women primarily because the growing baby can compress the stomach, increasing the intragastric pressure.
Exposure to cigarette smoke. Whether you are the smoker yourself or you are only exposed to secondhand smoke, you are at risk of developing the disease. The nicotine found in cigarettes relaxes your lower esophageal sphincter, making it dysfunctional in preventing the reflux of acid to your esophagus.
How to Manage the Symptoms?
Eat small, frequent meals instead of large meals
Avoid drinking coffee and alcoholic beverages
Avoid eating chocolate, spicy foods, and fatty foods
Stop smoking and avoid inhaling cigarette smoke
Refrain from eating at least 2-3 hours before sleeping
Lose weight and strive to maintain a normal body-mass index (BMI)
Do not sleep with your body lying flat on the bed. Make sure that the head of your bed is elevated by 6-8 inches. You can do this by putting durable risers for low beds under the head of your bed.
Opt for loose clothing. Wearing tight clothes can compress your stomach and push stomach acid into your esophagus.
When to See Your Doctor
If these home remedies and lifestyle modifications do not relieve your symptoms, talk to your doctor about further treatment. Seek consultation if you observe any of the following:
Recurring symptoms that occur several times in a week
Difficulty swallowing
Persistent vomiting, most especially if accompanied by blood
Sudden weight loss
Early treatment is important when dealing with acid reflux to prevent the development of serious complications.
---
Joe Fleming is the President at ViveHealth.com. Interested in all things related to living a healthy lifestyle, he enjoys sharing and expressing his passion through writing. Working to motivate others and defeat aging stereotypes, Joe uses his writing to help all people overcome the obstacles of life. Covering topics that range from physical health, wellness, and aging all the way to social, news, and inspirational pieces…the goal is help others "rebel against age".