Arthritis is a disease where the joints of one's body are chronically inflamed. 46 million (or 21%) Americans have it and it is one of the leading causes of work disability.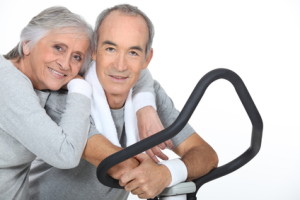 They are two major forms of arthritis: osteoarthritis and rheumatoid arthritis. Osteoarthritis is when the cartilage within the joints wears away and causes severe pain and swelling, particularly in the hands, knees, hips and spine. Rheumatoid arthritis, on the other hand, is where one's immune system mistakenly attacks it's own tissues. As a result, the body responds with pain and stiffness in areas of the body such as wrists, hands feet and knees. Fortunately, exercise can help provide some relief, pain and discomfort wise, for those suffering with this chronic health condition.
How Exercise Helps to Relieve It
There have been two significant studies that showed exercise could help arthritic people feel better. Strength training and balance exercises were used to provide relief from the pain experienced because it improved flexibility and overall strength. Balance and strength training affect one's gait, so, at the very minimum, exercise can help to improve this. Also, it is important to keep in mind that arthritis increases muscle loss and lack of flexibility. As a result, it is important for an individual with arthritis to keep their body limber and moving as much as possible.
Exercises That Can Help With Arthritis
According to NASM, the following protocol should be followed by arthritic people for a reduction in pain and overall health improvement. Please keep in mind, that anyone starting an exercise program, should consult with their physician and a qualified fitness professional first.
Cardio Exercise: treadmill walking, stationary cycling and low impact step aerobics. I recommend up to 30 minutes as a general goal to aim for with duration. The intensity should be from a walk in the park to a light job.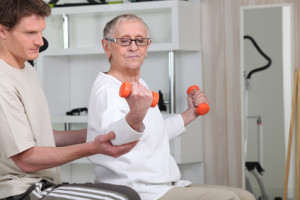 Flexibility: Static stretching and foam rolling may be used as tolerated for the areas of the body that appear to be overactive. These can be performed seated or standing.
Weight Training: Exercises that include core, balance and general overall major muscle groups are recommended. Circuit training is a great way to get all of those things done in one session. I suggest 1-2 sets of 10-12 reps, 2-3 times a week. It is important to keep in mind the following when doing exercise: avoid heavy lifting, with high reps, stay away from movements that cause pain and be prepared to only do five minutes of exercise in a given session until your overall conditioning improves.
---
Maurice D. Williams is a personal trainer and owner of Move Well Fitness in Bethesda, MD.
Resources
1. http://blog.nasm.org/senior-fitness/what-a-pain-in-the-joint-training-guidelines-for-arthritic-clients/
2. http://blog.nasm.org/senior-fitness/modify-training-programs-clients-osteoarthritis/
3. http://www.healthline.com/health-slideshow/8-essential-everyday-exercises-for-ra-pain#8
Source
NASM Essentials of Personal Fitness Training, 4th Edition Revised, 2014.