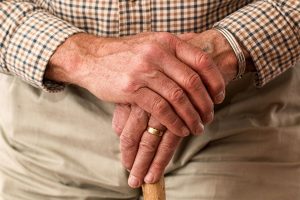 When you read the words "young-person" in a sentence, what is the image that comes to mind? What about when you hear the words "old-person?" Do you readily form an opinion or do your initial thoughts come in the form of questions: "I don't know. I need more information? What do you think?" If a clear image comes to mind, then one line informing these socially constructed ideas of aging can be traced to our education system, one that rewards outcome over process.
With such a strict adherence to outcome, we mindlessly develop a world view that we rarely, if ever, question. Freud suggests that although our initial interpretations of the world may be later refuted, we tend to cling steadfastly to these original views.[1] Possibly damaging views are what serve as a lens through which all future information passes.
In childhood we develop ideas of old age. At the time, the way in which we construct this concept may be rather irrelevant information. Old age doesn't pertain to youth. Or does it?
Our most prominent images of old age can be described by what psychologists refer to as "premature cognitive commitment." These original concepts of old age become the foundation on which we identify as we age. We live to fulfill these ideas and uphold these images. As Ellen J. Langer suggests, "premature cognitive commitments are like photographs in which meaning rather than motion is frozen."[2] In other words, in our youth, we hear words such as stodgy, grumpy and crabby to describe old people. Later, as adults, as old people ourselves (if we are so fortunate) we do not question this image. We may act in these ways even if we don't genuinely feel this way because, well, we're old and this is what old people do. Unquestioned. This stunted potential is yet another cost of the mindlessness of aging.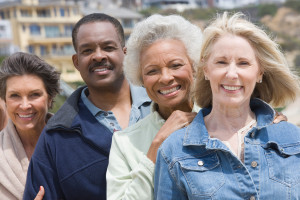 Similar to the views promoted by physicists James Jeans and Sir Arthur Eddington who thought the universe to be best understood as a great idea, we can think of old age in the same light. Aging exists to be interacted with. The idea of old age is incomplete. As you age, you get to inform the structure and meaning of old age. Your identity adds a uniqueness to what it means to be old.
Our orientation to the world directly informs our identity. In the U.S., success is so strictly tied to outcome. A self-image that is based on outcome fails to recognize the value of process. As we age, we could greatly benefit from regarding process as perhaps even more valuable than outcome. Furthermore, if we adopt a mindful approach to aging, then we can conceive of the possibility of new categories, a constant recreating or reorganizing of information that defines and interprets our understanding of our world and of old age.
St. Augustine said, "The present, therefore, has several dimensions. The present of this past, the present of things present, and the present of things future." If we take into consider the process of living, one that is as varied as there are dialects in this world, and use this to inform a construct of old age, then we can see where different processes of old age can occur.  It is possible for many images of old age to exist.
By adopting a coherent mindful approach to aging, we may not only reduce the costs of mindlessness we may also extend the quality and years of our life. I don't know. I need more information. What do you think?
---
Adrienne Ione is a dynamic, mindful, high-fiving, cognitive behavioral therapist, certified dementia specialist and senior personal trainer. Founder of Silver Linings Integrative Health, a company with an aim of promoting health, fitness and wellbeing opportunities for people to thrive across the lifespan.
[1] Sigmund Freud, "Analysis terminable and Interminable."
[2] Ellen J. Langer, Mindfulness.