Research in the field of prenatal fitness has conclusively shown that exercise during pregnancy provides health benefits to mother and fetus, and the American College of Obstetricians and Gynecologists encourages pregnant women without complications to continue or start a fitness routine during pregnancy. Although prenatal exercise is considered safe for most pregnant women, some activities are more controversial because of potential injury risks or because of the environment where they take place.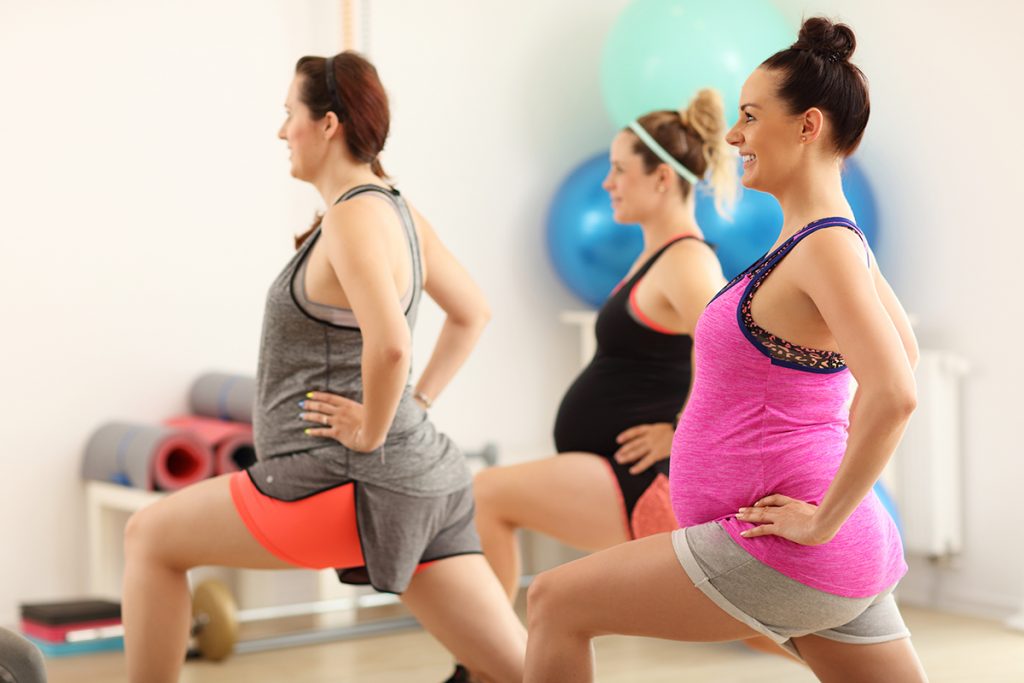 Many women enjoy downhill skiing, cross country skiing, and snowboarding, and have questions about whether it's safe for them to continue these sports during pregnancy. The safety of these sports, as well as the effect higher altitudes, may have on pregnant women and their fetuses, are important factors to consider before taking part in high altitude snow sport activities.
Several studies have examined pregnancy outcomes and complications comparisons between pregnant women who were exposed to high altitudes versus pregnant women who did not travel to high altitudes. One study (1) that examined the association between high altitude exposure and self-reported pregnancy complications found that there is a low rate of complications for pregnant women who participated in activities and travel in high altitude areas.
Another study (2) suggested that pregnant women who traveled to high altitudes (determined as above 2440 meters, or 8,000 feet) did not have a higher risk of pregnancy complications when compared to women who did not have high altitude exposure. These women were more likely to have preterm labor than those not exposed to high altitude, but the percentage of preterm labor in the study were below the US population rate of preterm births. There was a statistical increase in newborn oxygen need at birth, but no complicating issues were associated with this.
Although these study results are reassuring, more rigorous research is needed to provide further information regarding the safety of high-altitude exposure and exercise during pregnancy.
There are key factors that may influence the degree of hypoxia-related pregnancy complications for the fetus and mother.
Duration of exposure
Intensity of activity
Degree of altitude
Difference between altitude at home and sport
These factors should be taken into consideration by a pregnant woman who is planning to travel to (and exercise in) high altitude. If she lives in a low altitude area, it's a good idea to build in several days of progressive altitude increase to allow time for her to adjust. If possible, she should vary the duration of her exposure by sleeping at lower elevations. She should be aware of signs of hypoxia (see list below) and move to a lower altitude if she experiences increased symptoms.
Complications from exercise at higher elevations may be compounded by increased dehydration as a result of dry and cold air. Maintaining adequate fluid intake and allowing for rest breaks to hydrate can avoid this issue.
The key to avoiding altitude-related issues is being aware of how altitude is affecting the body and pregnancy and knowing the signs and symptoms of hypoxia.  As long as a pregnant woman continues to feel well and isn't experiencing any issues while exercising at higher altitudes, she can feel confident that her pregnancy won't be negatively affected.
*Signs of Hypoxia
Feeling dizzy and lightheaded
Persistent cough
Headache
Vision changes
Extreme fatigue
Nausea
Confusion and mental status change
It's important also to consider the risks of some types of snow sports. Downhill skiing and snowboarding require good balance, and as pregnancy progresses, the changes in a woman's center of gravity can affect her balance and make her more prone to falls. Also, the risk of collisions with other skiers and snowboarders is a concern, especially when slopes are crowded. Careful consideration of a woman's skill level and difficulty of the ski slope should be weighed, and modifications such as switching to easier slopes and terrain can reduce risk.
---
Catherine Cram started her company, Prenatal and Postpartum Fitness Consulting, in order to provide current, evidence- based guidelines maternal fitness guidelines to health and fitness professionals. She was a contributing author for the textbook, Women's Health in Physical Therapy and co-authored the revision of Exercising Through Your Pregnancy with Dr. James Clapp.  Her company offers the certification course, "Prenatal and Postpartum Exercise Design" which provides continuing education credits for over 30 health and fitness organizations, including ACSM, ACE, ICEA, and Lamaze.
References
Wilderness Environ Med, 2016 Jun;27(2):227-35. doi: 10.1016/j.wem.2016.02.010. Outdoor Activity and High Altitude Exposure During Pregnancy: A Survey of 459 Pregnancies. Keyes LE1, Hackett PH2, Luks AM3.