Regardless of how you've been affected by the COVID-19 pandemic and racial justice movement, it's likely you've felt it  in some way. Maybe on a small scale your grocery store trips have become less (or more) frequent. Or maybe you haven't been able to go to events with friends. Or maybe it's been further reaching, and your day-to-day work situation is upended. Maybe your financial situation is too. Or maybe you or a family member is sick. And in the past few weeks, glaring racial inequality has caused an awakening to injustice that's shaken people's worlds.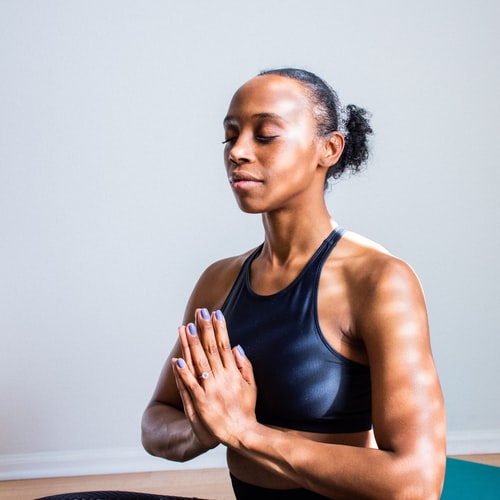 There are countless ways 2020 has changed our lives (can you believe we're only halfway through!?). Amidst the upheaval–  the disruption of routines and habitual ways of thinking also creates an incredible opportunity. For some, this time can be beneficial for introducing practices and habits that can help a person in all aspects of their life. As people spend more time alone, introducing or deepening a meditation practice can be a powerful way to not just survive, but also grow, through this unprecedented time.
Relieve Stress and Improve Health
A new study from researchers at San Diego State University and Florida State University found that in April 2020, during the pandemic, roughly 70% of Americans experienced moderate-to-severe mental distress – triple the rate of 2018. Racial injustice and the disproportionate impact of the COVID-19 pandemic are creating the perfect storm for even more severe mental health disparities.
As people attempt to deal with the real and imagined dangers of their current situations and the unrest in the world, many of us can become filled with anxiety, fear, and insecurity. The resulting physiological effects can then negatively impact our physical health. Meditation offers us the opportunity to better deal with disempowering thoughts and emotions that arise, while also improving physical well-being (Note: sometimes beginning a meditation practice while experiencing intense difficulty or trauma can intensify the discomfort and leave us feeling worse than before. It's important to find a meditation practice that meets you where you are and supports your needs). 
Many meditation apps and in-person studios have responded by making their offerings more widely available online or curating them for certain groups. Los Angeles-based meditation app Headspace is offering free services and guides to help people cope with stress by introducing Headspace for Healthcare Professionals, Headspace for Work, and Headspace for Educators, in addition to teaming up with the Office of New York Governor Cuomo to offer free meditation and mindfulness content for all New Yorkers. Kaiser Permanente announced that it added meditation app Calm to its digital self-care portfolio, so Kaiser Permanente members can access it at no cost.
Guided meditations through apps are wonderful entryways into meditation for many people. However, they're also an example of the external stimuli which so many of us have become addicted to. Because of this, it's extremely beneficial to learn a meditation technique with a teacher. With a teacher, you're better able to create a sustainable practice that evolves with you and doesn't rely on external tools. They can also help navigate stumbling blocks. It's important to keep in mind there are many different types of meditation. Similar to "sports" serving as an umbrella term, meditation encompasses different categories that engage and affect your brain differently. Some also require more mental effort and nuanced practice than others. 
Learn more about different meditation categories and physiological effects in the MedFit webinar "The Meditation Landscape")

Transform Isolation Into Solitude
Regardless of how deeply one's mental state has been affected during this time, many people have found themselves spending more time alone. And while physical distancing, by nature, is isolating and can take a toll on one's mental health, being alone and lonely are two different things. During meditation, when we're alone and become still, our emotions and thoughts rise to the surface. This can be difficult. By developing a meditation practice, we're able to cultivate a sense of solitude and deepen our relationship with ourselves. Meditation is a powerful gateway into self-acceptance, stillness, and gratitude.
It's common for weeks, months, years, and even decades to pass by while being engulfed in the busyness of our lives. The demands and responsibilities can seem endless. It may not feel like there's time or it's not the best use of our time to meditate. However, meditation is often most beneficial for those who think they don't have time to meditate.
It's by creating the space in our day that creates the space in our minds to pause. And through this brief pause we're able to develop a more finely tuned awareness of ourselves, our thoughts and emotions, our needs, and our behaviors. We also become more aware of what our priorities are and how we can make adjustments in our inner and outer lives to meet our needs. By becoming more aware, we're able to cultivate the patience, resilience, and compassion to make better choices.
The extended pause or disruption to our day-to-day lives is a powerful time to adopt or deepen a meditation practice. Many of our current habits are linked to cues from our environment and schedule. So when your life changes, it can be a great time to establish new routines because your environment and schedule are changing anyway. It might feel easier to adopt a meditation practice when it's moving along with a larger transition, especially when it includes more time alone.
Cultivate Compassion and Deepen Communication 
Even though many people are practicing physical distancing for public health reasons, thankfully social interactions with friends and family can continue. Zoom, FaceTime, and even a quick phone call or text can make a big difference in our daily lives. Meditation gives us the opportunity to not only deepen our relationship with ourselves, but also improve our relationships with one another. As we cultivate a deeper sense of peace, happiness, and compassion within, the people around us benefit as well. 
Meditation can help curb stress, which can prevent negative environments that lead to tension between people. By taking responsibility for and curbing your stress you can also benefit your relationships with others. Certain meditations can even help strengthen feelings of connection. Regardless of the physical distance between people, the feeling of connection and belonging can remain strong.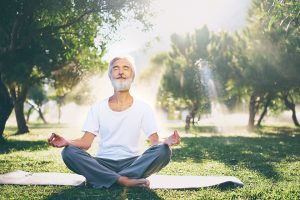 In particular, compassion and loving-kindness meditations can literally train your brain to feel more compassionate and loving. And research shows that empathy and compassion also have tremendous benefits for health and wellbeing — improved happiness, lower inflammation, decreased anxiety and depression, and even a longer life. 
Meditation for a New Normal
Living through a pandemic and racial justice revolution can bring up a wide range of emotions, fears, and challenges. There's no right or wrong way to feel or deal with it. If you're looking for a way to use the disruption to change habits and create a meditation practice, remember that the mind, just like a muscle, can be strengthened. While there won't be an overnight transformation, you can begin to develop the neurological pathways that will help you now and in the future.
As cities and countries begin to reopen, a push toward the old way of doing things and being in the world arises. Be vigilant and strategic about making room for the things you've found and cultivated during this time, such as meditation, so they can become part of your new normal. Old habits and patterns can get locked inside of us. Be clear about what you want to bring into this next phase of your life. What did you discover about yourself or life you want to hold onto? Write them down so you have a place you can come back to and remember. Developing a meditation practice isn't a sprint – it's a marathon – so be patient as you discover what works for you in each phase of your life.
---
Angela Singer has been studying and practicing meditation and mental wellness for 8 years. Through earning meditation and wellness coaching certifications, she's created a toolbox of accessible mental wellness workouts for all levels. She is the founder of Traverse Meditation Studio, a boutique, virtual studio.
She teaches her students and clients to unlock their natural intelligence and creativity, reconnect to their flow state, and achieve professional and personal resiliency. Through her research of neuroscience, neuroplasticity, meditation, positive and perceptual psychology, and the mind-body connection, she's found that human beings can have an immense amount of power over how we experience life. When we develop and practice this superpower daily, it can become a habit that transforms how we live our lives.
Among many other things, meditation and mental wellness workouts have helped her step into her expression as a voice actress, painter, and entrepreneur. It brings her so much joy to share these practices with clients to help them experience more of what they want in life.