Every afternoon around 4:00 pm, just outside my study window, I can hear the sounds of outdoor physical activity classes held in a nearby park. Instructors calling, students responding, joyful sounds of activity and movement—the opposite of what I am doing as I start my seventh Zoom meeting of the day.  
Along with the majority of Americans, I am sitting more and moving less during the pandemic. In fact, physical activity levels are down around 32% in a nation where only 23% of us met recommended guidelines for both aerobic and strength training activities before the pandemic. Shockingly, but somehow not surprisingly, 61% of Americans report experiencing undesired weight gain—29 pounds on average—during the pandemic.
The fitness professionals leading those classes outside my window provide an outstanding case study in the value of adaptability and sheer determination to get people moving.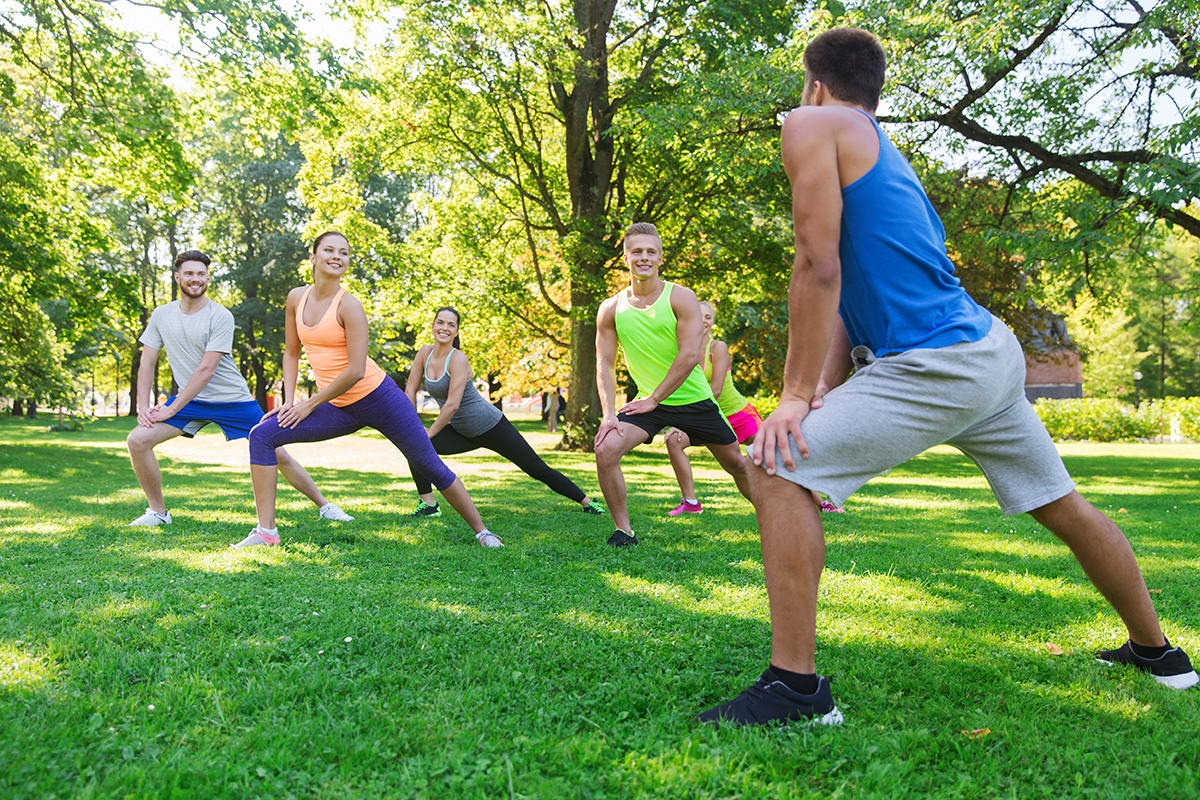 During the early stages of the pandemic, their studios were closed. Later on, capacity limits were too constraining, and their studios were too small and poorly ventilated to hold their classes indoors. Therefore, they needed to come up with an innovative solution to keep their businesses open. They worked with our city government to secure permits—at an affordable price—to move their classes to an outdoor public park that was accessible to all community residents.
This is not the only example of fitness professionals successfully securing permits or shared use agreements from their local governments. There are success stories from San Diego, Long Beach, Washington, DC, Austin and Boston. However, these stories are too few and far between.  
Our attention over the past year has been almost single-mindedly focused on an infectious disease, yet beneath the COVID-19 pandemic that raged lay the dual epidemics of physical inactivity and obesity that helped fuel it. People with obesity have more than double the risk for hospitalization from COVID-19 and a nearly 50% higher risk of death. The odds of death are 2.5 times greater for people who are consistently physically inactive, compared with people who consistently meet recommended guidelines, and physical inactivity was found to be the strongest modifiable risk factor for severe COVID-19.
Qualified, credentialed fitness professionals have an important role to play in getting people moving. We have worked hard to gain the expertise to provide safe, structured physical activity programming for different types of populations. We are true believers in the mental and health benefits of physical activity and are trained in helping others change their behavior to experience these benefits.  
The American Council on Exercise has launched a grassroots campaign—Moving Together Outside—to support qualified fitness professionals in their efforts to get people moving by expanding access to community spaces. I see it as a win-win-win. For fitness professionals, seeking ways to work with students and clients outdoors during and after the pandemic. For municipalities, seeking safe and affordable physical activity options to offer to residents. For community residents, seeking opportunities for social connection and movement.  
I am proud to be the national spokesperson for the Moving Together Outdoors Campaign. I invite my fellow fitness professionals to become a campaign supporter at advocacy@acefitness.org. Let's help good ideas spread, so the daily physical activity classes that I hear from the park next to my home are sounds heard daily from parks across the nation.   
---
Dr. Amy Bantham, DrPH, MS, MPP, is the CEO/Founder of Move to Live More, a research and consulting firm addressing physical inactivity, chronic disease and social determinants of health through cross-sector collaboration and innovation. A certified health and wellness coach, personal trainer, and group exercise instructor, Amy holds a Doctor of Public Health from the Harvard School of Public Health. She can be reached at movetolivemore.com or @MovetoLiveMore
References
American Psychological Association. Stress in America: One Year Later, a New Wave of Pandemic Health Concerns. 

Meyer, J., McDowell, C., Lansing, J., Brower, C., Smith, L., Tully, M. & Herring, M. (2020). Changes in physical activity and sedentary behaviour due to the COVID-19 outbreak and associations with mental health in 3,052 US adults. 

Popkin, B. M., Du, S., Green, W. D., Beck, M. A., Algaith, T., Herbst, C. H., … & Shekar, M. (2020). Individuals with obesity and COVID

‐

19: A global perspective on the epidemiology and biological relationships.

Obesity Reviews

.

Sallis, R., Young, D. R., Tartof, S. Y., Sallis, J. F., Sall, J., Li, Q., … & Cohen, D. A. (2021). Physical inactivity is associated with a higher risk for severe COVID-19 outcomes: a study in 48 440 adult patients. British journal of sports medicine.

U.S. Department of Health and Human Services. (2018a). 2018 Physical activity guidelines advisory committee scientific report.