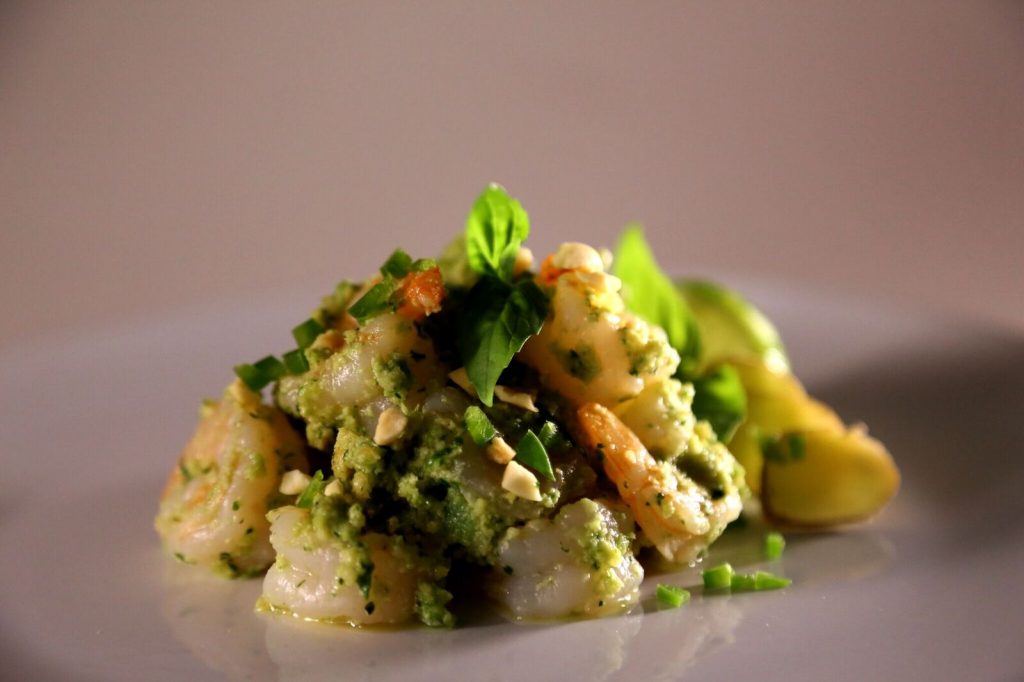 The dressing used in this recipe isn't really a dressing at all. It's more of an Asian-inspired pesto. We generally associate pesto with Italian food. But, if you study different cuisine from around the world, you'll find a version of pesto in almost every culture. Use this as a condiment for meat, fish, or veggies of your choice.
Pesto Ingredients
1 c Roasted Peanuts, chop and reserve 1/4 c for garnish
2 Serrano Chilis, remove seeds and pith
2 cloves Garlic, peeled
1 Tbls fresh Ginger, finely chopped
3 Green Onions, rough chopped
Juice of 2 Limes
1 1/2 Tsps Nam Pla (Fish Sauce)
1/2 tsp Salt
1 Tbls Honey
1 1/2 c fresh Basil (Thai is preferred) *Chiffonade
1/2 c fresh Mint, *Chiffonade
1/3 – 1/2 c Peanut Oil
*Chiffonade: Pick Basil and Mint leaves from stem. Stack leaves and roll bunch into a tight "cigar." Run your knife across the rolled leaves, creating thin ribbons
Place 3/4 cup peanuts, and all other ingredients up to honey in the list, in the bowl of a food processor. Pulse to start mixing, and then let the motor run to drizzle in peanut oil and emulsify. Add your Chiffonade of herbs to a food processor and pulse just to incorporate. Too much processing and the herbs will turn black. Scrape into a bowl and cover, pressing plastic wrap directly onto the surface of Pesto. Be sure to remove any air bubbles. Chill while you cook your shrimp.
Shrimp Preparation
1 lb Raw 21/25 Shrimp (may also be labeled Jumbo). I always get shrimp in the shell. Cooking in the shell adds another layer of flavor.
Aromatics of your choice — fresh ginger, garlic, lemons, limes, lemongrass
Prepare poaching water in a large high-sided saute pan. Rough chop any aromatics you have selected. Squeeze citrus juice into poaching water, and add fruit to water. Bring water to a low boil. Turn fire to low and add shrimp. (Chefs remember: poaching is a gentle process.) Cook shrimp uncovered 5 minutes, or until shells turn pink. Plan for carry-over cooking time, as we are not ice-bathing the finished shrimp — all protein continues to cook if it isn't quick chilled. Spread hot shrimp in a single layer on a sheet pan and cool enough to peel and clean.
When ready, remove shells completely including tails. Next, clean digestive tract using a pointed paring knife to lift tract out. Chop shrimp into generous bite-sized pieces. Add chopped shrimp to your pesto using a rubber spatula. Fold gently, do not over mix. Chill thoroughly. When ready for service,  sprinkle salad with reserved peanuts.
Phyto Facts
Shrimp has a reputation for being high in cholesterol and is generally considered an indulgent food. This gift from the sea is a great source of protein, Selenium, and Astaxanthin.
The pink you see when the shrimp is cooked is Astaxanthin, a very powerful antioxidant that helps sweep toxins from the body. Selenium is an important mineral that slows the aging clock. Resveratrol in peanuts is also valued for it's anti-aging properties.
The remainder of our ingredients are superstars in eliminating inflammation. Basil really helps our joints stay healthy and flexible. Ginger in particular assists in the healing of inflammation, as well as calming spider veins. In fact, there are so many benefits to Ginger that I wouldn't have room for anything else if I listed all of them.
Fish Sauce is our most interesting item on the shopping list. Most of us link fish sauce to Asian cuisine exclusively, but surprisingly, it has a long history in Roman kitchens also. With no way to preserve fish, salt fermentation was the only way to hold on to your catch. In Asian fish sauce, black anchovies and sea salt are used. This imparts the highly desired Umami flavor. The mystery flavor in savory food that makes us say, "OMG! This is so amazing!" You could substitute soy sauce, but it won't be OMG!
---
Affectionately referred to as The Walking Encyclopedia of Human Wellness, Fitness Coach, Strength Competitor and Powerlifting pioneer, Tina "The Medicine Chef" Martini is an internationally recognized Naturopathic Chef and star of the cooking show, Tina's Ageless Kitchen. Tina's cooking and lifestyle show has reached millions of food and fitness lovers all over the globe. Over the last 30 years, Tina has assisted celebrities, gold-medal athletes and over-scheduled executives naturally achieve radiant health using The Pyramid of Power: balancing Healthy Nutrition and the healing power of food, with Active Fitness and Body Alignment techniques. Working with those who have late-stage cancer, advanced diabetes, cardiovascular and other illnesses, Tina's clients are astounded at the ease and speed with which they are able to restore their radiant health. Tina believes that maintaining balance in our diet, physical activity, and in our work and spiritual life is the key to our good health, happiness and overall well being. Visit her website, themedicinechef.com