One of the most common questions I receive from viewers: "How do I make a glaze that is very glossy, but uses no cornstarch?"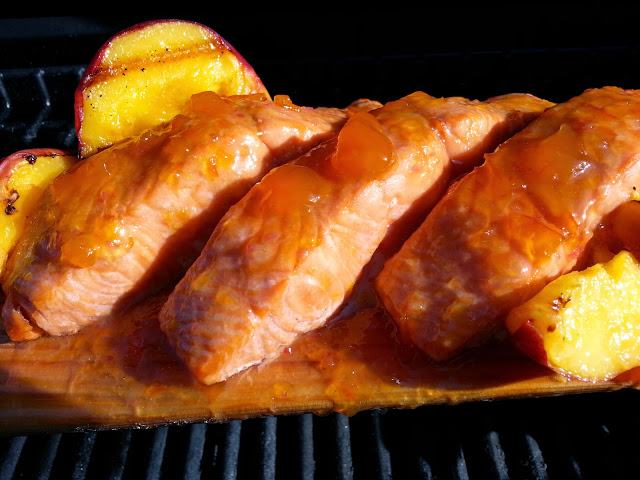 This prompted me to create fast, easy, and very shiny glazes from fruit preserves. Peach Glazed Salmon is just the beginning, Chefs. You'll love the Blackberry/Balsamic Glaze.
Choose good quality all fruit preserves or jams. As with all recipes, great ingredients are the first step to plating a masterpiece.
Glaze
1 tsp Grapeseed oil
2 tsp Shallots, finely minced
1/2 cup Orange Marmalade
1/2 cup Peach Preserves
2 tsp. Red Wine vinegar
2 large Navel Orange
2-6 oz Salmon filets, skinless
Directions
Warm grapeseed oil in a small saucepan. Saute shallots over low heat, approximately four minutes stirring occasionally, until very soft and translucent.
Add Orange Marmalade, and Peach Preserves. Stir until smooth and glossy. Remove from heat and stir in vinegar. Set aside.
Heat grill to medium-high heat. Slice orange into 1/4″ slices. Lay on grill, creating a "bed" for the salmon filets. Pat filets dry and brush lightly with glaze.
Lay slices over grill side by side, making a bed for each salmon filets. Place fillets on orange slices and grill 15 minutes, or to your desired temperature.
Place peach halves on grill, cut side down, and grill 3-4 minutes.
Serve filets with peach halves and extra glaze.
Discard orange slices.
Phyto Facts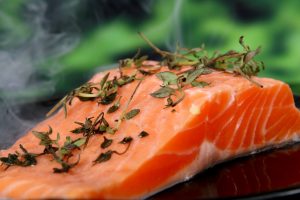 The big buzz around salmon is the Omega 3 Fatty Acids. These essential fats carry with them many benefits. But there is another nutrient that offers the greatest anti-aging benefits: Dimethylethanolamine (DMAE).
This nutrient stabilizes the structure of our skin. It binds the water we drink to our tissue and keeps everything moist and supple. The arteries and veins must be flexible in order to carry blood efficiently. As we age, the tissue in every part of our body thins and loses structure. Foods like cold-water fish, Ahi Flower, Acai Berries and Black currants — just to name a few — encourages Collagen and elastin production. This slows the appearance, as well as the effects of aging, better than any skin cream could. Balanced nutrition and lifestyle are your best tools in gaining entry into the 'Super Agers Club."
---
Affectionately referred to as The Walking Encyclopedia of Human Wellness, Fitness Coach, Strength Competitor and Powerlifting pioneer, Tina "The Medicine Chef" Martini is an internationally recognized Naturopathic Chef and star of the cooking show, Tina's Ageless Kitchen. Tina's cooking and lifestyle show has reached millions of food and fitness lovers all over the globe. Over the last 30 years, Tina has assisted celebrities, gold-medal athletes and over-scheduled executives naturally achieve radiant health using The Pyramid of Power: balancing Healthy Nutrition and the healing power of food, with Active Fitness and Body Alignment techniques. Working with those who have late-stage cancer, advanced diabetes, cardiovascular and other illnesses, Tina's clients are astounded at the ease and speed with which they are able to restore their radiant health. Tina believes that maintaining balance in our diet, physical activity, and in our work and spiritual life is the key to our good health, happiness and overall well being. Visit her website, themedicinechef.com