What is Percussion Therapy?
Percussion therapy involves a revolutionary handheld device that jolts target areas of the body with gentle pulses of pressure. This action softens muscle tissue in areas where there is intense stiffness and build-up. It can be used to accelerate the growth and repair of tissue, increase blood flow, offer pain relief and improve range of motion & function.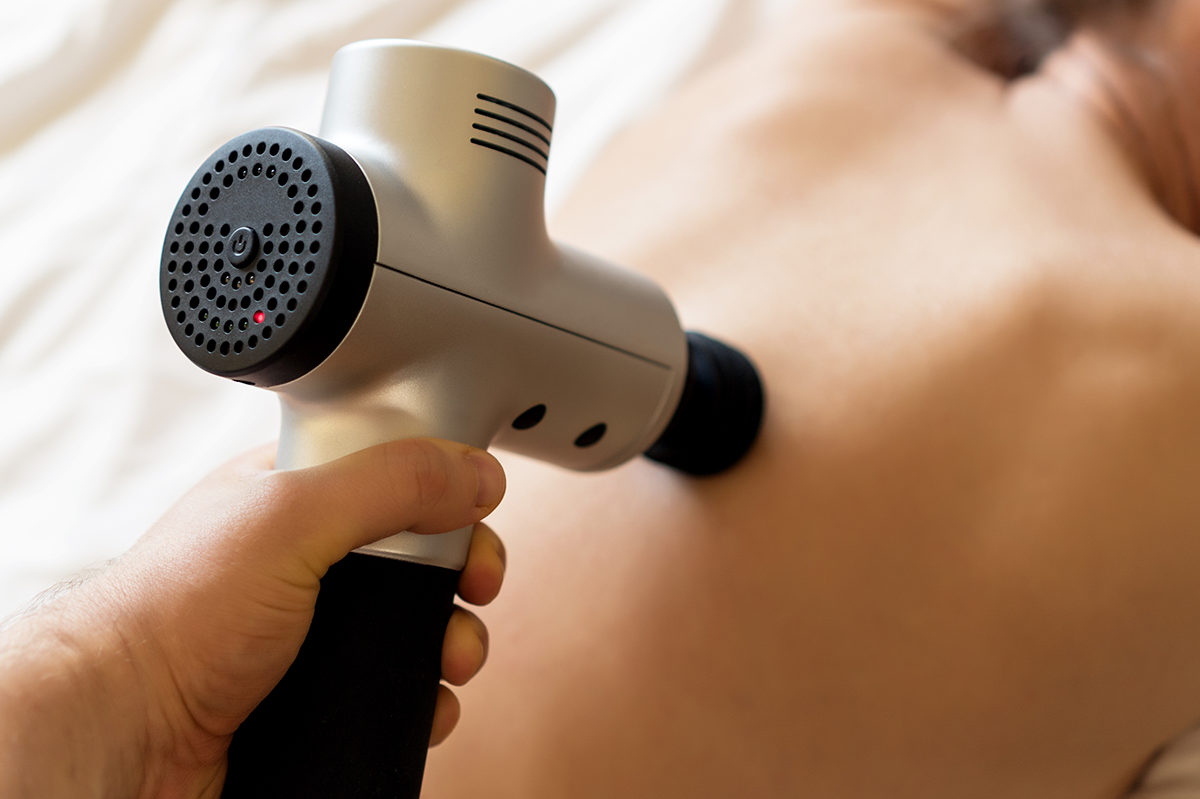 Percussion Therapy is the new way to accelerate recovery.
Workout + Homework + Recovery = Result Acceleration.
Application
The trainee lies face down while the trainer applies Percussion Therapy starting with a 45-degree angle, making soft circular movements over the trainee's back, formulating a V shape. This allows the nervous system to calm down, opening the passage for deeper application and release. The other hand identifies where the muscles are, followed by the hand that holds the percussion device. This creates better stability and understanding of the muscle formation. Anatomy knowledge is important when applying Percussion Therapy, as the trainer will have the advantage of knowing origin, belly, and insertion points of the muscles.
Starting with the back area, followed by the trapezius muscle, the trainee will begin to experience a release of stress and tightness, noticeable by the change of breathing at the chest cavity.
After this point, the trainer is now able to ascertain the appropriate amount of intensity and the correct angle of application. As the trainee feels more comfortable, he or she will ask for more pressure and intensity.
Tool for Recovery
Percussion Therapy can also be used as a very accurate tool of recovery. Physical therapists, chiropractors, and acupuncturists are using it for this reason. What it actually does is release a "code = frequency" throughout the nervous system, assisting in the release of muscle fibers.
Changing the viscosity = density of the water = blood trapped into the muscles after incorrect posture, stress, and intensive exercise. This is the latest trend in the medical fitness industry. It is a safe and comfortable way to make people feel better instantly!
The technical part of Percussion Therapy is more important as it applies to muscle stiffness, cramps and chronic injuries, including posture problems. The trainer is able to understand and assist trainees to feel the difference right away. By keeping the antagonist muscle in contraction, the trainee is advised to start moving the protagonist muscle. Instant release follows along with a noticeable change in balance instantaneously.
---
Dimitrios Triantafillopoulos is a Master Personal Trainer, supporting people, athletes and other trainers to make them feel better with their body and themselves. He holds a Bachelor's degree in Kinesiology and Sports Science, a Master's Degree in Nutrition and Sport Fitness, as well as a Medical Fitness Specialty. Dimitrios has attended numerous seminars in Performance Training and Specialized Nutrition, and is also a Certified Instructor in Vibration (Power Plate) Acceleration Training and Electro – Stimulation Training. He is currently a Fitness Manager at Crunch Fitness in New York City.