Arthritis is the most common cause of disability in the world.3 Osteoarthritis, the most common form of arthritis, has led to a dramatic increase in the incidence of hip and knee replacements in recent years. The rate of total hip replacements has almost doubled between the years 2000-20101 and approximately 7.2 million Americans are now living with hip and/or knee replacements. 6 While these rates have nearly doubled in recent years, the number of younger individuals (ages 45-54) having these replacement surgeries is increasing.5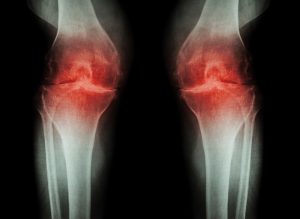 The rapid and dramatic increase in individuals living with osteoarthritis and/or joint replacements has created a massive void between the number of people living with these issues and the number of qualified individuals to help them safely and effectively accomplish their functional goals. This void, however, has created an incredible opportunity for fitness professionals to align themselves with allied health professionals to become part of the solution. This article will discuss some recent changes in the thought process about how osteoarthritis develops, how fitness professionals are an important part of the solution, and why this is the most opportune time for fitness professionals to specialize and align themselves with health professionals.
Why do so many individuals experience osteoarthritis and what can be done about it?
While injury, overuse, age, obesity, genetics, and race have been given as possible causes, there has been a lack of solid evidence to explain why the incidence rate of osteoarthritis continues to skyrocket. 2,3,5 However, recently there have been suggestions that osteoarthritis is not as previously suggested, due only to old age or genetics. Dr. Ian Wallace, a postdoctoral researcher who has studied more than 2,000 skeletons, believes the recent dramatic increase in osteoarthritis isn't an inevitable consequence of living longer. He believes it is more attributable to the modern decline of physical activity and is quoted as follows: "Dr. Wallace thinks the most obvious candidate to explain the increase in knee osteoarthritis is the modern decline in physical activity." 8
Nevertheless, it is not just about people needing more quantity of activity; it's also about the quality of the exercise.10,11 If exercise is performed without optimal joint alignment and control, the individual is at risk for developing degenerative joint changes.10,11 Therefore, it's imperative that fitness professionals specializing in working with individuals that have osteoarthritis or joint replacements are able to properly assess for non-optimal and inefficient posture and movement habits and from these results, develop an appropriate exercise program. Additionally, fitness professions specializing in this niche must also be able to instruct proper exercise form and understand what exercises or activities are contraindicated with these populations. 10,11
A well-designed exercise program that includes flexibility, strength, and cardiovascular exercise is required to appropriately address the postural and movement habits that contributed to the development of osteoarthritis. Likewise, many individuals will have developed compensatory patterns as a result of joint pain or loss of mobility and subsequently developed non-optimal posture and movement habits that need to be addressed.
Several organizations including the Arthritis Foundation, Center for Disease Control, and American College of Sports Medicine have created guidelines for working with individuals that present with arthritis. General recommendations include improving joint mobility/flexibility, aerobic conditioning, resistance training, maintaining a healthy weight, and consulting with a medical doctor.2,3,13
Helping individuals develop a more optimal and efficient posture and movement strategy is one of the most effective strategies for safely working with individuals with osteoarthritis and joint replacements.9,10,11 An approach that includes using the most appropriate soft tissue release, mobilization, stretching, neuromuscular activation strategies, and appropriately progressing the individual through the fundamental movement patterns has been shown to improve joint mobility and strength in individuals with osteoarthritis as well as joint replacements. 9,10,11 Additional strategies that have been shown to be helpful in improving strength and mobility and managing the symptoms of osteoarthritis include three-dimensional breathing7,9,10,11, proper nutrition featuring a whole-foods, plant-based diet4, and meditation.14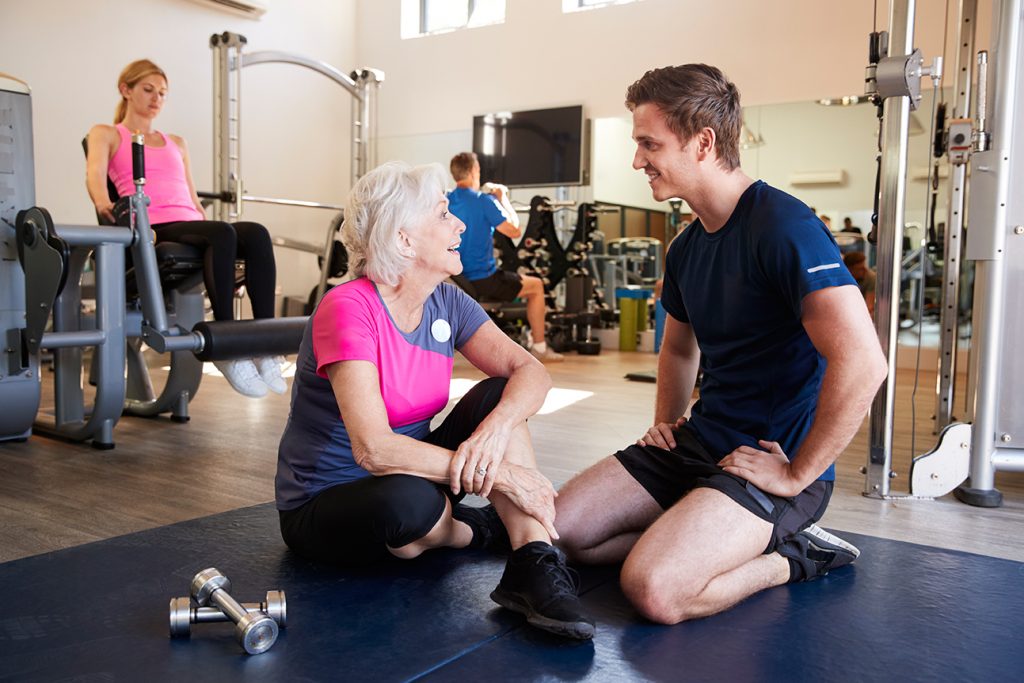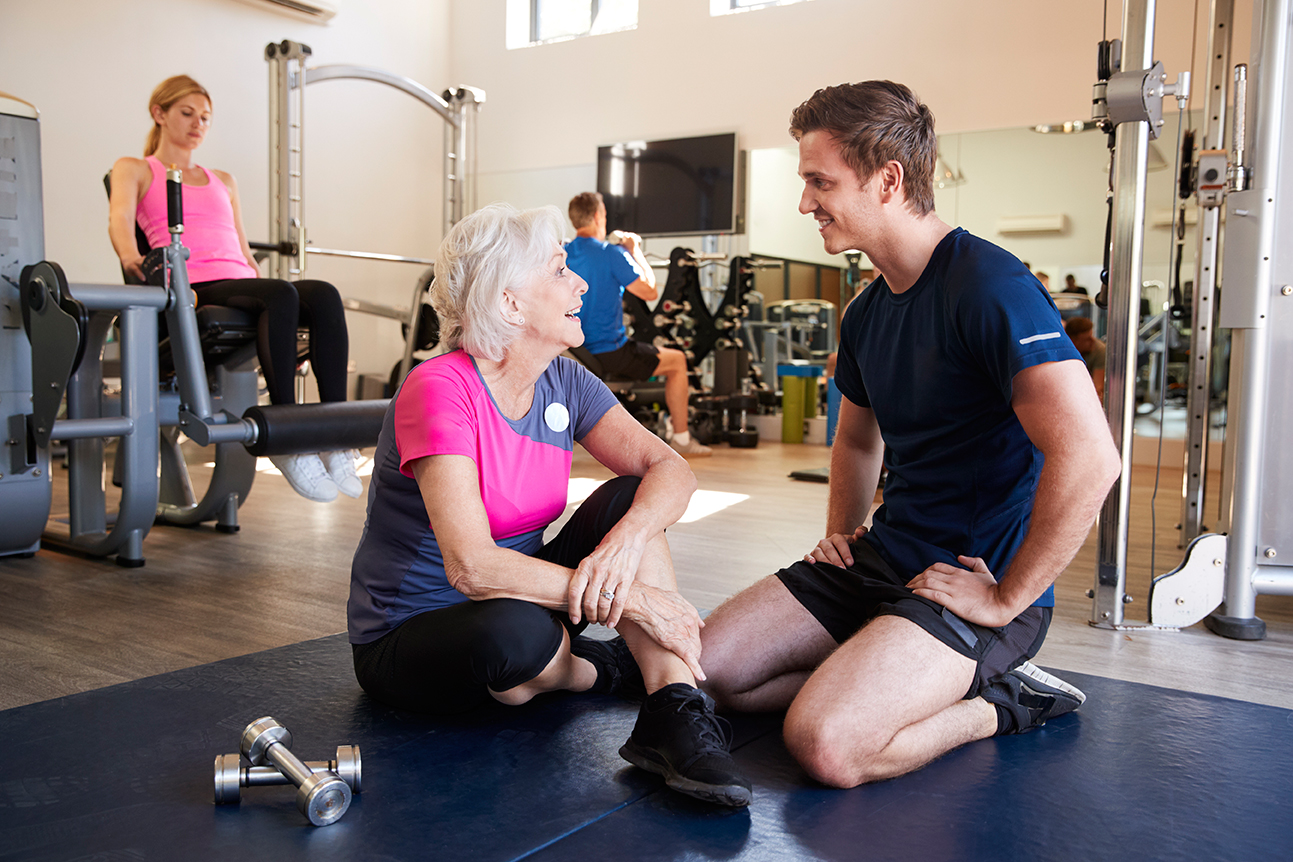 The future
The great news is that there is a growing need for qualified fitness professionals to work with the increasing numbers of individuals that have osteoarthritis and/or joint replacements. However, this requires that the fitness professional have both the right education and the appropriate skillset as many of these individuals will require a thorough approach to address their specific needs and to provide them with the best functional outcomes. Organizations such as the MedFit Network, The Institute for Integrative Health and Fitness Education, and the Functional Aging Institute are helping to create the education necessary for health and fitness professionals to develop specializations in working with special populations including the older adult populations experiencing osteoarthritis and joint replacements. Additionally, through their educational platforms and live course work, they provide fitness professionals with strategies for aligning and working with allied health professionals.
For many individuals experiencing pain or loss of function secondary to osteoarthritic changes, seamless integration between medical procedures, rehabilitation, and functional fitness is becoming a viable and necessary alternative to narcotics and surgery. Hence, the birth of the medical fitness space where fitness professionals work either in collaboration with or in the actual physical location of medical doctors, physical therapists, chiropractic physicians, and massage therapists. Clinics such as Rejuv Medical have provided a model for how to improve patient outcomes by combining the benefits of regenerative medicine procedures (Plasma Rich Protein and Stem Cell Therapy), physical therapy, and personal/group training.
Specialization in working with individuals that have osteoarthritis and/or joint replacements and working in the medical fitness space is the future. The fitness professional that acquires the appropriate education and develops a working relationship with allied health professionals will be able to attract more individuals that need, want, and will pay for their expertise. By providing a more integrated and effective approach to helping individuals accomplish their health and fitness goals, these fitness professionals will continue to thrive in the coming years.
This article was featured in MedFit Professional Magazine summer 2019 issue.
Subscribe to MedFit Professional Magazine to read more great content like this!

---
Dr. Evan Osar is an internationally recognized speaker, author, and expert on assessment, corrective exercise, and functional movement. Dr. Osar is committed to educating and empowering fitness professionals while helping them develop relationships with allied health professionals. He is author of the Corrective Exercise Solutions to Common Hip and Shoulder Dysfunction and has developed the industry's most complete training certification, the Integrative Movement Specialist™. With his wife Jenice Mattek, he created the on-line educational resource www.IIHFE.com. 
References:
American Association of Hip and Knee Surgeons. NCHS Releases Hip Replacement Data. Retrieved from http://www.aahks.org/nchs-releases-hip-replacement-data/
Arthritis Foundation. Osteoarthritis Treatment. Retrieved from http://www.arthritis.org/about-arthritis/types/osteoarthritis/
Centers for Disease Control and Prevention. Osteoarthritis. Retrieved from https://www.cdc.gov/arthritis/basics/osteoarthritis.htm
Clinton, C., O'Brien, S., Law, J., Reiner, C., Wendt, M.R. (2015). Whole-Foods, Plant-Based Diet Alleviates the Symptoms of Osteoarthritis. Arthritis. Retrieved from https://www.ncbi.nlm.nih.gov/pmc/articles/PMC4359818/
Dotinga, R. (2015). Number of Hip Replacements Has Skyrocketed, U.S. Report Shows. Retrieved from https://consumer.healthday.com/senior-citizen-information-31/demographic-arthritis-news-37/number-of-hip-replacements-has-skyrocketed-u-s-report-shows-696419.html
Mayo Clinic. First nationwide prevalence study of hip and knee arthroplasty shows 7.2 million Americans living with implants. Retrieved from http://www.mayoclinic.org/medical-professionals/clinical-updates/orthopedic-surgery/study-hip-knee-arthroplasty-shows-7-2-million-americans-living-with-implants
Mattek, J. and Fisher, S. (2017). What Lies Beneath: The under-realized effects of breast, abdominal, and pelvic surgeries. St. Bernardino, CA: Niche Pressworks.
McDonald, B. (2017). Skeletons say arthritis isn't about aging – it's about activity. Retrieved from http://www.cbc.ca/radio/quirks/august-19-2017-1.4252722/skeletons-say-arthritis-isn-t-about-aging-it-s-about-activity-1.4252755
Osar, E. (2012). Corrective Exercise Solutions for Common Hip and Shoulder Dysfunction. Chinchester, UK: Lotus Publishing.
Osar, E. (2017). Integrative Corrective Exercise Instructor Certification Program: Training the Older Client. Chicago, IL: Institute for Integrative Health and Fitness Education course handouts.
Osar, E. (2018). The Fundamentals for Training the Older Client with Osteoarthritis. Retrieved from https://www.ptonthenet.com/remote-learning
Pagnano, M., Wolfort, M., Berovitz, A. 2015. U.S. National Center for Health Statistics. Data brief; National Center for Health Statistics.
Riebe, D., Ehrman, J., Liguori, G., Magal, M. ACSM's Guidelines for Exercise Testing and Prescription. 10th Philadelphia, PA: Wolters Kluwer.
Selfe, TK., Innes, KE. 2013. Effects of Meditation on Symptoms of Knee Osteoarthritis. Alternative Complementary Therapies; 19(3): 139-146.