One of my highest honors as a Personal Trainer has been to work alongside my clients in preparation for knee surgery and post-surgery rehabilitation. Working alongside a Physical Therapist (with the client's permission to share information) to bring the client to a complete recovery has been a privilege and an excellent learning opportunity.  
Pre and post-surgery are two very different stages, but both require the client and trainer's knowledge, trust, and commitment. Today I will focus on the preparation for knee surgery from the perspective of a Personal Trainer. 
First and foremost, the Personal Trainer must act within their scope of practice.  Most nationally accredited Personal Trainer certifying agencies have clearly outlined the scope of practice that a trainer must work within. 
Here are a few DO's and DON'Ts from The American Council on Exercise (ACE) that apply to the subject of pre-knee surgery clientele. 
Personal Trainers DO receive guidelines from Physicians or Physical Therapists. They DO design exercise programs, refer clients to appropriate allied health professionals or medical practitioners if needed. Trainers DO design exercise programs after a client has been released from rehab, and as trainers, we work with clients, not patients.  
Personal Trainers DON'T diagnose, prescribe, treat injuries or disease, rehabilitate or work with patients. 
There was a time when I would stop working with a client as they were awaiting knee surgery for fear of causing more damage. Still, after going through my own knee surgery, I realized there is much I could have done to prepare appropriately and that trainers can do for clients as they prepare for surgery to help put them in the best possible position for a full recovery.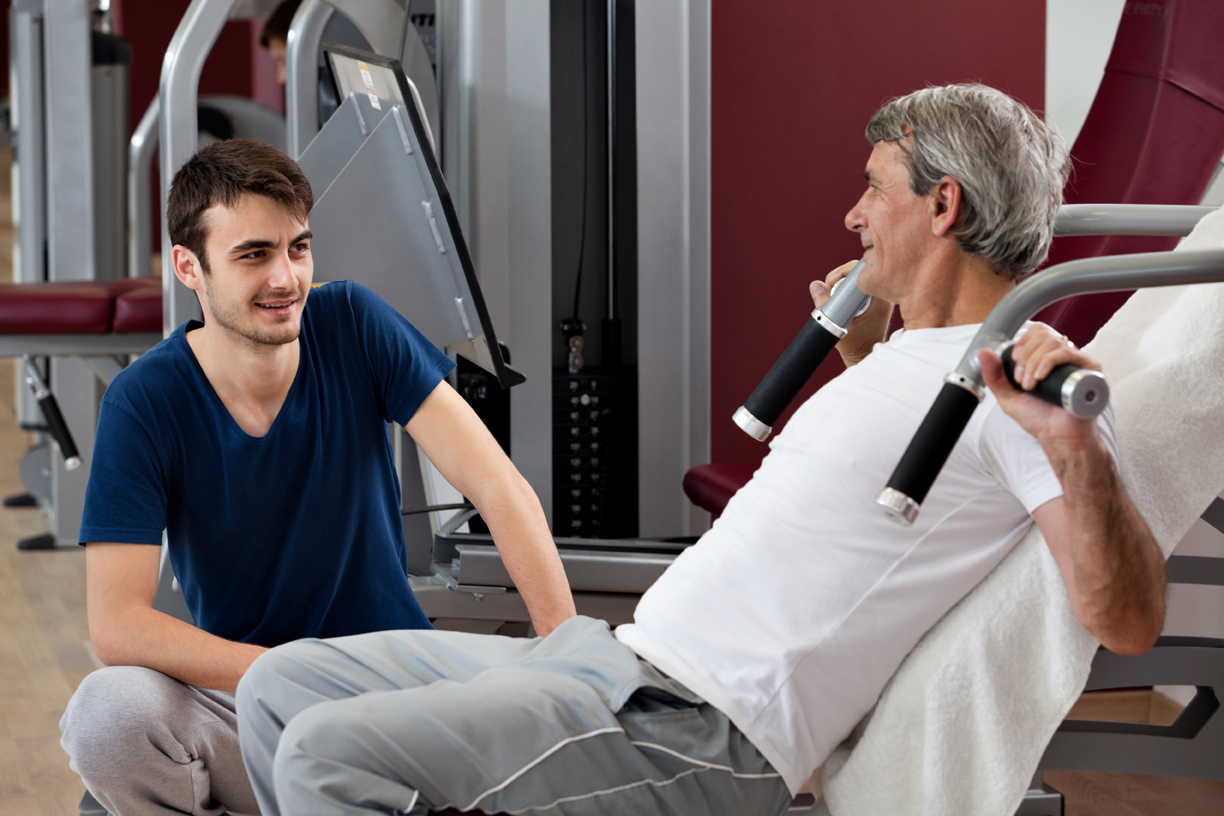 One significant preparation step for any knee surgery, often overlooked, is upper body strength. The client will likely be on crutches or possibly a wheelchair post-surgery.  When your legs are not fully functioning, you rely heavily on your upper body to move from place to place, from sitting to standing and getting to your Physical Therapy sessions.  I found success doing body weight work for the upper body in preparation is very helpful and can prevent shoulder injury as the client needs to move their body from bed to crutches or crutches to toilet and the like. Lifting out of a chair and putting a large amount of body weight on the arms is exhausting and, again, can strain or injure those joints and muscles, which can put the healing process from the surgery leg on a slower rehab pace. 
Body weight exercises for the client pre-surgery can be as simple as lifting and scooting themselves laterally across a bench, or maybe learning to use rail support to lift themselves out of a seated position, sitting with legs extended on a mat on the floor, lifting their hips to clear the ground to shift around.  Engaging and strengthening the shoulders, biceps, triceps, and even strengthening the wrists and handgrip has excellent benefits.  Encouraging core work from all six sides (Rectus abdominus – front, erector spinae – back, Obliques internal and external – right and left, diaphragm – top, and pelvic floor – bottom) to support the upper body moving the body weight is very beneficial.  We also shouldn't forget mobility and stability in the upper body to assist in recovery. 
The second important step to surgery preparation is strengthening the muscles that support the knee in all directions. This will allow the client to be in the best possible condition to rehabilitate well. It may be necessary to be creative in finding ways to do this without putting weight on the knee joint.  Place a high priority on mobility and strengthening in the upper leg; quadriceps, hamstrings, hips, glutes: the lower leg;  gastrocnemius, soleus, tibialis, and lower leg extensor muscles. 
Personal Trainers can make a difference. Stay within your scope of practice, educate yourself on knee health, and take advantage of every opportunity to collaborate with a physical therapist or medical practitioner to learn, grow, and serve your clients with the highest quality. 
With knowledge, trust, and commitment, trainers can make a marked difference in the clients' recovery. 
---
Shannon Briggs is a multi-passionate fitness professional and educator. She brings 30 plus years of experience to a long, fulfilling career in the fitness industry. In the past 13 years at the University of Texas at Austin, Shannon has led continuing education workshops in multiple group fitness formats and topics specific to personal training; she also has written the curriculum and manuals for numerous workshops accredited by the American Council on Exercise (ACE). Shannon is currently a monthly contributor to Campus Rec Magazine for Fitness and Wellness.