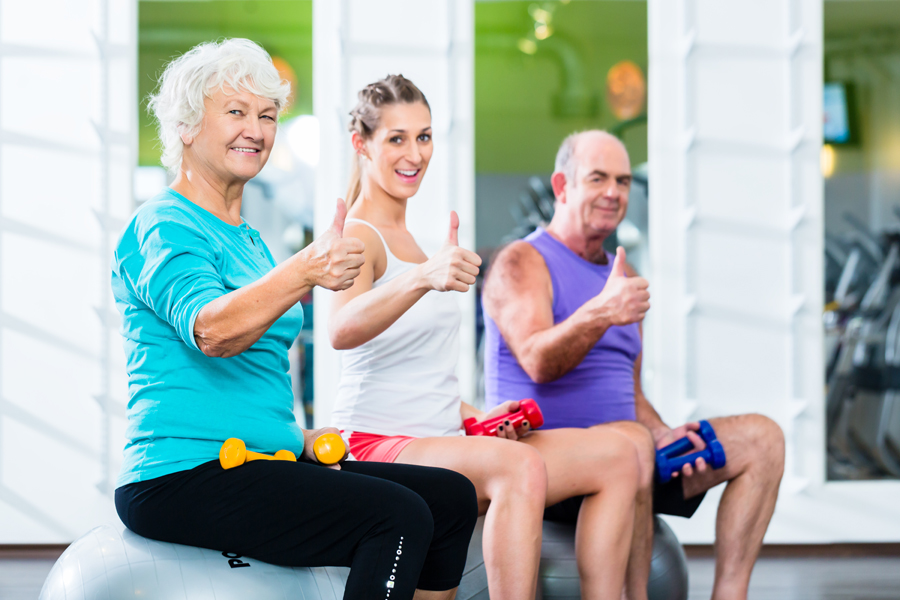 The biggest question fitness trainers need to ask themselves is "Why do you want to work with the chronic populations?" Is it because:
a) The stats (IDEA, IRHSA) out there say it is the fastest growing population/market?
b) You really want to help people that tend to have multiple issues because it is rewarding?
c) You feel drawn to it because one of your clients now has a condition?
d) You like figuring out puzzles?
e) All of the above.
All of the above factors play a role in working with chronic conditions. It takes a much different approach than working with the general population. For starters, what defines a chronic condition, besides something that is ongoing?
The Center for Managing Chronic Disease defines it as such:
"A disease that persists for a long time. A chronic disease is one lasting three months or more, by the definition of the U.S. National Center for Health Statistics. Chronic diseases generally cannot be prevented by vaccines or cured by medication, nor do they just disappear. Eighty-eight percent of Americans over 65 years of age have at least one chronic health condition (as of 1998). Health damaging behaviors – particularly tobacco use, lack of physical activity, and poor eating habits – are major contributors to the leading chronic diseases."
What I find so fascinating is in the last sentence: "health damaging behaviors". That is the core of working with chronic conditions; you want to impact a person's or client's health damaging behavior. If they are coming to you with a condition, we already know they have one, if not more, behaviors that need to be addressed and changed. This means you not only have to work with the biomechanical/physical implications of their condition, but the emotional/psychological aspects of it as well. Welcome to the world of medical exercise, a very rewarding and extremely challenging area of the fitness industry–a part where you will need to wear several different hats: health coach, sleuth, guide, emotional supporter, cheerleader, and fitness professional. Therefore, you need to be prepared.
Be Prepared
Start by deciding which medical conditions you are interested in; a great list can be found at Chronic (Medicine) on Wikipedia. Next, find out if any of these support organizations offer a certification–National MS Society, Arthritis Foundation, and Cancer Training Institute are some out there. Visit websites and request information. Most support organizations have a lot to offer on their websites, or try googling the condition itself. It may take some time, since with search engines today advertisements tend to come up first. Research support groups in your area, and ask to attend a meeting. This will expose you to the emotional side as well as the physical limitations of their condition, and what difficulties they face on a day to day basis. This will aid you in designing an appropriate exercise program for their specific needs. Read, read, and read some more, and then be critical. A lot of information is very general; dig deep, and if an article or website does not have the information you need, ask a professional.
Create a Board of Advisors
As a certified fitness professional, I did not go to medical school or physical therapy school, nor do I have a degree in nutrition. But I have learned a lot over my 20+ years working with special populations–and as a person who has fibromyalgia–but I don't come close to knowing enough. As clients with conditions come through my door, many on numerous medications with eating habits that would make most trainers cry, medical questions come up. For example, "Can I eat dairy products if my medication says not to take calcium supplements with it?" Or "I find every time I walk upstairs I get out of breath–does that mean it is my condition or am I just out of shape?" And "Have you heard that Maltitol is bad for you, and what is Maltitol?" At this point, unless I feel there is a huge medical issue that needs addressing (then they get sent to their doctor immediately), I contact the appropriate person on my board and ask them the question. The board also helps with disseminating and understanding clinical test results that clients give me, or any other physiological question that is beyond my knowledge. It also builds your credentials as a professional when dealing with the medical community.
Scope of Practice
Most fields in the medical community are clearly defined by a scope of practice. From having spoken with more than a few doctors, they are very hesitant to refer to personal trainers, mostly because of injuries as a result of improper exercise programming or what they have observed in the gym. In the medical fitness industry, it is even more imperative to be precise and transparent with what you are doing. When a new client comes to me, I contact their doctor or physical therapist–usually via e-mail or letter–detailing what I have found from my assessment, the condition, and what kind of program I am designing. This gives them the opportunity to comment or change it accordingly. It also opens up lines of communication. The professional knows I am not going to have a spinal fusion client performing kettle bell swings right out of the gate; they will see my progressions and know that if something is off, I will refer back to them.
One of the hottest issues in the fitness industry is licensing; for it, against it, I am not going to argue it here, but as a fitness professional, I need to make sure I do not prescribe or diagnose. Even if I am 99.9% sure a person has impingement syndrome because of all the presenting symptoms, I am not going to say it. I am going to refer them to a medical professional. Especially with this population, there are a lot of cross over issues, and it is not our responsibility to diagnose but to help manage and improve their condition.
Empathy and Trust
Working with chronic conditions requires a lot of empathy and the ability to set boundaries. You need empathy more than sympathy; if you cannot get inside what they are going through pain- and limitation-wise, it will be hard to establish trust. Establishing trust is the biggest tool you can develop–my clients trust I will not hurt them, make them worse, or ask them to do anything they cannot accomplish. If you get the opportunity to attend a support group or speak with people who have chronic conditions, most want to get better, but don't know how. They are afraid of making things worse; even the avid exercisers who have tried to "fight through the pain" find it doesn't work, and are at a loss as to how to proceed. You have to understand how life changing their condition is, where they started, and where they are right now. It can help to take courses in health coaching or read up on behavior modification– even better if you can find something geared toward the specific condition you are dealing with.
Avoid the "over-empathy" trap, because people with chronic conditions can use it as a crutch, too. Balance in sessions is important; include activities they really like to do in with the exercises they hate.
I guarantee the exercises they hate are the exact ones they need to do the most! Offer rewards, if they do their homework exercises, or it could be just to get through a session. It can be difficult to manage both their emotions and their physical selves; if you don't feel prepared, refer to an outside professional. Yes, you may lose your client, but in the long run, it gains you credibility and more trust.
Recharge Yourself
Recharging and recovering are the new buzz words in the health and fitness industry. It is even more important in the chronic condition realm, for both clients and professionals. More than in any other population, chronic conditions will sap your energy, your strength and sometimes your emotions. Most of this community will not see huge improvements like general exercisers; in some instances you will observe regression. They will have good days and bad days; they have challenges every day of their lives–just getting out of bed and getting ready for the day can seem like climbing a mountain. Then we come through the door and want them to do exactly the last thing on earth they want, which is to move more. They may be cranky, and in the case of depression or mental illness, downright nasty, leaving you to pull all your happy tools out just to make it through the session. In this case, what do you do to recharge your batteries? Funny as it seems, pay attention to the advice you are giving your clients–often times it can go both ways. I tell my clients to meditate, get a massage, plan a fun outing, or simply review their happy journal. These are the exact activities that recharge me!
It is easy to work, work, work, and this clientele is more demanding of our time and attention. Don't ignore yourself; make sure you work in time to rebalance. Put it on your calendar as faithfully as you do your workouts or doctor's appointments. All work and no play will bring on the exact condition in yourself that you are working hard to alleviate. If you really want to serve the chronic condition population, lead by example, and make time to recharge.
---
Sharon Bourke is an MFN member and the owner of Life Energy Fitness. At Life Energy Fitness, her goal is to identify where the compensations are and to help your body relearn proper movement patterns. The results are more energy, less chronic pain, an ability to participate in activities you love, and to prevent other problems from forming.