While most people picture their ideal vacation as lazing about on the beach getting roasted by the sun and sipping Mai Tais, you are not like most people. If you're going to take time off and travel, you want to make the most of it and be active during your travels. A great way to stay motivated is to bring your dog along. When you travel with your pooch, the two of you can spend your time exploring cities on walks, traversing hike and bike trails, and generally being more active than your usual lazy vacationer.
Safety First
Whenever you travel with your dog, you want to remain safe at all times. While many dogs love trying new things, they can also be overwhelmed in unfamiliar situations. Always keep your dog on a leash unless you are in a designated off-leash park. To stay safe even when off-leash, be sure your pup has updated ID tags1 and that their microchip has your current contact information. Dogs shouldn't go to public places without vaccinations and parasite prevention products, including heartworm medicine and flea/tick/mosquito repellant. If your dog gets in a scuffle with another pooch at the park, be careful not to get in between them; instead, work at distracting your dog to get out of the fray as soon as possible.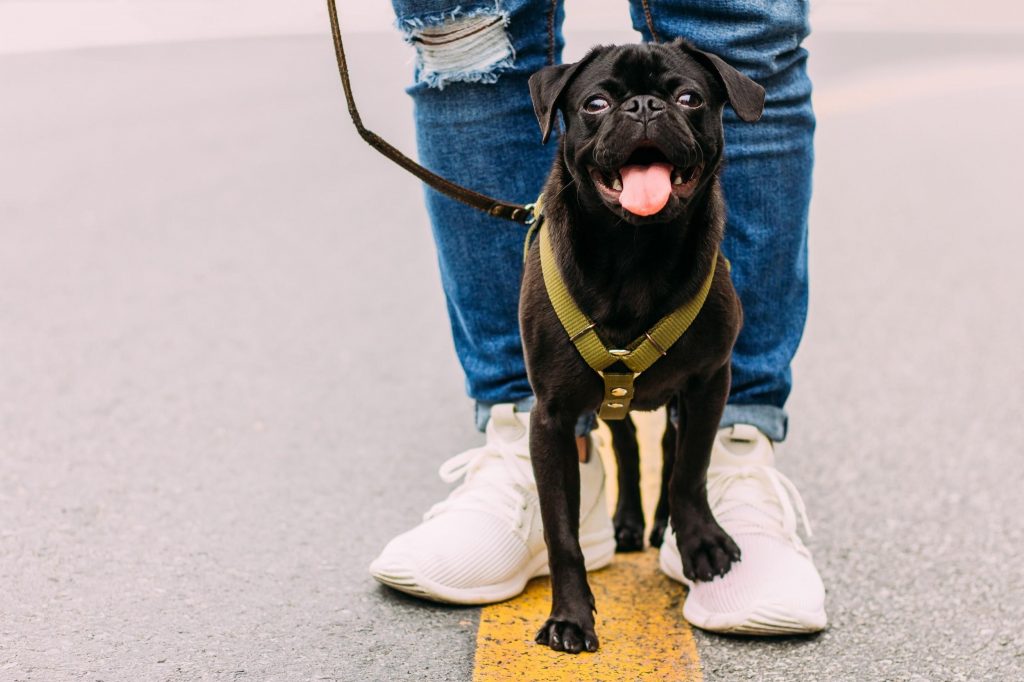 Enjoy the Open Road
If you're going to bring your dog on vacation, keep the locale within driving distance. Airlines may technically be able to "ship" your dog to your destination, but the process of crating, drugging, and shipping your dog in an airplane's cargo hold is traumatic2 for the little guy. In fact, the Humane Society strongly advises against animals traveling in cargo. Beyond the stress that it causes dogs, airlines also have a habit of losing — and sometimes killing — dogs. Instead of risking it, plan a trip within driving distance so you know your dog is in good hands.
A Lot of Personality
Dogs differ in personalities3 just like people do. While some dog owners know their pup would love a day touring microbreweries in the city by foot, others would feel anxious surrounded by all those strangers' feet and the smell of alcohol. Keep your dog's personality and how they respond to situations in mind when planning activities. For instance, don't take a little dog with short legs on a 10-mile hike up a mountain. Or, if your dog isn't big on water, don't book an afternoon kayaking in hopes that this time he will get used to it. Remember: this is your dog's vacation too — he wants to enjoy it just as much as you do.
Take a Breather
While a fun and active vacation is great, don't over-exert your pup. Even the most high-energy breeds need to rest. Be sure wherever you're staying is shaded and cool if outdoors or climate controlled if indoors. Always bring a supply4 of freshwater and a travel bowl that your dog is comfortable using. Whether hiking, biking, kayaking, or simply walking around the city, your dog needs frequent water breaks to stay hydrated and healthy. Finally, it's okay to spend a little time apart — your dog doesn't have to be the center of the social spotlight 100 percent of the time. If you are staying in a dog-friendly room and only plan to be gone for a couple hours, he should be fine hanging out there for the time being. If you want to take a little longer than a couple hours, look into a local doggie daycare5 or pet sitter that will watch your pup while you shop, go to a museum, or do whatever not-so-dog-friendly activity you want to do.
When you bring your dog on vacation, you can't sit around and be lazy. Beyond the daily activity a dog needs, you have to be mentally alert and stay on top of their safety. Dogs generally shouldn't fly — you're going to want to plan a road trip for this excursion.  Keep your pup's personality in mind, and don't put him in a situation that will cause anxiety. Finally, find ways to take breaks so your dog doesn't get too worn out by this vacation.
---
Henry Moore is the co-creator of FitWellTraveler. The site blends two of his favorite subjects (travel and health) to provide readers with information about how to get the most out of both.
References:
1 Dog Park Safety Tips – Angie's List
2 United Airlines had most animal deaths in 2017… – Market Watch
3 Dogs Have These 5 Major Personality Types – I Heart Dogs
4 Planning on Taking Your Dog on Your Next Vacation? – Whole Dog Journal
5 What's the benefit of doggy daycare… – Mother Nature Network