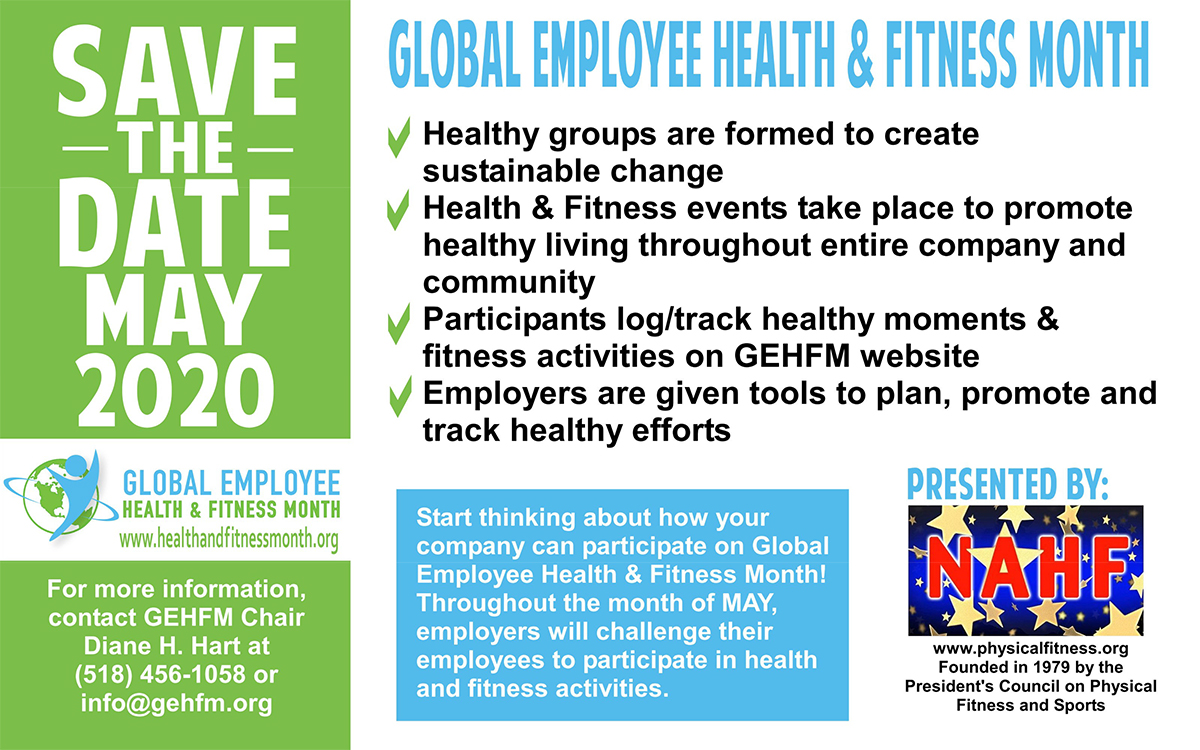 Employers and Employees everywhere can show their support for healthy living and well-being by participating in Global Employee Health and Fitness Month (GEHFM) sponsored by the National Association for Health and Fitness (NAHF).
"This amazing, new and improved GEHFM is truly historic in the arena of workplace wellness. Business and industry can encourage positive behavior change in the supportive context of workplace policies and culture and provide support that assists today's workforce with their daily struggles.  Through GEHFM we will achieve the optimum result of a more physically active and healthier population…one healthy moment and one healthy group at a time," said Diane H. Hart, President and Executive Director of the National Association for Health and Fitness.
All you have to do is create and share "Moments, Groups and Projects for Health" – such as preparing a healthy meal, organizing a recurring walk or bike ride with colleagues or participating in a clean-up day in your community.  Employers will challenge their employees to continue to do so throughout the month, concluding the month with a culminating project.  It is time to make healthy the norm in America and we believe GEHFM is a powerful effort toward the realization of this goal.
Since the founding of Employee Health and Fitness celebration in May of l989, there have been significant strides in documenting the evidence of the value of investing in employee health.  Employee health is a powerful, strategic component of an organization's human capital management.  Progressive employers understand that their greatest asset is their employees, and an investment in their employees' health is essential to managing health care costs, improving organizational productivity and employee morale.  We hope this event plants a seed that the small choices you make each day can have a big impact on long term health.
It's simple to show your support for a healthy, active workplace.  Sign up at healthandfitnessmonth.org
Join Diane Hart for her free webinar, "Your Voice, Capitol Hill and America's Health".
Click here to sign up.