When things get tough for you in terms of balancing your work, social and personal life, your workout routine may be the first thing listed off from your schedule, because of how much time it can take. However, with the right amount of nutritional and health care you can still manage your fitness routine in just half an hour each day! Just stay hydrated and find some time between your schedules to try these effective workouts!
Making a checklist or an actual routine on your phone or calendar is a great way to make time and ensure you actually perform physical activities, even with a busy and planned day ahead. Generally, workouts in the mornings are considered most effective so if there is any way to wake up earlier than you intend to, try to integrate a quick workout in the early hours of the day.
Try to make sure you keep track of your calories and daily intake of whichever diet plan you follow that will work best with your daily activities. Be sure not to deprive yourself of the nutrients and vitamins required to stay healthy! You do not want to feel fatigued and lethargic after these workouts because they will simply make you feel worse rather than better and energized! Pack a fruit when you go to work or have some fresh juices for breakfast. Find the best way possible to get your daily intake of vitamins and calcium. Milk is always healthy for you so add that through milk itself or dairy products.
Shoulders and chest
Starting with some good old fashioned pushups, (initiate with at least 20 and gradually increase with pace) and leave the rest to your dumbbells. With just around 20 reps of bench presses, as well as 10 reps each of side and front dumbbell raises, your shoulders and arms will get the pump they need.
Arms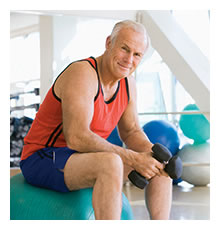 When it comes to arms you need different workouts for both your biceps and triceps but it does not mean that it has to consume a lot of time. Simply grab your dumbbells and begin with around 2 sets of 10 reps of triceps press, once lying down and once seated. Either with a barbell, or if you do not own one, then with a dumbbell, and do either 1 set of 20-25 curls, or 2 sets of 10 curls. Make sure to do some warm up reps before increasing your pace, and depending on what your ideal arm goal is, you can gear up with appropriate equipment to help make more of a difference!
Legs
Legs have a similar routine as your arms, so give them a good warm up and begin the workout! Start with 2 sets of 20 reps of leg presses, followed by 2 drop sets of 25 leg curl reps. End your leg routine with 3 sets and 20 reps each of calf raises, both sitting and standing. It will burn up your leg muscle instantly and you will feel a great difference each time you finish this leg routine!
Back and Hips
To tone your back and hips, do at least 50 pushups as a warm up for your muscles and burn some energy on your back. Then begin a standing side kick, making sure your thigh muscles are parallel to the floor when you hold your leg in the air from 2 to 3 seconds. Continue with around 15 reps of this routine. Again, if you feel that you need to gear in accordance to your back and hip workout, then gear away! The easier it is to ease into this routine, the more effective!
There shouldn't be any excuse that stops you from keeping fit and healthy. A simple yet effective workout is the best way to attain health, along with keeping your body in good shape – so stop letting your busy schedule get in the way of your physical, mental and emotional wellbeing. Workout and stay fit!
---
Zyana Morris is a passionate blogger who loves to write on trending health, fitness and lifestyle topics. She is a featured author at Healthable, Uplifting Families, Inscriber Mag, Hello Mamas and few others. Her favorite quote "It does not matter how slowly you go as long as you do not stop". You can follow her through Facebook and Twitter.