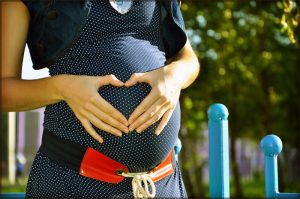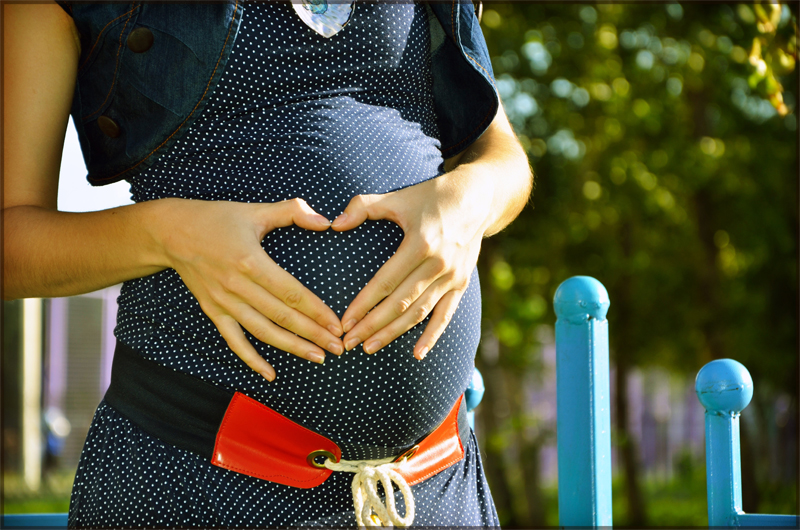 Pregnancy can be a joyous time for women and it is also a period where the body experiences many significant changes. Since exercise can be beneficial to the mother in managing stress and staying healthy, it is important to for every pregnant woman to get clearance from their physician for both starting a new exercise program and/or maintaining her existing one.
Before becoming pregnant, I led a healthy and active lifestyle and continued to teach classes until I was ready to deliver. During the first trimester I had to change all strenuous workouts to low-impact workouts with lots of self-care such as taking frequent breaks to hydrate. This article can help women in all stages of pregnancy assess value of low-impact exercise during pregnancy and postpartum.
What is low impact exercise? Low impact (LI) basically means maintaining movement with one foot always on the floor. We do this when we are walking, doing yoga, dancing and strength training.1 Low impact exercises have several benefits such as maintaining healthier joints, weight and heart.
Benefits of Exercise During Pregnancy
A combination of low impact dance classes, strength training and stretching during pregnancy helped me maintain my sense of self and self-esteem as my body changed drastically both anatomically and physiologically. There are several documented benefits of exercise during pregnancy including: improved circulation, sleep, digestion, as well as muscle tone to support joints, increased energy and endurance; improved body image and self-esteem.2
ACOG recommends that pregnant women get at least 150 minutes of moderate-intensity aerobic activity weekly. Moderate intensity means that you are moving enough to raise your heart rate and sweat and you can talk normally, but you cannot sing.3 If you are new to exercise it might seem daunting to get a 20 minute work out every day, but you can start out slowly and gradually increase your activity. For example, you can start with 5 minutes a day and add 5 minutes each week until you can stay active for 20-30 minutes a day. If you were very active before pregnancy, you can continue doing the same workouts until the third trimester, when a logical reduction in activity is recommended.2
Regardless of fitness level, one commonality between pregnant women is the release of Relaxin, the hormone that is responsible for softening the ligaments and joints during pregnancy and childbirth. Having relaxin in the joints can lead to wobbly, unstable joints and a loose pelvis so women should take extra precaution while choosing or continuing a fitness regimen.4
­­­­­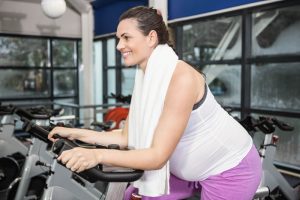 Examples of some exercises that you can do safely while you are pregnant are walking, water workouts, stationary bicycling, yoga and Pilates. Walking is a good option for many pregnant women because it is easy on the joints and muscles and it also gives a total body workout. If however you have low back pain you might consider wearing a pregnancy support belt and/or water workouts to reduce stress on the back. The water supports your weight so you avoid injury and muscle strain. For those who like bicycling and want to continue, stationary bicycling is a great alternative to avoid falls. Modified yoga and Pilates are great for reducing stress, improving flexibility, and focused breathing. Keep in mind that balance poses/exercises can be challenging due to a shift in the center of gravity caused by a growing belly, so it is okay to modify to accommodate this change. Pregnant women should also avoid poses that require them to be still or lie on their back for long periods.3
Benefits of Exercise After Pregnancy
The postpartum experience is different for every woman both emotionally and physically. My postpartum experience brought a mild-depression and weight-gain due to nursing (yes, many women gain weight during early nursing). Like many women, I waited 8 weeks before starting an exercise routine (most women are given a time period of 6-8 weeks for healing). Getting back to exercise helped me gain a sense of control over my body and helped cope with depressive episodes. According to ACOG, exercising after your baby is born may help improve mood and can help you lose the extra pounds that you may have gained during pregnancy.3 Additional benefits of exercise for postpartum women are that it helps strengthen abdominal muscles, can regulate energy level, can promote better sleep and relieve stress.3
Like the exercise guidelines during pregnancy, ACOG suggests that the duration of exercise for postpartum women, after physician approval, is at least 150 minutes of moderate-intensity. Working out after having a baby is different for every woman and it is a good idea to go at your own pace, listen to your body and gradually increase intensity. A key point to remember is that since relaxin can stay in the body for up to six months postpartum,4 it's a good idea to choose a workout that is not too jerky in movement and stretching is controlled. Doing a good warm up prior to the workout and a good cool down after the workout are essential. ACOG suggests aiming to stay active for 20–30 minutes a day and trying simple postpartum exercises that help strengthen major muscle groups, including abdominal and back muscles. It is also a good idea to prepare for your workout by wearing clothing that will keep you cool and wear a high-support bra. Hydration is key, and it is okay to take water breaks as you need during your workout. For those mothers who are breastfeeding, it will be important for you to either nurse your baby or express your milk prior to working out to avoid the discomfort of engorged breasts.
Although the pregnancy and postpartum experience is different for every woman, and each stage of pregnancy brings unique challenges, maintaining a low-impact exercise program can be very helpful to the mother in managing stress and staying healthy.
---
Richa Jauhari is a fitness instructor, personal trainer and proud new mother based in Los Angeles. She has a passion for seeing individuals strive for their best and achieve their goals. Her personal weight loss experiences, pregnancy journey and working with senior populations have helped her understand the value of believing in oneself, balance, healthy eating and regular exercise. Visit her website at richajfit.wixsite.com/richaj

References
Schwecherl, Laura. "21 Low-Impact Workouts That Are More Effective Than You Think." Greatist. Greatist, 27 Mar. 2017. Web. 15 June 2017. <https://greatist.com/fitness/take-it-easy-21-unexpected-low-impact-workouts>.
Yoke, Mary M., and Laura A. Gladwin. "Special Populations." Personal Fitness Training: Theory & Practice. Sherman Oaks, CA: Aerobics and Fitness Association of America, 2010. 320. Print.
"Women's Health Care Physicians." Exercise During Pregnancy – ACOG. The American College of Obstetricians & Gynecologists, May 2016. Web. 2 July 2017. <https://www.acog.org/Patients/FAQs/Exercise-During-Pregnancy>.
Flashenberg, Debra. "8 Steps to Easing Back into a Fitness Routine After Birth." Fit Pregnancy and Baby. Fit Pregnancy and Baby, 03 Apr. 2017. Web. 10 May 2017. <https://www.fitpregnancy.com/exercise/postnatal-workouts/8-steps-easing-back-fitness-routine-after-birth>.