Cancer surgery and treatment often results in survivors suffering debilitating physical impairments. These can often be ameliorated by a good exercise program that has the added benefit of helping survivors to engage in those activities in which they participated prior to their diagnosis. This article addresses some of the physical side effects cancer survivors may face, including lymphedema and a series of safe and effective techniques to restore functional fitness for those with or at risk for lymphedema.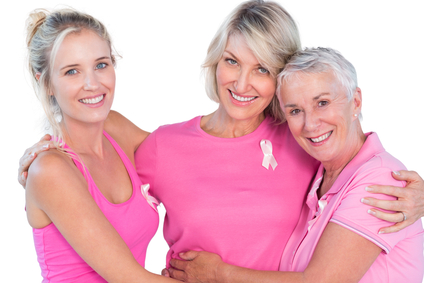 Surgery, chemotherapy, radiation, and hormonal therapy have side effects, which exacerbate the problems faced by cancer patients. Surgery can create adhesions that can limit range of motion, and cause pain, numbness and tightness. Removal of lymph nodes creates scars and may decrease range of motion. Radiation can cause fatigue, tightness and stiffness. It also can increase the risk of developing lymphedema. Chemotherapy may affect balance, a patient's immune system, and cause neuropathy, fatigue, sarcopenia, and anemia. Hormonal therapy can cause joint pain and early menopause and the side effects associated with menopause.
Before beginning a cancer exercise program, a patient must receive medical clearance. A medical history, base line range of motion and girth measurements, and a general fitness assessment are taken. It is important to note that many exercises and movements may be contraindicated based on a person's fitness assessment, medical conditions, and particular surgery. There are different exercises necessary for each type of reconstruction. For those who were active prior to surgery it is imperative to slowly work back up to the previous level of activity. It is not wise to go back to a gym and immediately continue with a pre-cancer exercise routine.
Research has shown that exercise is safe for cancer survivors, even those with or who are at risk for lymphedema. Dr. Schmitz stresses the importance of starting slowly and using proper form with a well trained certified professional. Her study demonstrates the importance of exercise after cancer with slow progressive improvement in order to decrease risk of lymphedema. The research shows that breast cancer survivors no longer have to give up activities that they enjoy doing and avoid activities of daily living. Aerobic exercise is essential to good health and we advise a patient to walk as much as possible. Initially, one might start by walking around their house or up and down their block and then slowly increasing the distance walked. Many physicians recommend that their patients try to walk during chemotherapy. This may decrease fatigue. If using aerobic equipment, make sure not to grip on the railing.
Unfortunately, there is no way to know which patients with lymph node dissection will get lymphedema. This makes it imperative to follow the established guidelines and take a prudent approach to exercise. Patients who have lymphedema need to progress slowly and use a properly fitted garment. Our goal is to promote physical activity without exacerbating lymphedema. Severe range of motion issues and cording problems are referred to lymphedema specialists. Moreover, measurement of the limbs that are at risk for lymphedema are performed frequently to make sure they have not changed in size. Symptoms can be managed easier if they are addressed promptly. Progress is monitored in order to make appropriate modifications to a patient's program. It is important to learn the right exercises for a patient's particular situation and how to do them properly and with good form. The patient should learn which exercises to perform, the sequencing, and quantity of repetitions. Exercise smartly and under professional guidance!
Lymphedema can be debilitating and painful and can affect the emotional health of the patient. Our bodies work better if engaged in regular physical activity, but it must be done in a safe manner if lymph nodes have been removed or radiated. A cancer fitness program for someone with lymphedema should begin as an individualized program. The patient must be supervised to make sure there are no subtle volume changes to the limb. Ultimately, we want a patient to be able to exercise on his or her own.
The starting point is a low impact exercise program, performing range of motion stretches and techniques to improve venous drainage. First, we elevate the affected area above heart level. Over time, stretches are incorporated until a patient can achieve 80% of range of motion. At that point, we start adding strength training. A stretching program for those with upper body lymphedema begins with moving or stretching the neck and shoulder areas. If a patient is still healing from breast cancer surgery, begin with pendulum arm swings. The arm is then moved and stretched in all directions, going across the chest and behind the head and back. Stretches that move the arms in shoulder flexion, extension, abduction, and adduction are added. Finally internal and external rotations are addressed. Patients suffering from fatigue can perform many of the stretches while in bed. An easy-to-follow DVD is Recovery Fitness Simple Stretching, which can be found on www.recoveryfitness.net.
All of the exercises incorporate abdominal breathing, which can stimulate lymphatic drainage. This intra-abdominal pressure may help move sluggish lymph fluid, stimulate lymph flow, and act as a lymphatic system pump. This type of breathing enables oxygen to get to the tissues. Abdominal breathing and relaxation breathing, along with the proper exercises can also reduce stress, a common cancer side effect. If weak, it may be best just to stretch and breathe deeply.
Strength training may help pump the lymph fluid away from the affected limb. Exercise helps the lymphatic fluid to April / June 2013 ~ NATIONAL LYMPHEDEMA NETWORK 13 move. Muscles pump and push the lymph fluid and can help move the lymph from the affected area. Strength training may also strengthen the arm so that it can handle those activities that may have otherwise led to swelling with a greater level of ease. Always wear a sleeve and stop if there is swelling or pain. Start with light weights and slowly increase repetitions and eventually weight.
Cancer survivors should follow a systematic and progressive plan. Exercise starts with a warm-up and cool down. Begin with deep breathing. Keeping a strong core should be emphasized. It is important to remember that following treatment the body may have become weaker. Even if a patient had exercised using 10 pound weights before surgery, if one is at risk for lymphedema they must start with a light weight. We teach patients to always listen to their bodies and to stop if they feel tired or if their limb aches or feels heavy. Patients must be aware of any changes in their body.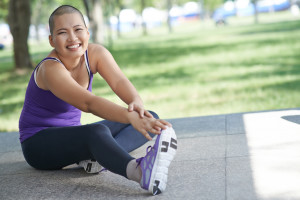 Progression of exercise should be gradual. A deconditioned person should start without using any weight and concentrate on proper technique. If 8-10 repetitions can not be executed, repetitions should be decreased or the weight lowered or resistance band used changed to less resistance. The exercise routines have to be adapted for the day-to-day changes that that can affect the ability to work out. Our program will start using a very light weight, with few repetitions, typically 10. In subsequent sessions, patients can add repetitions. After performing 2 sets of 10 repetitions with no problem then a small amount of weight may be added in 1 pound increments. We also alternate between a strength training exercises with a stretch for each muscle group and to alternate an upper body and lower body exercises. Pilates exercises are great way to incorporate deep breathing with strengthening the core. The deep breathing helps to pump lymphatic fluid and will also help reduce stress.
Every patient is unique. Many patients have pre-existing medical issues. The exercise program should be modified to accommodate all body types and needs. Some might need pillows for comport or postural problems. Also if osteoporosis is an issue, a cancer therapist should have experience working with this population. Always monitor the affected limb. Look for feelings of fullness or aching. We do not want to overwhelm the lymphatic system. Drink plenty of water and stop immediately if any pain. Lymphedema patients should elevate their limbs after a session.
Learn which aerobic exercises are considered safe. Walking, biking, and swimming are considered very safe. Hot tubs, pools, and warm lakes may increase risk of infection. In choosing an activity, consider the risk of injury, prior medical condition, and fitness level. Injuries can create further complications for those with lymphedema. It is still unclear whether certain sports can be safe. For example, tennis can put a lot of stress or repetitive activity on one's limbs. It is important to know if the activity was something performed prior to lymphedema. If the patient wants to resume the activity in order to exercise, have fun, and to have good quality of life, a sports fitness program can be instituted. This should be performed under medical guidance. In a sports fitness program, the muscles used in the sport are progressively strengthened so that the sport can be resumed. Patients must use caution as they return to a sport.
One of the most important things that can be done to decrease the risk of lymphedema is to keep weight at a good level. Those individuals with whom I have worked who have had lymphedema typically see a marked reduction of swelling in conjunction with weight loss. My students who are successful in losing weight have the most success in lymphedema control. Proper nutrition is important and decrease salt intake. Evidence suggests numerous benefits of exercise: improved fitness level, physical performance, quality of life, and less depression and fatigue. Exercise is part of a healthy lifestyle and will help in weight control and emotional health. There are exercise programs that are targeted at cancer survivors but not all of them will meet the needs of someone at risk for lymphedema.
My goal is for cancer survivors to participate in individually structured and group exercise programs at all cancer centers or facilities close to their homes.
Article reprinted with permission from Carole J. Michaels.
---
Carol J. Michaels is the founder and creator of Recovery Fitness® LLC, located in Short Hills, New Jersey. Her programs are designed to help cancer survivors in recovery through exercise programs. Carol, an award winning fitness and exercise specialist, has over 17 years of experience as a fitness professional and as a cancer exercise specialist.