Reprinted with permission from the Anti-Cancer Club™. The Anti-Cancer Club™ is about TAKING CHARGE of your health, even in the face of cancer, providing social connection and information on anti-cancer nutrition and mind/body modalities.
---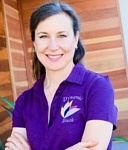 Kathy Flippin is the owner of Dynamic Touch, a specialty massage clinic offering a variety of services including custom therapeutic, sports, oncology, pre-natal and lymphatic. Located in Orange County, California, Kathy is passionate about educating her clients on the benefits of massage and how it reduces pain and inflammation and provides a better quality of life.
Dynamic Touch specializes in massage for all stages of cancer treatment including post-mastectomy scar release and lymphedema management. Kathy's team is all National Board Certified (NCTMB) and/or CAMTC certified massage therapists with over 1,000 hours of intensive training. 
Kathy has an extensive list of clients including professional sports teams. She is a member of the sports massage teams of the 2012 and 2002 Olympics, massage therapist to the USA Swimming National Team since 2001 and a resource for health and training tips for local clubs such as Orange County Triathlon, Velosport, and more.
Kathy, can you tell us about oncology massage?
Massage, in general, has two purposes: First, to soothe the nervous system, and facilitate a transition from "fight or flight" (stress) setting to "rest and digest"(relaxation). It is well established that "fight or flight" responses of the nervous system interfere with immune function, digestion, sleep patterns, and more.
The second purpose of massage is to address a muscular tightness. Muscles get overused and sore. Massage manually assists in circulation and improves pliability, which help with range of motion and pain.
Oncology massage is simply a massage in the context of someone going through cancer treatment. The most common cancer treatments are surgery, radiation and chemotherapy. Because these treatments often leave "injured areas" such as surgical incisions, radiation burns and general system fatigue, we have to know how to work with these conditions, to be able to give a good massage without hurting them. Studies have also shown that individuals that receive massage require less anti-nausea and pain reducing medication.
Oncology massage education is very detailed about "what not to do". For example, deep tissue massage for someone undergoing chemotherapy would leave their already burdened system overwhelmed trying to process the change in circulation and removal of metabolic wastes that get stirred up with the massage. They would feel terrible the next day- fatigue, body aches, maybe even fever, as if they were coming down with a bad flu.
What are the concerns about oncology massage with regard to lymphedema and fluid?
One of the biggest concerns that a cancer patient or survivor should have when getting a massage is to make sure they don't have deep massage on the arm or leg nearest to lymph node removal in order to reduce the risk of triggering lymphedema.
What is lymphedema? It is a potential side effect of treatments regarding lymph node removal and it's most commonly associated with breast cancer.
Lymph nodes are concentrated in areas such as the armpits and groin areas.  Spread of the cancer to these areas suggests that the tumor has metastasized. To determine the extent of  the metastasis, a number of  lymph nodes are removed and studied.
Whether or not the lymph node is showing signs of cancer, its removal can cause problems. The function of the lymph nodes is to help remove fluid. Without them, the fluid may back up. The blood goes into the arm and down to the fingers, but if the lymph system is damaged, then the fluid cannot all get out. So as a result, the arm might swell up. (this can happen to legs, too). This swelling is called lymphedema, and it is a side effect of lymph node removal and radiation.
There is a statistic that says 25% of women with lymph damage from breast cancer treatment will get lymphedema, even 25 years later. Many people go years without a problem and then have a "triggering event" that draws inflammation into the arm or leg nearest where lymph nodes were removed or radiated. That triggering event could be a deep bruise, lifting a heavy object (such as a grandchild!), or even a small wound such as a spider bite. The inflammation brings extra fluid into the area, and then the damaged lymph system cannot get it out. Then it just builds up, like a sink with a slightly plugged drain- eventually it will overflow. It can be very painful and have many life-altering consequences.
If a cancer patient is searching for someone with oncology massage experience, what credentials should they be looking for?
It's important to verify someone's education and knowledge in this area.  Improperly performed massage can actually cause damage.  These are the key things to look for.
SPECIALIZED EDUCATION: There are specific courses and certifications relating to cancer massage. Ask your therapist if they have these credentials.
Many massage therapists are taught a little bit about oncology massage in school. Their curriculum might include 2-3 hours on it. It is not a topic that can be mastered in this period of time, so most therapists will just rule that out as something they do. They might even tell a cancer patient/survivor "you can't have massage". When actually, they should say "I don't know how to do your massage, but there are other people who do". It is sad how many people may have been turned away needlessly. The other concern is a Massage Therapist that forgets all of the precautions, and does the same massage they would do for anyone else, and risks injuring someone.
EXPERIENCE: Ask a potential therapist how many cancer patients they have worked with, and how long they've been doing massage.
VERIFY: Ask some questions about how the therapist would approach treatment, and specifically if they know that they should massage the area around lymph node removal differently. Ask if they know that putting some soothing oils over radiation burns can cause the skin to burn worse at the next radiation treatment.
What specific questions should you ask about an oncology massage?
How much education do you have in oncology massage? The answer should be at least 10 hours.
Where did you get your education? Look up the school and verify its authenticity and robust list of topics in the oncology curriculum.
How long have you been doing oncology massage
How many patients do you see for oncology massage in a week/month?
Ask your therapist how they will take care of you. Talk about your own situation- do you have a PIC line, or a port inserted? Do you have a recent surgery area that is very tender? Your therapist should be able to explain how they will keep you comfortable- placing pillows in strategic areas to reduce pressure, or avoiding certain positions that are painful. They should be able to explain that they can still deliver a good massage experience in these "non-traditional" massage positions.
Ask: Is the oil approved for use during radiation? If not, ask your radiation technician what to use, and bring your own. Or you can have your massage a day before the radiation and make sure you wash the oil off very well before the next radiation session.
How has the shift to more open discussion about lymphedema and the benefits of massage impacted the conversation, particularly in breast cancer?
When I took my main massage curriculum, it was common to see textbooks caution that massage during cancer can spread the disease to other parts of the body. This myth has now been debunked (as long as no deep tissue work is done over tumor sites). So now the idea of comfort massage is becoming more accepted and in some cases even embraced by oncology doctors.
I would like to see more oncologists address the lymphedema risk issues to inform their patients of the risks before and after treatment. Some women tell me that they were never informed of these risks before their surgeries. But women talk to each other. We share our stories and search for clues in other peoples' experiences. Social media resources are invaluable for spreading information in a "viral", grassroots way. Organizations like Greet the Day, Medicine Hands and Society for Oncology Massage also offer information and inspiration.
How did your association with your colleague, Lisa Dougherty, create the idea of the Medical Fitness Network?
Lisa and I were colleagues years ago. Lisa was a fitness trainer and we referred clients to each other in fitness and massage. It was Lisa's idea to start the Medical Fitness Network because she wanted to help people find Fitness Trainers that were able to help people with medical conditions. As she told me about this amazing concept, I encouraged her to also include the massage profession and other mind/body modalities. MFN is a free referral health service that offers an incredible networked team of professionals who can help their clients with medical conditions in many areas of health and fitness. I am happy to spread the word about MFN. They offer many articles on how cancer patients (and people with other health conditions) may benefit by using complimentary care modalities- not only massage, but also chiropractic, nutrition, acupuncture, etc. Click here to visit the MFN website.