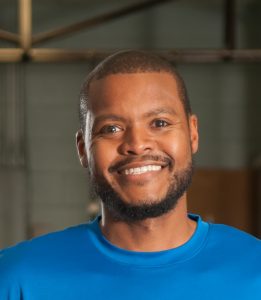 Did you know that over 33 percent of people older than 65, fall each year? As people age, the risk of falling increases and so does the fear of having a fall-related accident. Part of that fear prevents many from engaging in physical activities.  Rather than avoiding an active lifestyle, there are strategic, smart ways to stay active while decreasing your chances of falling. In this article, we'll discuss a few fall prevention exercises that can strengthen your body, while improving your coordination and balance.
1. Walking
It's no secret that walking is a great exercise. It makes this list for many obvious reasons, and maybe some that are less obvious. Consistent walking strengthens muscles and helps maintain a healthy weight. But, it can also reduce the risk of getting high blood pressure and high cholesterol.  Scientists show that muscle weakness and blood pressure issues can increase the chance of falling, but fortunately, walking helps reduce these issues.
Some other less known benefits of walking include an increase in Vitamin D, a vital component of bone health¹, and social interaction. When the weather permits, walking gets you outside and supplies your body with sunlight, the largest source of Vitamin D.  It also encourages social connection by inviting your neighbors or friends to go on walks with you.
2. Tai Chi
Tai Chi is an ancient martial arts practice that originated in China. But, it's not intense or physically demanding the way other forms of martial arts are. This exercise is often referred to as "meditation in motion." It means you mix slow physical movements, with conscious breathing, while maintaining a calm focused mind.
Research shows that participating in tai chi classes or doing the movements at home improves balance, muscle strength, flexibility², among others. All these physical gains lower the risk of having a fall. And the mental benefits of decreased stress and anxiety can help eliminate your fear of falling.
3. Water aerobics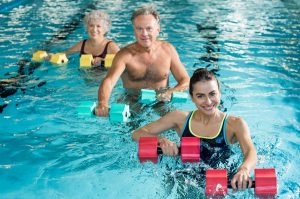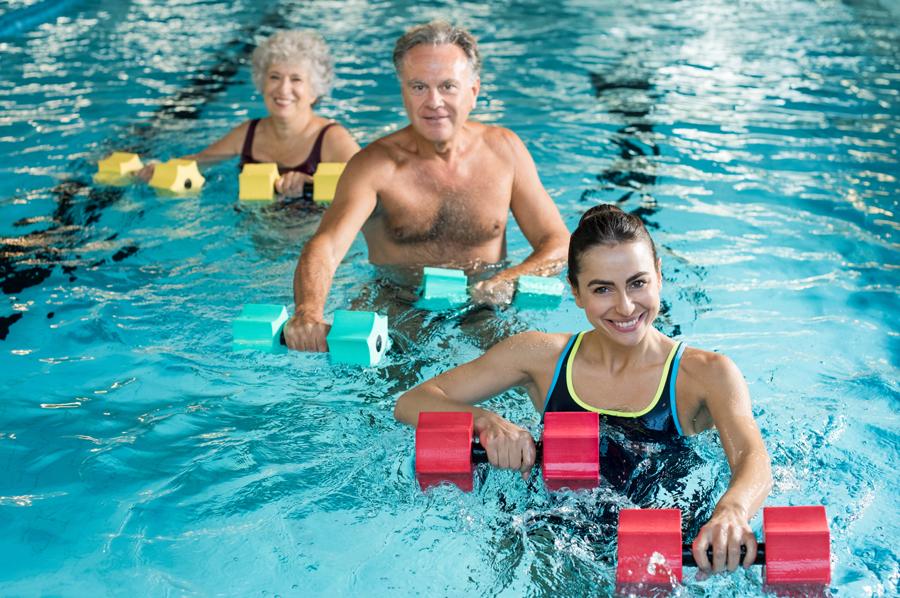 There's a reason water fitness classes are so popular among the senior population. It's a low-impact physical activity that increases cardiovascular health, builds muscles without straining them, and promotes weight loss. Also, there's no risk of falling while doing the actual water aerobic exercises.
Plus, the classes themselves are a lot of fun and a great way to engage with your friends and community. Like walking and tai chi, water aerobics has mental health benefits that
can lower stress, anxiety levels, and symptoms of depression³.
4. Chair yoga
Chair yoga is a safe and accessible way for seniors to access the benefits of yoga without having to get down on a mat. Yoga postures build muscle strength, protect joints,
improve circulation, lower blood pressure, and increase range of motion and flexibility. All these health advantages are not only great for maintaining fitness for life but also in
preventing injury from slipping, tripping, or falling.
5. Strength training
Strength training improves the way you move, your range of motion, and gives you the energy and strength to enjoy your favorite activities and everyday life. By following acustomized training program from a professional, you learn essential tips and exercises that can assist you in fall prevention.
Besides reducing your risk of falling, here are some other ways that strength training benefits you on the whole:
● Increases coordination
● Improves balance
● Increases confidence
● Reduces pain
● Improves metabolism
● Helps prevent osteoporosis
Other Tips to Avoid Falling
In addition to staying active as a way to prevent falls, there are several other tips that can also help.
● Talk to your doctor about any medications you're taking. Ask if the side effects cause dizziness, sedation, nausea, as these could increase your fall risk.
● Make an appointment to get an eye and ear check-up. Certain disorders with your eyes or ears can increase the odds of falling.
● Reduce alcohol consumption. An excess of toxins in your liver can affect your equilibrium and balance.
● Wear non-skid, rubber-soled shoes and avoid wearing socks and slippers around the house.
References:
1. Vitamin D for Good Bone Health
2. The Health Benefits of Tai Chi
3. Aquatherapy: How Swimming Could be a Key to Better Mental Health
---
As the owner of Results Performance Training in Williamsburg, Virginia, Detric Smith helps people achieve their fitness goals through customized training and action-based coaching. Over the last two decades, Detric's made it his mission to study the habits, strategies, and techniques of personal trainers and coaches who are successful and, most importantly, happy. Also, during this time he's authored a book, mentored trainers through multiple organizations and his own business. Finally, Detric's written for well-respected fitness websites, magazines, and journals.
Find out more about Detric at: resultsperformancetraining.com and  www.detricsmith.com