It is safe to assume that not everyone a yoga professional works with is injury or disease free. As a yoga professional, it is your responsibility to ensure that you provide your clientele with safe and effective programming. The question you have to ask yourself is: are you truly qualified and up to date on the latest information to work with your current (and future) clients? A second question to ask is: are you marketing yourself to those who need you most in this healthcare crisis?  If you're honest, you should at least say that perhaps you are not. 
Well, this is where the MedFit Network (MFN) can help! MedFit Network (MFN) is both a professional membership organization for yoga, fitness and allied healthcare professionals, and a free online resource directory for the community to locate professionals with a background in prevention, treatment, and rehabilitation in working with those with chronic disease or medical conditions. As a yoga professional, here are three reasons why you should join the MedFit Network.
Reason #1: Raising Industry Standards by Becoming a Medical Fitness Practitioner (MFP)
The MFN is the only organization dedicated to making sure fitness professionals as a whole are highly educated & prepared to work with any health concern. The name given for this person is a Medical Fitness Practitioner (MFP). This includes yoga teachers who specialize in supporting those with health concerns, as well as yoga therapists.
The MFP can help make the transition from medical management and/or physical therapy to a regular program of self-care following a surgery, an injury, a medical diagnosis or exacerbation of a pre-existing condition. They also possess the training and skills to support people with chronic conditions like obesity, diabetes, hypertension, neuromuscular disorders and heart disease. 
In addition to yoga professionals, the MFP category may include wellness and health related disciplines such as chiropractors, massage therapists, physical therapists, nutritionists, etc. When standards exist for these non-pharmacological approaches, it improves safety and appropriateness of our care practices.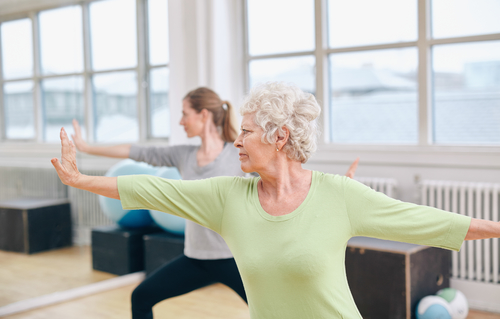 Reason #2: Continuing Education
The MedFit Education Foundation (MFEF) is an arm of the MedFit Network dedicated to elevating the quality and amount of available education for the yoga professional and the entire fitness and wellness community. For example, there is a Multiple Sclerosis Fitness Specialist and A Women's Health, Fitness and Hormone Specialist course that are both one of a kind. Continuing education is required for all their specialty courses.  This is typically not the case. It is usually continuing education only for your certification. All of their continuing education courses are approved by a medical advisory board of some of the brightest professionals in the nation. 
MFEF also has weekly educational webinars that are included with your membership. These webinars are presented weekly (50 in total) by industry experts on such topics as medical fitness and active aging. 
Networking
The MFN is an organization filled with people from all walks of the wellness professional spectrum. For example, they have MD's, PT's, chiropractors, dieticians, fitness & massage therapists to name a few. As a result, opportunities to network are endless. Because of this, current members have developed their own educational courses and even started their own blogs. Also, members have been able to designate their facility as medical fitness facilities by working with a member who specializes in helping people achieve this status.
Conclusion
The MedFit Network is a unique organization dedicated to improving the standards of the fitness and allied healthcare professional. The ability for the those with health concerns to use a directory of diverse, qualified health professionals is something unavailable elsewhere. The three reasons given are just the tip of the iceberg as to why you should be a part of this movement, the MFN! 
---
Steffany Moonaz, PhD,  founded Yoga for Arthritis after 8 years at Johns Hopkins University where she studied the effects of yoga for people living with arthritis. She now serves as the Director of Clinical and Academic Research at the Maryland University of Integrative Health, which offers the nation's only Masters of Science in Yoga Therapy. She continues to conduct research on the effects of yoga for chronic pain and joint conditions, and mentors yoga teachers, yoga therapists, and emerging researchers. She is passionate about ensuring that yoga practices are safe, welcoming, and appropriate for people with arthritis nationwide.