Strokes are devastating, not only physically, but mentally. They change lives, many of which are very young and active. When stroke patients are discharged from physical therapy, many are just beginning to recover physically, especially from a fitness and strength perspective. This is where the experienced Athletic Trainer, Strength Coach or Personal Trainer can make a huge difference in their quality of life.
Both physical and mental aspects must be addressed when entering a fitness program. From the physical perspective, balance, strength, flexibility, coordination and cardiovascular fitness are just some parts that may be incorporated into the fitness program. The mental aspect may be even tougher in addressing fear, complacency and motivation, to name a few.
The stroke patient can be addressed just like any other fitness client and should be. Ask them the same questions.
What are your goals?
What do you need to be able to do to obtain your goals?
What are your current limitations?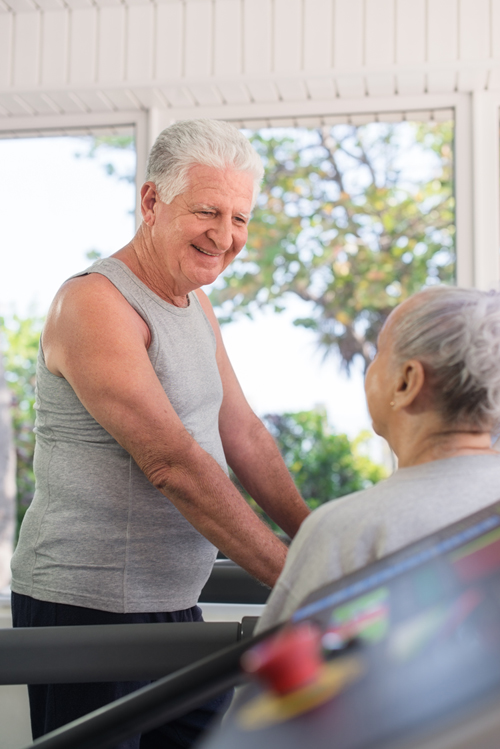 With these answers in mind, a professional now needs to assess where the client currently is physically by looking for strengths, weaknesses, asymmetries, flexibility issues, etc. At this point, a proper plan can be designed. Since strokes typically affect one side of the body, it is important to train each side independently. For example, step ups or isometric lunges for lower body and single arm presses or rows with a band can work each side of the upper body. The resistance or range of motion may need to be modified depending on how the client has been affected. Yes, resistance or strength training needs to be a part of the program. In an article in NeuroRehabilitation, investigators determined that targeted strength training in patients with muscle weakness due to strokes significantly increased muscle power without any negative effects on spasticity.
Considering many stroke clients are de-conditioned when they begin a fitness program, it is important to incorporate strength exercises into the sessions to improve active daily living activities such as walking through a crowd, wearing high heels or getting through a work day with less physical effort. Others may benefit by being able to start running again or getting involved with other types of sporting activities they have been missing.
Core stability and flexibility are two other aspects that need to be addressed in a program as well. The core muscles which can include the abdominal, low back and hip musculature provides a base of support for the arms and legs to work. There are a million core exercises that can utilized, but start with simple and progress to complex work. Isometric and anti-rotational core exercises like planks, planks with leg lifts or resistance band chopping exercises are a great place to start. Flexibility and mobility are also important aspects to consider and should be addressed one side at a time. Since contractions typically occur in strokes, they can limit movement and function. It is also important to send the client home with some stretching exercises to perform on their own.
The mental side of the program may be a little more trying than the physical side. Some clients may be fearful to perform certain exercises because they assume they just can't do those things anymore, some frustrated that they can't do what was once easy and some that have just lost motivation. It is the professional's job to find ways to overcome these issues, whether modifying exercises or showing how they relate to their goals. Progress is the biggest component here. Showing improvement and where a client has come from and their accomplishments is the key to success. Simply reminding a client how hard an exercise used to be or what they do now without thinking that was difficult before goes a long way.
Clients recovering from a stroke are no different than any other client, they may just have different goals and different limitations that affect the way a program is put together. Developing a relationship with a client and devising programs that are specific to their needs is the key to helping former stroke patients obtain the goals they are looking for.
---
Chris Phillips is the owner of Compete Sports Performance and Rehab in Orange County, CA. Chris is a certified Athletic Trainer, Strength and Conditioning Specialist and Corrective Exercise Specialist.