Here are some things to look for when working with a client with Atrial Fibrillation (A-fib).
FIRST…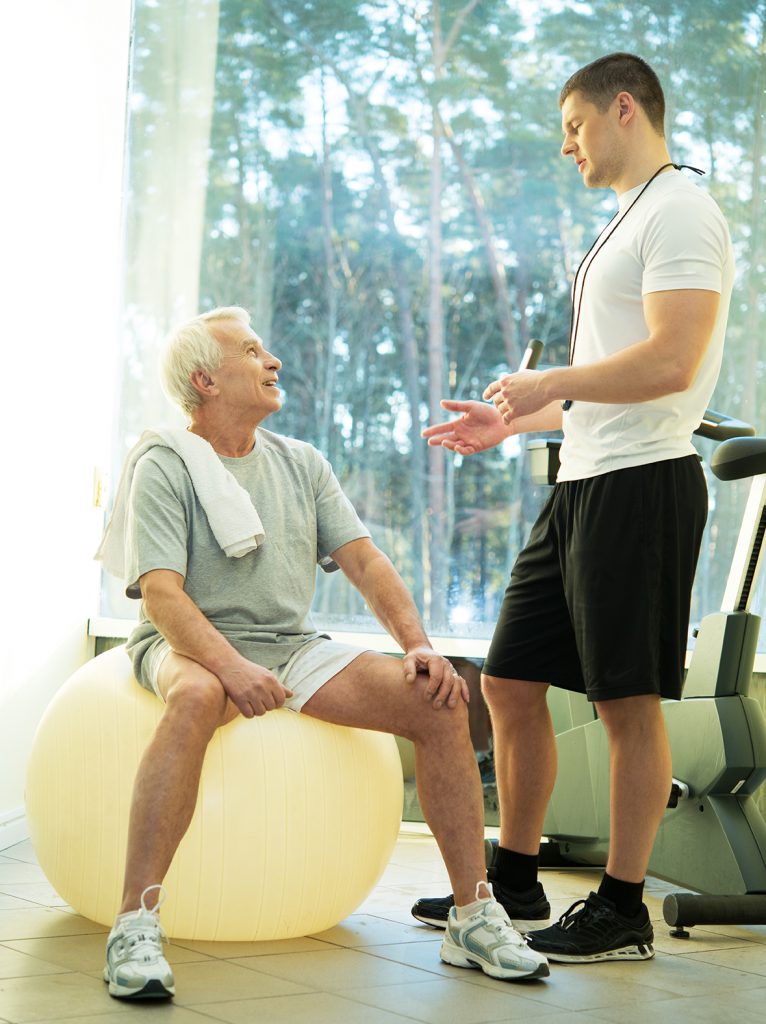 What types of medications are they on? Calcium Channel Blockers, blood thinners (Coumadin)? These may have an effect on the intensity and type of exercise performed. You know that people who have A-fib are at increased risk for strokes, and may have hypertension and get dizzy more often. The medications – while they may help with some factors – may preclude a well-designed exercise program just because they may not tolerate some types of exercise.
What are the exercise goals? Are they wanting to tone up? Lose some weight? Get stronger? Train for a tennis match or 5K? This would help in structuring the program. The type / intensity / duration are all dependent on what the client wants. If they are just coming off surgery or a new prescription – this is important to build the foundation (which you know).
SECOND…
Does the doctor have any contraindications for exercise? Usually, it's not to "overdo", which means building up a program. I read a good article by Dr. Bill Sekula on a program for A-fib. It's essentially a "step down, time up" program, where patients go from a few minutes of exercise a few times per day – to building up to an hour of exercise one time per day.  However, I am going to recommend more of an ITP (interval training program) that concentrates on moderate strength programs (using the 40-50% rule similar to cancer patients), so they don't use the Valsalva maneuver while lifting, but still use a progressive resistance approach. 
THIRD…
Monitoring with a HR monitor, and having good hydration status are both important. Of course, you probably have them using the smart water bottle. Because of the heart dynamics and possible Coumadin Rx, the hydration is important. I assume you do a HR variability test with your client. This may be a very important test to do, as over time it may be instrumental in reducing A-fib occurrences.
I like the article by Dr. John Mandrola on the amount of exercise. He states that A-fib is completely controllable through specific lifestyle changes. He states that low inflammation exercise (high intensity endurance / triathlon, etc.) training needs to be modified, as do other lifestyle issues. I really like the discussion on inflammation, which may be one of the biggest issues in cardiac care of late. He talks about the "J curve" of exercise and that the more intense actually increases the odds ratio (OR) for sudden cardiac events and other abnormalities related to A-fib. 
I think he is on to something, and you should look into some other lifestyle aspects such as meditation and heartbeat regulation through mindful breathing and relaxation. I know that excess stress, lack of sleep and poor diet have effects on the electrical system, including SA node and conductivity. Regular relaxation may do a LOT to improve the normal sinus rhythm and reduce resting HR to a more manageable level. 
Dr. Mandrola also recommends regular monitoring of BP, keeping the use of warm exercise clothing due to peripheral circulation issues, and not overheating. 
I like the issue of ITP and progression.  I also am more of a fan of modified strength training for most clinical conditions.  I think it would work for AF because if you think of the strength of contraction during exercise (even moderate) – it will have a strong steady beat during exercise (in most cases).  
---
Eric Durak is President of MedHealthFit – a health care education and consulting company in Santa Barbara, CA. A 25 year veteran of the health and fitness industry, he has worked in health clubs, medical research, continuing education, and business development. Among his programs include The Cancer Fit-CARE Program, Exercise Medicine, The Insurance Reimbursement Guide, and Wellness @ Home Series for home care wellness.
References