Managing Diabetes can be very complex. How can the diabetes patient be successful at creating a solid lifestyle plan involving healthy nutrition, increased activity and effective medical management? A study published by American Diabetes Association, Clinical Diabetes, state's "Controlling diabetes to reduce the incidence of its complications rests largely on individual patients and requires vigorous self-management of the disease. Unfortunately, without sustained support, few people achieve their goals or master the tasks that will allow them to live healthfully and reduce their risk of costly complications."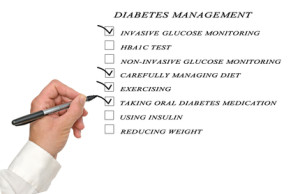 According to the New England Journal of Medicine, "Type 2 diabetes is increasingly common, primarily because of increases in the prevalence of a sedentary lifestyle and obesity. It was concluded that the reduction in the incidence of diabetes was directly associated with changes in lifestyle and that Type 2 diabetes can be prevented by changes in the lifestyles of high-risk subjects."
Diabetes self-management can be very overwhelming for the diabetic patient often leading to a sense of failure but there is help. A Health & Wellness Plan created together with a coach has proven to increase success in achieving healthier lifestyle behaviors and a greater quality of life.
While diabetes management can be overwhelming the Clinical Diabetes study results "revealed broad agreement among participants that their coach helped them figure out what to do to better control diabetes, that their coach's encouragement was important in controlling diabetes, and that coaching was an important part of the overall program."
Studies performed by Duke University, published by the New England Journal of Medicine, and the American Journal of Lifestyle Medicine suggest that working with a Health Coach improves medical management, patient engagement, social support, physical activity, diet, decreases stress, and reduces A1C scores. In addition, patient perception indicated positive improvements in overall personal health status, as well as, accomplishment of their goals when working with a health coach.
The Affordable Care Act recognizes that focusing on wellness and prevention is key to improving the health of Americans. The National Prevention Strategy is moving us from a system of sick care to one based on wellness and prevention. Many of the programs and initiatives now being funded include coaching. An example is the YMCA Diabetes Prevention Program that now includes Health Coaches within their team. We are now also finding coaches within insurance companies, such as UnitedHealth Group, Optima Health and Aetna due to success in improving diabetes control for the patient.
What Can Health & Wellness Coaches Do for You?
Coaches work with diabetes patients in a variety of ways. In one example of coaching in a healthcare setting Dr. Heather Bennett and her team (in an American Academy of Family Physicians publication) described Health Coaching for patients as encompassing five principal roles:
Providing self-management support
Bridging the gap between clinician and patient
Helping patients navigate the health care system
Offering emotional support and support resources
Serving as a continuity figure.
In Bennett's model the role of health educator and the role of health and wellness coach was combined.
Providing self-management support
Self-management support is essential for patients to extend their health care outside the clinic walls and into their real lives. Coaches assist patients in seven domains of self-management support: providing information, teaching disease-specific skills, promoting healthy behaviors, imparting problem-solving skills, assisting with the emotional impact of chronic illness, providing regular follow-up and encouraging people to be active participants in their care. Patients have better health outcomes when provided with disease-specific knowledge and skills.
Bridging the gap between clinician and patient
Throughout the care process, there are plenty of opportunities for disconnects between the clinician and the patient. Prescribing medications is one example. It is a two-part endeavor: 1) writing prescriptions and 2) making sure patients obtain, understand and actually take the medications as prescribed. Physicians perform part one but lack time to address the critical second part. Health coaches can bridge these gaps by following up with patients, asking about needs and obstacles, and addressing health literacy, cultural issues and social-class barriers. Health Coaches help patients navigate the health care system. Many patients, particularly the elderly, disabled and marginalized, need a navigator to help locate, negotiate and engage in services. Coaches can help coordinate care and advocate with patients when their voices are not heard.
Offering emotional support
Coping with illness is emotionally challenging. Well-intentioned but rushed clinicians may fail to address patients' emotional needs. As trust and familiarity grow, coaches can offer emotional support and help patients cope with their illnesses. They also assist patients in seeking out additional emotional support that will help them achieve and maintain success.

Serving as a continuity figure
Coaches connect with patients not only for office visits but also between visits, creating familiarity and continuity. This is particularly helpful in practices where clinicians work part-time or see one another's patient. Coaches travel with the patient as an ally and assist them with staying the course while implementing their wellness plan.
Health & Wellness Coaches Can Help
Coaches facilitate a patient-directed process of evaluation and assessment, exploration, tracking and accountability to and assist in co-creating a plan that is tailored to the patient Health & Wellness Coaches work with a patient individually or in small groups. They help create a whole-life integrated wellness plan toward managing diabetes and bringing about the lifestyle changes needed for a healthier life. Coaches serve as an ally to help those challenged with diabetes follow through with their health & wellness plan so they can achieve their goals toward their best life possible.
---
References
Affordable Care Act – Department of Health & Human Services: www.hhs.gov
Bennett et al, Health Coaching for Patients With Chronic Illness. Fam Pract Manag. 2010 Sep-Oct;17(5):24-29.
MacLean et al, Telephone Coaching to Improve Diabetes Self-Management for Rural Residents. Clinical Diabetes. January 2012 vol. 30 no. 1 13-16.
Melko et al, American Journal of Lifestyle Medicine, March/April 2010; vol. 4, 2: pp. 187-194.
National Prevention Strategy, Clinical and Community Preventive Services, National Prevention Council 2010. www.surgeongeneral.gov/initiatives/prevention/strategy/preventive-services.pdf
National Prevention Council Action Plan: Implementing the National Prevention Strategy
www.surgeongeneral.gov/initiatives/prevention/2012-npc-action-plan.pdf
National Prevention Council, National Prevention, Health promotion, and Public Health Council, 2013 Annual Status Report. June 25, 2012. http://www.cdc.gov/features/PreventionCouncil
Sacco et al, Effect of a brief, regular telephone intervention by paraprofessionals for type 2 diabetes. Journal of Behavorial Medicine. August 2009, Volume 32, Issue 4, 349-359.
Tuomilehto et al, Prevention of Type 2 Diabetes Mellitus by Changes in Lifestyle among Subjects with Impaired Glucose Tolerance .N Engl J Med 2001; 344:1343-1350.
Wolever et al, Integrative Health Coaching for Patients With Type 2 Diabetes A Randomized Clinical Trial. The Diabetes Educator July/August 2010 vol. 36 no. 4 629-639.