Exercise and stretching are very important for someone who has Multiple Sclerosis. Each individual, however, is different and exercises need to be tailored specifically to that person. The exercises that are chosen depend on the progression of the disease, what the individual is capable of doing, and even the day. Exercises may have to be changed if the client is too tired or is feeling stronger and has more energy.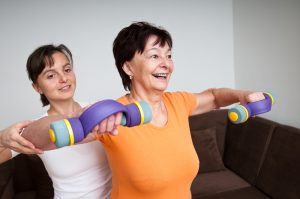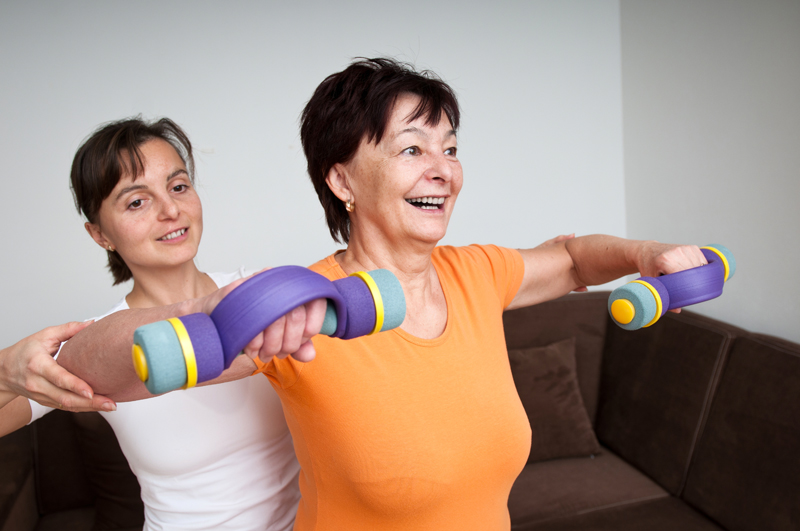 What exactly causes Multiple Sclerosis is not known but there are symptoms to look out for. The symptoms are fatigue, walking difficulties, vision problems, spasticity or stiffness, weakness, bladder problems, depression, dizziness or vertigo, emotional changes, cognitive changes, pain, headaches, tremors and breathing problems. Exercise prescriptions need to be planned according to the symptoms that are being presented. Each time you work with your trainer talk to them about how you feel that day. This will help to ensure that you don't overdo a workout.
Many times, we hear the saying no pain, no gain. Please keep in mind that this is not true for individuals with Multiple Sclerosis. You want the workout to feel challenging but it is important not to overheat. If you feel warm, simply take a break and continue when you feel that you have cooled down. Individuals in wheelchairs benefit from exercise as well. I would like to share an example of a client of mine.
My client, Sally, (the name has been changed) was a client of mine for 4 years. She is in a wheelchair and had no leg movement and minimal arm movement. Through exercise she is almost able to feed herself and I have her doing simple leg movements. I cannot see any leg movement but she can feel it. She reports that her muscles are sore when we are finished. The important thing is to just move.
It is important to start an exercise program slowly and to set goals. If you would like to get to 20 minutes of activity maybe start with 10. Do not assess how well you are doing by comparing yourself to others. Look for progress in yourself through reaching personal goals as in the example of my client.
As an individual with Multiple Sclerosis starts exercising they may have less depression, improved strength, better bladder and bowel function, a positive attitude and be better able to participate in social activities. Please remember that it is important to share any symptom changes with your trainer. The exercises may have to be adjusted frequently for a safe and effective workout.
---
Robyn Caruso is the Founder of The Stress Management Institute for Health and Fitness Professionals. She has 15 years of experience in medical based fitness.
Sources
http://www.nationalmssociety.org/Living-Well-With-MS/Health-Wellness/Exercise
http://www.webmd.com/multiple-sclerosis/guide/multiple-sclerosis-symptoms-types