Many individuals have heard of the five stages of grief created by Elizabeth Kubler – Ross in 1969. This model is used to explain the stages of grief over the loss of a loved one.
There has been an updated model called the Seven Stages of Grief for Chronic Pain and Chronic Illness by Dr. Jennifer Martin, PsyD of imaginelifetherapy.com.

According to imaginelifetherapy.com, there are seven stages of grief for chronic disease, which are denial, pleading, bargaining and desperation, anger, anxiety and depression, loss of self and confusion, and finally, acceptance. Clients can go from one stage to another until finally reaching acceptance. An individual, for example, can go from denial to anger and back to denial. Everyone will go through the stages on their own timing. There is no set time for anyone to reach acceptance of their situation. If your client can see positive changes after working with you, their outlook will be more positive. As they become stronger and learn more skills, clients will become more ambulatory and be able to do more over time. (Pratt, 2018)
Many times, clients will be experiencing their symptoms and the stages of grief simultaneously. We usually think of grief in respect to the loss of a loved one. With chronic disease, your client may be grieving the life they used to live. Knowing that their lives may change because of an illness is very stressful. The individual may be thinking about the future and how their health will be ten years from now. As a fitness professional, you need to help your client to be present and in the moment. The work that your client does today will influence how mobile they are ten years from now. If they are discouraged by the big picture, it will be harder for them to stay focused. (Kade, 2020)
Each stage of grief has its own parameters and can give your insight as to which stage your client is currently in. Empathy and support are a critical part of helping your client to get through the stages of grief. Tailor exercise programming to what your client can handle each time they train with you. If someone is having a rough day, you can offer the client a meditation session instead of a training session. This trade-off will make your client feel more open and may even suggest meditation if they are not mentally ready for a training session. (Pratt, 2018).
To know which stage of grief your client may be in, you must have a firm understanding of what each stage is. Denial is the first stage in which the individual was just diagnosed and is in shock. They can't believe that this is happening to them and wonder how they will make changes and live a good life. Shock can help the person to decide to move on to the next stage and start working through the stages. It may also backfire if the individual who has the condition thinks that it will eventually go away, or they will be fine. (Pratt, 2018).
The next stage is pleading, bargaining and desperation, where the client tries really hard to bargain or plead to not have a chronic illness. The individual also wishes they could go back to the life that they had. They may feel guilty and blame themselves for becoming sick and wondering if they could have done more to prevent their illness. Guilt usually comes with bargaining as the person blames themselves for their situation. (Pratt, 2018).
Anger is a crucial stage for individuals to begin the healing process. There is no specific timeline for your client to get through the anger stage. Please note that your client may come in angry some days when training, but they aren't angry with you. Try to remain empathetic and patient as the individual goes through this stage. Keep in mind that everyone on the healthcare team often sees anger from the individual who is experiencing chronic illness. It is normal for your client to be angry at their doctor, caregiver, family, friends and even you. They will most likely apologize after showing you that they are visibly angry. This stage comes later in the process when the disease progresses, and the individual realizes that life will change. (Pratt, 2018).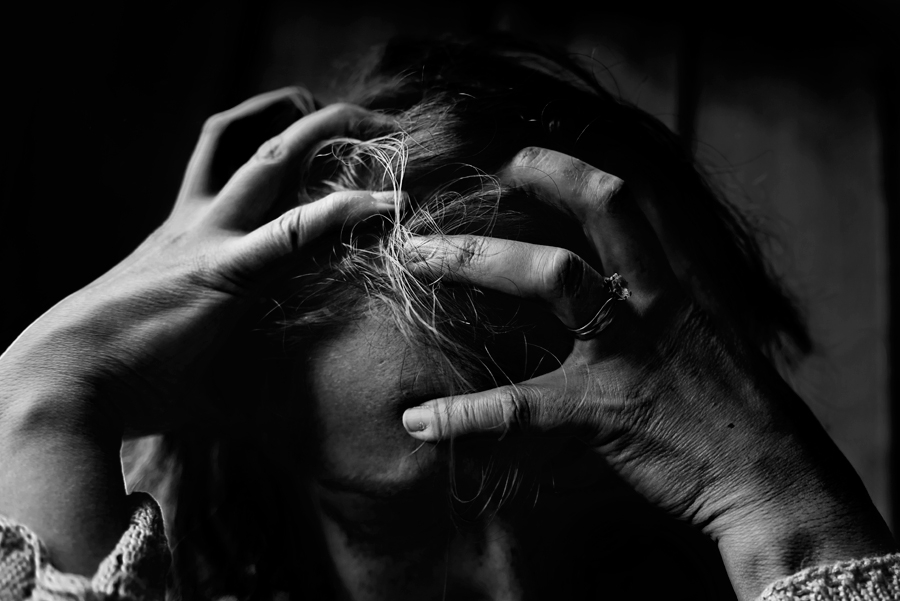 Anxiety and depression will set in next as life changes are solidified. The feelings of depression can be substantial and seem to your client like they will never go away. If your client starts to withdraw, offer meditation instead of a training session to keep the client on track. Try to also be understanding about their condition and how they are feeling. If they must cancel with you, ask that they do so within a certain amount of time as your time is valuable too. You may want to also invite the client to a sip, paint and meditate class to help keep their spirits up. The goal is to try and keep these individuals on track using different modalities. There may also be anxiety about the future and the unknown as the person wonders what will happen to them. (Pratt, 2018).
The loss of self and confusion is very real for individuals with a chronic illness. In this stage, life has changed so much for this individual that they do not recognize themselves. They can't do the things that they used to and have to redefine themselves and decide how to go about doing that. This stage may happen at the same time as anxiety and depression or separately. (Pratt, 2018).
In the stage of re-evaluation of Life, Roles and Goals, your client will be thinking about how they can move forward as a wife, mother, husband, father, sibling and friend. They are forced to re-evaluate how they fit into the picture and what that means in daily life figuring out how to go about daily activities and what work will look like for them. (Pratt, 2018).
The final stage is acceptance in which the client accepts his or her new reality. The client is not usually ok with it and happy, but they learn how to deal with their new norm. They strive to learn new skills to make life better and discover new things that bring joy into their lives. This is the stage that your client will be most accepting of trying new exercises and tools in your training sessions. (Pratt, 2018).
---
Robyn Kade is the Founder of The Stress Management Institute for Health and Fitness Professionals. She has 20 years of experience in medical-based fitness. 
References
Adapted from: Pratt, Amanda. "7 Stages of Grief for Chronic Pain and Chronic Illness: St. Petersburg Therapist." Chronic Illness Therapy, 3 Aug. 2018, imaginelifetherapy.com/7-stages-of-grief-for-chronic-pain-and-illness/
Kade, Robyn. Mind/Body Medicine Specialist Manual. 4th ed. / USA, Stress Management Institute for Health and Fitness Professionals, 2020.